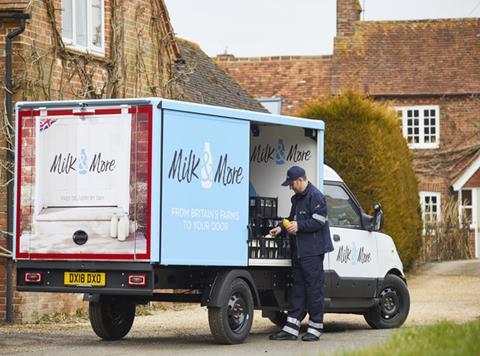 Milk & More has splashed out £6.5m on a new fleet of "next-generation" electric milk floats.

Over the past month, the milk delivery service has rolled out 200 new StreetScooter electric vans to replace diesel vehicles on urban rounds.

It claims the new vehicles, which are manufactured in Germany by a fully-owned subsidiary of Deutsche Post, are its most environmentally friendly yet.

"The new milk floats have zero emissions and in the first month of operation Milk & More has seen a 90 per cent reduction in operational fuel costs versus the outgoing diesel vehicles," said Patrick Müller, CEO of Milk & More.

Powered by rechargeable batteries, the StreetScooters are very quiet, which was an "important" benefit given the early hours of delivery, said Müller. Their left-hand drive configuration meant they were also safer for drivers, with milkmen able to step out directly onto the pavement, he added.

The investment means more than a third of Milk & More's fleet is now electric, with the company already operating 200 electric milk floats.

The delivery service claims to have gained more than 30,000 new online customers since it was relaunched by dairy giant Müller in January, meaning it now delivers to around 500,000 homes across England and Wales.

Müller, which acquired Milk & More from Dairy Crest in 2015, has attributed this "record growth" to surging demand for its traditional glass milk bottles amid mounting concerns over single-use plastics.

The company said the new electric vehicles were part of its wider strategy to revive the "great British tradition" of doorstep delivery by providing consumers with a trusted online delivery service offering a wide range of "high quality locally sourced" products.

Currently, customers can order 200 daily essentials - including bread, cheese, eggs, breakfast cereal and milk - for next-day delivery.

"We're on a transformational journey, and the StreetScooter certainly helps us make this iconic tradition relevant to 21st century customers. It's an exciting time for the business," said Müller.