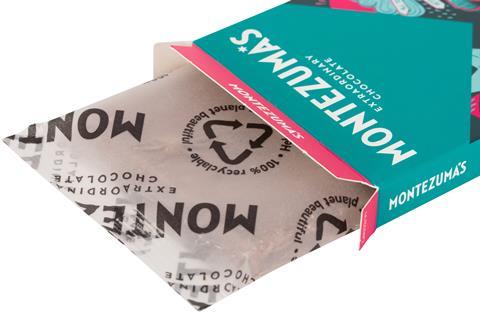 Montezuma's has rolled out sustainable packs across its portfolio – which it claims is a UK first for a chocolate maker.
The premium brand's entire range of bars, buttons, truffles and bites is now in packaging that is either recyclable, compostable or biodegradable.
Its chocolate bars, for example, are wrapped in paper and card, eliminating the non-recyclable metallised plastics commonly used by confectioners.
On shelf now, the packaging has also undergone a redesign, which was "underpinned by the packaging itself" said Montezuma's marketing director Bruce Alexander. It was finished with recyclable inks, adhesives, stickers and tapes, he said.
Montezuma's was "the first chocolate company to offer 100% sustainable packaging" on its entire range, Alexander claimed. "Our customers' favourite bars can now go straight in the recycling bin to be collected by the council."
However, brands including Seed & Bean, Love Cocoa and Eat Your Hat have also claimed to have fully sustainable packaging.
Montezuma's was "still using some plastics", Alexander said, because its "biggest challenge is the fact that food needs to be packaged safely. We've taken as many steps as we can, but we've made sure that any plastic we do use is totally recyclable."
To mark the launch of its 100% sustainable packaging, Montezuma's will open a Chocolate Recycling Shop in Covent Garden on Thursday (12 March). The pop-up would "educate consumers on the company's research and development journey" the brand said. "Interactive panels will show the difference between its old and new packaging, and will reveal the company's commitment to doing what's right – not what's easy."