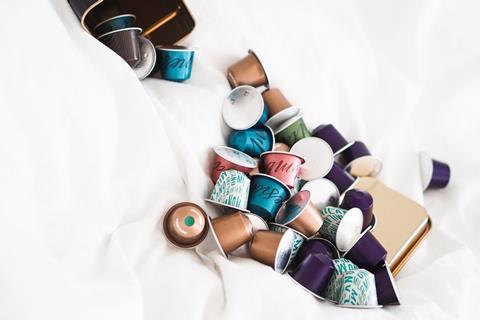 What single issue can bring competing brands together to seek a common solution?
There are not many.
Our businesses are far more used to competing for share of the UK's coffee pod market than collaborating with one another.
But today, we are united by a common purpose: to make a meaningful change to reduce the environmental impact of our products.
We want to do this because it is the right thing to do, but also because we recognise a growing appetite from all sections of society for greater action to protect the environment.
So, that is why we have come together to launch Podback early next year. A first of its kind for the industry, Podback is an end-to-end, cross-industry recycling programme that will provide consumers with simple and easy ways to recycle coffee pods – whatever brand and whether they are made from, aluminium or plastic.
As individual brands, we have invested in dedicated recycling services over a number of years to support our consumers who want to recycle their pods but can't currently do so via household recycling.
This issue has been brought into even sharper focus by the pandemic, which has prompted at-home consumption of coffee to grow, as people have sought to replicate their favourite coffee experiences at home.
While we are proud of the progress we've made as individual brands, collectively, we want to do more. And we know that the key to increasing participation and driving up recycling rates is creating a unified scheme across the category that is simple for consumers. This is what Podback will deliver.
Imagine a scenario whereby pods are included as part of household recycling. We know from trials we've conducted just how popular this can be. Our goal is to see pods included in kerbside collections across the UK. We know this ambition is bold, and making it a reality is a challenge – not least because of the different recycling systems across the UK – but that is no reason for us not to act.
We're delighted to be in advanced discussions with Exeter City Council, Cheltenham Borough Council and South Derbyshire District Council to become the first local authority partners, meaning residents in these areas will have their pods collected alongside their household waste and recycling. We expect to have a handful more operational from launch, building out further from there.
In addition, from day one, Podback will allow consumers to recycle through Collect+ delivered by Yodel, with over 6,500 locations across the UK.
We're also having ongoing conversations with retailers to facilitate a 'handover at home' model whereby pods can be collected for recycling when consumers have their groceries delivered. With rates of online shopping on the rise, we anticipate this option being increasingly popular with our consumers. We hope to announce more on this in due course.
Ultimately, we recognise Podback will only reach its full potential if it is bigger than our brands. History has shown there is power in collaboration, which is why we're calling on other manufacturers, retailers and local authorities to join us and help ensure the scheme has maximum impact.
Putting competition aside, we are united by a common aim to make a positive environmental difference. There is a lot to do ahead of launching, but the opportunity is too big for us to miss.
By Guillaume Chesneau, MD, Nespresso UK and Ireland; Richard Howatson, business unit manager, Nescafé Dolce Gusto and Starbucks at Home; and Toby Bevans, marketing director, Jacobs Douwe Egberts UK and Ireland