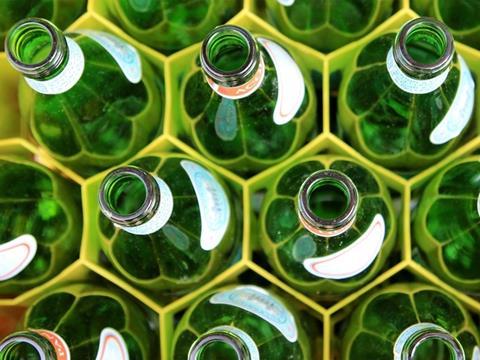 Retailers have warned the cost of a DRS system for the UK could spiral by £600m under Tory plans for it to include glass as well as plastic bottles.

The Scottish Conservatives have written to the Scottish government calling for glass to be included as part of plans which would be rolled out across the UK, amid fears suppliers may switch products to glass to escape the scope of a DRS.

But supermarket bosses said plans to include glass would lead to huge extra costs for retailers at a time when they already faced "unprecedented" economic uncertainty.

Ministers north of the border are well ahead of the UK government's plans for a DRS, having held a consultation last year, whilst environment secretary Michael Gove has yet to launch his despite plans for a DRS being included in his Waste & Resources Strategy in December.

Retailers, suppliers and campaign groups have all called on the two governments to ensure any system is harmonised to avoid cross border chaos, but there is a spilt over how it should run.
Scottish Conservative MP Maurice Golden wrote to SNP environment secretary Roseanna Cunningham last week calling for 'an ambitious and inclusive system that works well across the whole of the UK, where you can buy a can or bottle in Gretna and return it just as easily in Carlisle or vice versa'.

The letter added: 'The Scottish Conservatives believe we do need an inclusive system, covering aluminium, plastic and glass of all sizes (and potentially Tetra Pak cartons).

'Where a material is not included, there might be a perverse incentive for manufacturers to shift packaging to less sustainable materials.'

However, research by the BRC claims including glass would see the cost of running the system soar from £70m to £120m a year in Scotland and from around £800m per year to £1.4bn across the UK.

Ewan MacDonald-Russell, head of policy at the Scottish Retail Consortium, said the figure, which includes the up-front infrastructure investment amortised over seven years, represented a huge extra cost to retailers.

"Retailers want to see a targeted DRS which is workable and practical," he said. "Including glass in a Scottish, or indeed UK, DRS will add very significant cost to the scheme. Glass is much heavier, requires significant storage and carries serious health and safety issues from breakages.

"Furthermore, the quality of recycled glass from a DRS is relatively poor, certainly compared to other recycling measures. If the Scottish government wants to effectively increase the quality and quantity of glass recycling, investing in more efficient household recycling would be a much better approach.
"With retailers under unprecedented pressure from changing customer behaviour, technological disruption and a volatile political and economic environment, government needs to take a practical, evidence-based approach to developing a workable and realistic DRS."

In its response to the Scottish government's consultation, FDF Scotland also expressed doubts about the economic viability of including glass.

"There must be a clear commercial case for each material stream that is to be included," it says. "Each material included in the scheme must be self-funding, e.g. deposits from PET should not shore up the economic viability of collecting glass under the DRS."

FDF Scotland also warned of other huge costs such as the inclusion of cartons, which it said would push the cost of installing reverse vending machines from around £10,000 to £40,000 each.