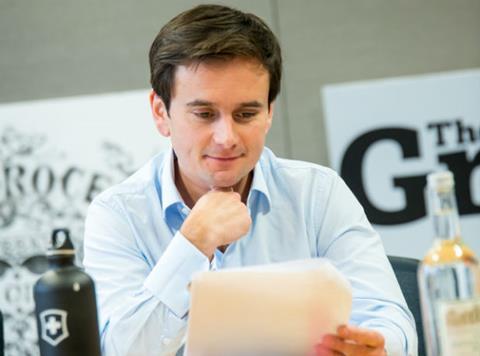 As the public face of Iceland's war on plastic, you've really announced yourself as a figurehead. Does this mark a changing of the guard in terms of the leadership of the business?
I'm very aware that I'll only get the top job if I am good enough to do it. So I am focusing on being as good as I possibly can be at the elements I am responsible for - namely running the Food Warehouse and leading the sustainability agenda. Dad has said quite openly that he is looking to take a step back but there are a few other people in the company who are running it as well, so we will have to see how it unfolds.

You came into the business relatively recently. What took you so long?
After university I didn't want to go straight into Iceland and try to emulate dad. It was important to me to do my own thing, so I qualified as a chartered surveyor and set up my own business, Bywater Properties, which is still growing. I lived abroad in Poland for three years during that time and it was really tough, but it was essential because nobody did me any favours, and the name didn't count for anything - no one had even heard of Iceland Foods. I had to build that business from scratch myself and I am really proud of that. Once I reached my 30s I had developed enough confidence in myself and maturity to finally have a go at selling frozen peas for a living.

How did you prepare for your role at Iceland?
The best thing I did when I came into Iceland was work in stores in London for a year. That wasn't a token gesture, it was a proper, role by role guide through the shop floor all the way up to passing the sign off to be a store manager. It was a very humbling experience, but it was also essential to learn about the DNA of our amazing people that we have in this business. Without that, I don't think I would have got to the crux of what makes Iceland so special.

How does your leadership style differ from your dad's?
I have definitely got more of my mum in me. I am a good listener and potentially not as impulsive as the old man, which is both a good and a bad thing.

Have you always been this passionate about the environment?
Yes. I have only recently officially taken on the director of sustainability role, it didn't exist previously. I have always been super passionate about the outdoors, the environment and biodiversity and I've been a Greenpeace member for over 10 years. I'm a surfer, I have surfed all over the world, so I'm aware of the problems in our ocean environment. My other big passion is climbing. I was in Kyrgyzstan in the summer, and you can see first-hand the impact climate change is having on its high glaciers. So this is the future direction I want to take the company in.

So is Iceland's new plastic initiative purely about doing the right thing for the planet?
It is definitely about doing the right thing, because it is going to cost us, and this is my personal credibility at stake. But this is a well thought out year-long plan. This is not jumping on the PR bandwagon. I care deeply about this business and I've seen the impact of plastic waste first hand. But ultimately, it makes good commercial sense to do it, because consumers are crying out for it. And if there is one thing my dad has taught me, it is that you listen to the customer. Iceland also has a long history of doing things like this. Twenty years ago this April, dad announced we would make all our products GM free. When he did that the whole industry laughed at him and a panel of experts was lined up to say it wasn't possible. Within a matter of months the competitors had come out with similar announcements, and now we don't have GM food in our shops in the UK.

How long have you been working on the plan to ditch plastics across own label?
We started talking about it around the boardroom table a year ago, and the new launches have been in development for eight to 12 months.

Are Iceland's new wood pulp ready meal trays completely plastic free?
No, they are 90% non-plastic. They are lined with a plastic laminate so our next step is to switch to a water based coating. Then the final bit of the jigsaw puzzle is the plastic film that seals it. For that we are going back to a cellulose-based film. Cellulose actually predates plastic. There were cellulose factories all over Europe before cheap oil prices won the day for plastics. We are working with a UK factory that has cleaned up the technology so it is fully biodegradable, but it is expensive - about four times the price of the plastic film at the moment.

You've said you won't pass on extra costs to consumers - does that mean suppliers will foot the bill?
No. We are working collaboratively with our suppliers and they have been overwhelmingly supportive. I'm hoping that by repositioning ourselves it will lead to an increase in sales in the long term, which should fund any added costs. If other retailers come on board, it's all very doable at a cost-neutral price.

How taxing are the five-year targets you've set?
It is a big challenge. This is a world first, no-one else has done it. However, I am confident it is doable. Especially if the industry starts to collaborate. The other big retailers need to get their head out of the sand and appreciate this is a cause all consumers care deeply about and the noise is only going to get bigger and bigger. The genie is out of the bottle.

Is it realistic for the major mults to make the same commitment as Iceland?
In all honesty, no. It would be disingenuous to suggest they could hit the same timescale with the same vigour. But they do all need to start coming up with meaningful targets applicable for their business for plastic reduction, not just recycling. The first inkling we had that Iceland was starting to think about the environment was when you announced that you would be supporting DRS. Is that still important? It is, because recycling is important and we should do more of it. I visited a recycling plant before Christmas with Greenpeace and I became quite aware that it is not the Holy Grail to solve the plastics problem. But if we invest more in our recycling infrastructure, if we harmonise our recycling processes throughout the UK, then recycling absolutely has a role to play. We are absolutely still calling for a DRS in the country, and I think it will happen.

What about food waste?
Food waste is also a big cause of carbon emissions, so it is something we can and must do better at. We have been trying, and Iceland has very low levels of waste because of the frozen element, but we have done a bad job of communicating our food waste strategy, which we need to be more open and honest about. We have signed up to the Courtauld 2025 commitment and are working on a whole range of initiatives. We are working with Company Shop, we are in discussions around an app which we could use to get food waste picked up from our stores and we return all of our bread, which goes into pet food. I am currently looking at getting our food waste re-measured so we can be totally open and transparent and start publishing our food waste figures.

Sustainability aside, you are also MD of Iceland's Food Warehouse operation. How have you influenced its direction and performance?
The original idea to open these larger format stores came from my dad, which is testament to his genius. But I have taken it from that kernel of an idea to what it is today.

To what extent is Food Warehouse the engine room for innovation across the wider business?
It has served as an excellent innovation lab for the main estate, but we are a standalone business and the mentality must now shift from being a guinea pig for Iceland to doing what is right for The Food Warehouse.

Iceland's range has undergone a massive transformation in the last couple of years, with far more high end foods. So who is the average Iceland shopper now?
Iceland is for everyone. I don't think we can pigeonhole ourselves in a certain demographic or age group. People say Iceland is going posh but that is not the case, we are just giving more people more of what they want. We genuinely have a broad spectrum, especially with The Food Warehouse which is a different customer on a different shopping mission to Iceland.
As part of your focus on products you've invested heavily in a new development kitchen and development chef in Neil Nugent - what benefits has this brought to the business so far?
Huge benefits. We spent £3m on a state of the art development centre and we brought in Neil, who is a Michelin-starred chef and a world-leading development food expert. That was a serious statement of our intent, and shows how seriously we are taking our food. It has also given new life to our innovation, which is so crucial to us. As the leader in frozen food we always have to be innovative.

After the Power of Frozen campaign, are perceptions of frozen goods where you want them to be?
There is still a lot further to go in this country in terms of pointing out all of the benefits of frozen - less food waste, better for you, saves money, and less plastic.

Iceland has also significantly improved its fresh food offering in recent years. How do you think you compare to the likes of Aldi, Lidl and Co-op on fresh now?
There is definitely room for further improvement and we have plans to do more. But quality wise we are absolutely at the races now, or better. I think historically it's fair to say Iceland wasn't, it was an under invested category. But we have really ramped it up by bringing in new buyers and really focusing on that offering, because ultimately it is a disproportionately important consideration of a retailers' quality.

You've also taken some small but interesting steps further into BWS over past months. Is the category becoming a greater focus for Iceland?
Yes, it is. I want to get a lot more serious about BWS as a reason to visit the destination Food Warehouses, and we brought in Ed Kerrigan, who is an absolutely fantastic BWS expert from Aldi. Up until now we've had a really basic offering on booze, but that means there is a lot of incremental growth in terms of sales to be had out of the category. We had our gin event at the end of December, we've also had a craft ale event and we've got over 50 wines in The Food Warehouse at some great prices. So we are really starting to up our game.

After the unexpected success with the Clapham Iceland refit, you've started to roll that out. How's it going?
The refits are flying. We've done 42 stores so far and seen double-digit like-for-like sales growth. It was the missing link. We have invested so much in the quality of our products, and in perception with our Power of Frozen marketing campaign, but our shops were a bit dull and beige. We plan to do 50-70 more this year.

Iceland was The Grocer's Online Supermarket of the Year. What makes the Iceland online proposition work?
It is straightforward and easy to use. When we were starting our website, dad said he wanted a Fisher-Price website that anyone could use and navigate. That simplicity has been the key to its success.

Has your focus on upmarket lines hurt Aldi and Lidl?
I'd like to think so, but they are doing just fine. We can never emulate the discounters, we just have to be better at being Iceland. The competition is everywhere. There are also the frozen specialist retailers and the big multiples, who have always been there. But actually the competition is so diverse, so aggressive, and so numerous now that it genuinely is everywhere.

How are you coping with Brexit-led inflation?
We've been fairly covered from the Brexit headwinds because we do source a disproportionate amount from the UK. As a British, family retailer we can also be nimble with our buying, which helps. The currency has fluctuated and it has gone against us, but it is only where it was five years ago or so and people forget that. Our integrity around pricing and giving amazing value to our customers has to remain. We've also got the National Living Wage, the recent hike in business rates and the failing apprenticeship levy. What does the government need to do to help retailers? Business rates need to be looked at. As a bricks and mortar retailer we pay disproportionate tax for our turnover when we compare to a company like Amazon. There does need to be a reconsideration of the tax system for the new economy. On the living wage I think it is a good thing. Yes it will add to our cost base but it is the right thing to do and certainly in The Food Warehouse we've tried to stay one step ahead and we are one of the best frontline colleague paying retailers out there.

What fallout has there been from the Steinhoff scandal given Christo Wiese owns 60% of Iceland through Brait?
He doesn't own it directly, it's in a different pot and it's entirely ringfenced. I feel sorry for Christo and what happened with Steinhoff, but our shareholder is Brait and they are very supportive and aware of what it takes to build a long-term business. There hasn't been any crossover to us.

Will there be another Iceland IPO, or will Iceland always be a private company?
No. One of our absolute competitive advantages is the fact we have patient long-term capital that comes from being privately owned.

Is Iceland's growth sustainable or will the bubble burst?
The main Iceland business has been going for nearly 50 years and the business model is predicated on low growth. We are still seeing like-for-like growth out of the core Iceland business and the most important thing is to keep investing and focusing on growing the core. However, we do have some fantastic growth elements, namely The Food Warehouse and online, which are both going great guns.
What is the biggest shift coming in retail?
A growing consciousness among customers, particularly millennials who are very mindful and want to make the right choices. Every retailer is going to will have to become more aware, and more proactive around the impact of what they are doing.