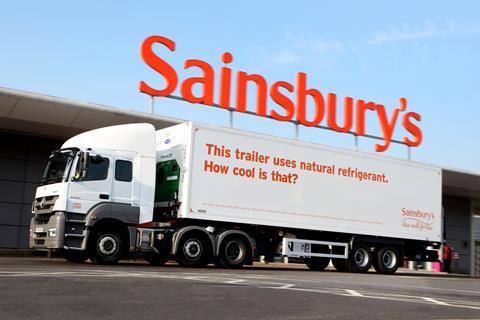 Sainsbury's has thrown down the 'net zero' gauntlet with a £1bn pledge to be carbon neutral by 2040.

The grocer said it would slash emissions by tackling food waste, plastic and water usage.

It would also look to increase recycling, biodiversity and healthy and sustainable eating, and work with suppliers to set their own 'net zero' commitments, in line with the UN Paris Agreement.

The move is a genuine first, with no other food retailer having set such an ambitious target to date.

"We have over 27 million customers each week and almost 180,000 colleagues, and we hope we can collaborate across industries and sectors to create momentum and drive meaningful change," said CEO Mike Coupe.

However, industry experts also warned it faced major barriers, while rival retailers stressed their own commitments to carbon reduction, some claiming to have more stringent targets for suppliers.
"This is a hugely competitive space and Sainsbury's has stolen a bit of a march on its rivals," said one leading retail source. "They will be looking to follow suit with their own pledges.

"The 2040 target is a genuine first and it also looks like they are serious and rigorous about it.

"They have set out plans for regular reporting which is very important if this is to be transparent and taken seriously."

However, the question of how Sainsbury's will bring its global supply chain into line with its commitment has been raised. "That is the big question here," said the source. "How do you measure, monitor and reduce the impact from your supply chain in other countries?

"I don't think any retailer has come close to cracking it yet.

"It's all very well changing your own impact when it comes to stores, lighting, refrigeration, that sort of thing, but it's a lot harder trying to get reliable data for Kenyan bean producers."

"JS are not clear on what they plan to do about scope 3 emissions and British farming," added another source.

A rival supermarket source added: "Sainsbury's has pledged to be Net Zero by 2040 in alignment to the highest ambitions of the Paris Agreement. "But it's important to note that this is across their own operations. They have no target to address product related (indirect) GHG emissions."

Tesco said it had become the first FTSE 100 company to set "ambitious science-based targets" to become a zero-carbon business, though at 2050 it would be 10 years behind Sainsbury's pledge.

But Tesco said it had set its suppliers a target of reducing carbon emission by 7% by 2020 and 35% by 2030.

"Agriculture emissions make up the majority of supply chain emissions and take longer to affect lasting and sustainable change," said a Tesco spokeswoman.

Other retailers have outstripped Sainsbury's so far on carbon emissions.

Morrisons' CSR report last year claimed it had reduced carbon emissions by 45% since 2005, compared with Sainsbury's 35% over the same time period.

Asda said it had cut its carbon footprint by 38% since 2007, with a 13% reduction last year. The Co-op said it would reduce direct GHG emissions by 50% from 2016 to 2025, and product-related emissions by 11% over the same period.

Another retail source said: "The Sainsbury's announcement above all was aimed at getting good publicity, but there are a lot of questions about how Sainsbury's will achieve its goals.

"As for the £1bn pledge, it sounds good but if any major retailer thinks they won't be spending a lot more than £1bn in the next 20 years to reduce their impact on the climate then they have sadly misread the public mood."

Industry sources said they expected a raft of announcements about retailer and supplier intentions on climate change ahead of the United Nations Climate Change conference to be held in Glasgow, in November.