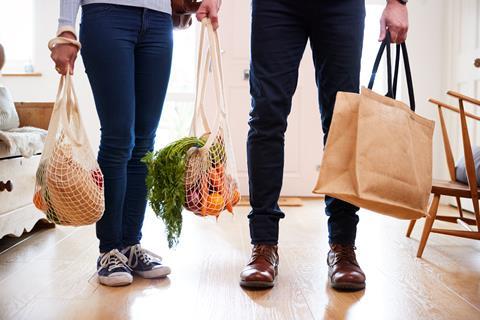 The gap between what shoppers say they do and what they actually do is closing when it comes to sustainability issues, exclusive research by Streetbees for The Grocer Conference has revealed.
The data, which was unveiled at The Grocer's How to Build a Sustainable Brand conference yesterday, showed that in 2020, 65% of Brits said they thought sustainabilty was important to their purchasing decisions and 9% referenced it unprompted at the point of purchase. When the same research was conducted in 2019, 75% said sustainability was important but only 4% referenced it unprompted at purchase.
When prompted at the point of purchase, 24% referenced sustainability, compared with 20% in 2019.
"What people say they do and what they actually do is often very different," Streetbees client solutions director Maria Anthony told The Grocer Conference.
"It isn't because they knowingly lie, it's becuase you can't know the true reasons behind a purchasing decision unless you address it at the moment of choice. Three in four consumers say they consider sustainability as important, and yet in the moment only 4% reference it as a purchase driver. The good news is that in just this last year that gap has reduced significantly."
The narrowing of the gap is likely to be driven by coronavirus restrictions, says Streetbees, with 45% of Brits claiming the pandamic made them more aware of sustainability issues.
"During the first wave of lockdowns, air pollution levels plummeted in the world's biggest cities. While the environmental benefits were expected to be short-lived, it opened consumers' eyes to the impact that humans are having on the world."
How to Build a Sustainable Brand is now available to stream, in full, on demand. The conference includes presentations and panel discussions on what carbon neutral targets mean for the industry, how to make closed loop grocery work and more, as well as keynotes from speakers including new Tesco CEO Ken Murphy and Pinterest senior partner manager for CPG Anna Sudbury. Conference access is £125 or free for Gold and Platinum subscribers. To find out more, click here.