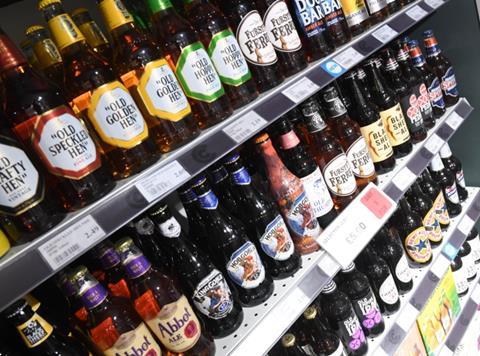 The Scottish Beer & Pub Association has railed against the implementation of a deposit return scheme in Scotland, claiming it could undermine minimum unit pricing on alcohol.
The Scottish government's consultation on its DRS plans closed yesterday. In response, the SBPA warned a Scottish-only system, as well as being "hugely costly and bureaucratic" for suppliers of alcohol, could in effect create new minimum prices for alcohol, potentially making some higher-strength products cheaper than lower-strength ones.
Any DRS scheme implemented in the Scottish market should be on a UK-wide basis and specifically exclude glass products, stressed SBPA chief executive Brigid Simmonds.
"Unless the cost of the deposit reflected alcohol content, DRS would change the initial price of a product, making higher-strength products, such as vodka, proportionally cheaper than lower-strength products like beer," she said.
"Given the aim of minimum unit pricing was to tackle high-strength, cheap alcohol, this would potentially undercut the government's flagship policy while it is still being evaluated."
While minimum unit pricing on booze came into force north of the border earlier this year, the policy has a 'sunset clause' under which, if it is not deemed to have had a positive effect after five years, it could be scrapped.
Simmonds added: "A Scotland-only system would only compound the issue, with multipacks potentially being half the price in England. This would undoubtedly see increased cross-border trade with Scottish businesses losing out, as well as an increased potential for fraud."
The SBPA's stance echoes similar warnings from the Scottish Retail Consortium this week, which urged ministers to limit the focus of proposals and allow smaller retailers to opt out, arguing for a "targeted rather than comprehensive" approach. The SRC's head of policy Ewan MacDonald-Russell argued it was "not commercially viable to create a Scottish DRS which is utterly different from the rest of Britain".