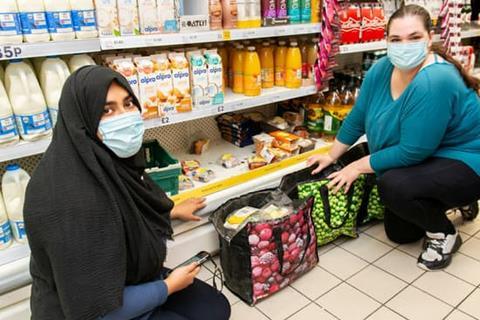 This December, UK retailers will contribute an enormous 23,000 tonnes of additional food waste to the UK's vast yearly total, estimated to be 10 million tonnes. For context, while retail's food waste contribution is just 3% of the overall figure, December's retail waste will weigh the same as 23,000 cars.
And yet the UK is lauded as a world leader in fighting food waste.
A few weeks ago the prime minister launched his 10-point plan to fight climate change, "the most enduring threat to our planet". And while the plan is certainly the most ambitious we've seen to date, it makes no mention of tackling food waste. Food waste has been identified by non-profit organisation Project Drawdown as the number-one thing humanity can do to mitigate the worst effects of the climate crisis, coming above solar power, electric cars and a plant-based diet.
And yet the UK is lauded as a world leader in fighting food waste.
Becoming a zero food-waste supermarket is something that has been keenly discussed within the trade for years. Commitments have been made, but the finish line still hasn't been crossed.
And yet the UK is lauded as a world-leader in fighting food waste.
Getting the picture?
While fantastic progress has been made – and these efforts are to be applauded – if we're being honest with ourselves, we still have an awfully long way to go.
As some of the nation's most visible and beloved brands, our supermarkets have an enormous opportunity to go further and lead the country on this issue, which sits so naturally in their wheelhouse. We simply cannot afford to go on wasting food at the current levels. While retail itself makes up a comparatively small proportion of total food waste, the retail sector is where the problem starts – it sets the terms for how people get their food, and it is where education and changed practices could be most powerful.
The issue has taken on new significance in light of the pandemic. More than a million children will go without basics such as food and heating this Christmas, as parents reel from the economic impact of Covid-19. Yes, we have seen u-turns made on school meals alongside promises to protect the most vulnerable families with the Covid Christmas grant. In reality, those who qualify for free school meals earn less than £7,400 a year as a household, and as such those who will be supported with the grant will be relatively few. Make no mistake – even these households who get help will still battle food poverty, while swathes of people fall between the cracks of structured support.
While by no means a panacea, the UK's food waste can be redirected to form part of food poverty's solution. Retailers across the country have worked hard on this over the past couple of years. And our own redistribution initiative with Tesco is an example of how this work can be taken even further. We now intervene to collect food nearing its sell-by date that the charitable sector is unable to absorb from over 1,000 Tesco stores, and ensure it is redistributed to nearby communities, in effect making them zero food waste stores. Since September, the partnership has already saved more than 3.1 million portions of food and helped to feed more than 25,000 people, instead of creating 2.6 million kg of carbon dioxide.
This Christmas, we're up-scaling the initiative, covering 3,000 additional collections by plugging the gap that charities are leaving as they take a well-deserved break over the festive period. But this has to be the beginning of a broader movement. It isn't something any single supermarket or food waste organisation can solve on their own.
The UK has been lauded as a world leader in fighting food waste. It's time we started acting like it. In the absence of a coherent government policy – one that combines food system reform with a meaningful pathway towards eliminating food poverty – the world of industry must set the example.
In order to stop irreversible damage to the planet, we need to replicate the carbon savings that have been achieved this year (due to the pandemic) in 2021, and the year after, and the year after. We somehow need to do this while rebuilding our economy and repairing millions of Covid-damaged lives. It's a big ask, but for supermarkets, it can be a big opportunity. By reducing waste – not just in stores and operations, but helping us in our homes, too – tackling food poverty, setting an example and helping guide our society towards a more enlightened and sustainable future. Supermarkets rose to the challenge of the pandemic laudably. They can rise to this one too.