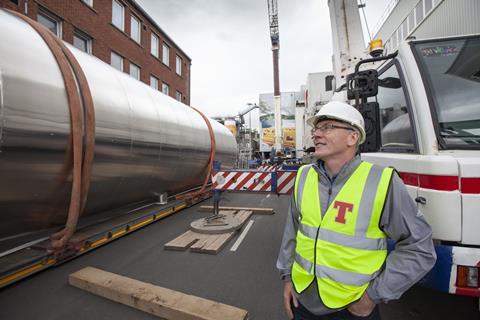 Brewer Tennent's has begun works on a carbon capture facility which will see CO2 generated in the fermentation process used to carbonate its beer.
The £2.6m new facility, at the brewer's Wellpark campus in Glasgow, will be the biggest of its kind in Scotland when it becomes operational in September.
The facility will capture and store more than 4,200 tonnes of CO2 a year, the equivalent of 27,000 flights to London from Glasgow. It will also remove the need to continue trucking in CO2 from England, eliminating emissions from the 100,000km of journeys made each year.
The brewer expects the facility will allow it to "become as close to self-sufficient as currently possible" since more than 95% of the captured CO2 will be reused. Tennent's has committed to being net carbon zero by 2025.
The works involve modifying 24 existing fermentation vessels so they can connect to carbon capture tanks which will each weigh 130 tonnes when full. Two cranes will work in tandem to lift two carbon recovery tanks 60 metres up and over the site's branded silos.
"As Scotland's oldest business, we take our responsibility to look after our beautiful home very seriously which is why we've put sustainability at the heart of our entire operations, from our transport fleet, brewing and packaging to our international deliveries," said Martin Doogan, group engineering manager at C&C Group, Tennent's parent company.
"We are eagerly anticipating having everything operational later in the year," he added.
The brewer, the first to join the UK Plastics Pact, has also vowed to eradicate single-use plastic by 2022 and only use energy from renewables by 2025.
"We understand that our pledge to sustainability is a journey that will be further developed along the way; as illustrated by the installation of the new carbon capture facility following the launch of our sustainability plans last year. With clear targets in place for the future, we're committed to tackling climate change now and in the years to come," Doogan added.