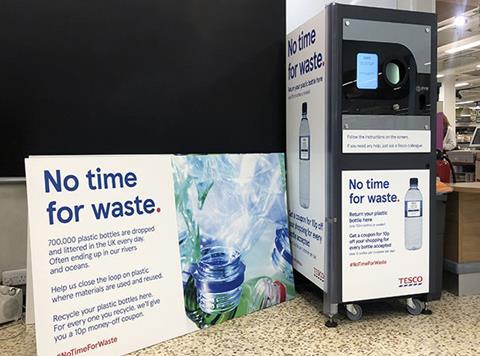 Tesco has launched trials of reverse vending machines as a national Deposit Return Scheme (DRS) looms closer.

The UK's biggest retailer said it would begin in Borehamwood today (27 September), with stores in Swansea, Edinburgh, Manchester and Birmingham to follow.

Customers will get 10p rewards for bottles returned, limited to 10 bottles per customer per day and a maximum size of 750ml.
In another move to cut down on plastic - and despite denying speculation in August - Tesco also revealed it would start replacing single-use bags at its meat, cheese and fish counters in 700 stores from 3 October, instead encouraging customers to reuse their own multi-use plastic containers. Instead of using single-use plastic bags products will be weighed and wrapped in recyclable paper.
Tesco said it had carried out successful trials in 10 stores, although customers will not be able to use the system for hot food products such as cooked rotisserie chicken, fresh pizzas or salad.

"We are committed to eliminating single-use plastic wherever we can and make recycling simpler for customers," said Tesco UK CEO Jason Tarry.

"However, we know that it is going to take retailers, manufacturers and government to work together to make progress. We would urge the government to move to a single, nationwide approach to waste collection that makes it much easier for people to recycle."

Tesco's embrace of the DRS follows in-store trials from retailers including Iceland, Morrisons and Asda, and comes as a consultation on plans for a scheme in Scotland ended with companies predicting chaos unless it was aligned to a UK system. Industry leaders also urged ministers to limit DRS to plastic bottles and cans, and exclude glass and other materials such as coffee cups and dairy containers.