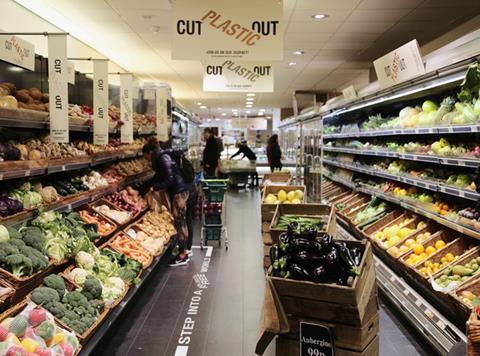 Independent retailer Andrew Thornton has undertaken one of the biggest plastic reduction initiatives by a UK grocer so far.

Thornton's Budgens has unveiled extensive plastic-free zones that showcase a wealth of innovative plastic-free materials, including beechwood nets, pulp, paper, metal, glass, cellulose and cartonboard.

The Belsize Park retailer has worked with charity A Plastic Planet to become what is believed to be only the second retailer in the world to achieve such a feat. In April, the Netherlands' Ekoplaza unveiled what it claimed was the first plastic-free aisle, across 700 products, in Amsterdam.

Thornton's Budgens initiative, however, is more extensive than a single aisle.

Items are not sold in random positions in the store and on-shelf, but rather in their logical groupings. Plastic-free soft drinks will be located near those that still use plastic.
Today's launch sees the business go live with 1,700 SKUs, out of a total of 14,000. The plastic-free designation is for products that are at least 99% plastic free. It includes items the store packs itself and packaged products supplied by manufacturers.

"It is our aim to be virtually plastic-free within three years," said Thornton.

As part of the switch to plastic-free, fish from the counter will be wrapped in wax paper and bread from artisan bakers will be placed in a mixture of paper and compostable clear bags.

Semi-transparent wax paper will be used for cheese from the deli, rather than cling-film.

The product range includes what Thornton claimed was the world's first "plastic-free squirrel", sold in biomaterial meat trays made from sugar cane that are certified as fully compostable.

All of its wild meat range will be sold in the trays, while a range of lamb and pork products will be sold in similar packaging.

Thornton said he had started to delist products from some manufacturers that had failed to find plastic-free alternatives. He has written to their chief executives explaining why.
He has vowed to make everything he has learned available to anyone else who wanted to make similar changes.

"As the community supermarket that really cares we believe in taking a strong stance on major issues that affect our wellbeing and our planet," said Thornton.

"The issue of plastic is one that can no longer be ignored so we've chosen to be the first mainstream supermarket in the UK to introduce plastic-free zones. This means our customers will be able to do a comprehensive shop without the need to use any plastic packaging.

"Our aim is to show the big supermarkets that it is not as difficult to go plastic-free as they think. If we with our limited resources in 10 weeks can introduce more than a thousand plastic-free products, just imagine what the major chains could achieve."

A Plastic Planet co-founder Sian Sutherland said: "Plastic is totally nuts. Thornton's Budgens are disrupting the market and showing that wrapping something as fleeting as food in something as long-lasting as plastic is the definition of madness.

"In just 10 weeks the store has removed plastic packaging from more than 1,700 products, finally giving their customers the choice they want. While big retailers claim it will take 10 years to create real plastic-free change, Thornton's Budgens has shown that we can start to wean ourselves off plastic in 10 weeks."