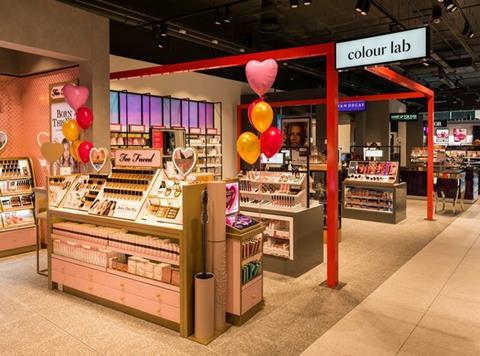 John Lewis recently announced its Cheltenham store would be launching an after-hours private shopping experience for consumers spending over £10k. For that price, some John Lewis staff will be available after normal shopping hours to create a more personal, exclusive and luxury shopping experience for groups or individuals willing to pay a premium. It has been pegged as a way to 'get online customers off the sofa', after what has been a trying year for UK department stores.
John Lewis is of course not the only department store to place even greater emphasis on the customer experience in-store. Before recently announcing its 'fewer but better' store strategy, Debenhams unveiled its 'store of the future' concept in Watford (pictured), equipped with beauty bars, luxury blow dry stations and a gin & tonic lounge.
While it's unlikely we'll see supermarkets venture into luxury shopping experiences anytime soon, there are certainly some interesting synergies when it comes to creating memorable in-store experiences.
Firstly, it's important that retailers continue to invest in technology to continue to surprise and delight customers in store. John Lewis is already ahead of the curve on this – empowering shop assistants with technology devices to help them become expert consultants and meet shoppers' needs at the tap of a button. The grocery equivalent to this that we're seeing is the successful adoption of click & collect and scan & go services in supermarkets – inspired by Amazon Go – and designed to make the customer experience more seamless. Continuing to invest in this area will be critical for grocers if they want to put the customer experience at the heart of their brand.
Another example is digital screens, which can be installed either in store or in place of traditional shop fronts to create the ultimate sensory experience for customers – helping them to visualise products on the go, get inspiration for food and wine pairings, and more. In the fashion world, Primark has installed LED screens in a number of its flagship stores across Europe to create what it calls a "theatrical, cinematic" experience. Thanks to advances in technology, these screens can interact with the surrounding architecture and products in the store in a way that feels truly immersive, taking shoppers into a new world curated just for them. There's huge potential for this to be leveraged in the grocery world too – using digital screens in store to showcase delicious video recipes that can inspire shoppers on the go in a fun and engaging way.
On the other end of the spectrum, we're also seeing the role that audio can play in store. M&S made headlines a few years ago when it announced it would be turning off its in-store music because staff and customers complained about repetitive playlists. However, when done right, music can be a great way for customers to get a feel for a brand's personality and connect with them on a more personal level – in fact, our research shows that 81% of millennials said that if a shop plays music they like, they feel like it's a brand they can relate to. This is particularly relevant for department stores and the major mults, which have mini destinations within the store environment – from fashion and beauty to home and decor. This provides an opportunity to get creative about playlist choices and explore different themes for different spaces within the store and times of the day. Whether you're going for an upbeat or cocooning effect, music can change people's moods and ultimately their attitude.
The earliest department stores weren't just places to shop – they were attractions. In many ways, our lives revolved around them because they offered a variety of experiences. We moved away from the idea of a store as leisure space or entertainment, but we never found a new public space to replace the department store or mall.
What if the grocers could follow in the footsteps of the department stores to fill this void? Already, many retailers are rethinking the shopping experience and examples grow daily. This somewhat throwback approach to brick and mortar reminds us of what originally endeared us to the physical space: those tangible experiences.
Tony Rhodes is commercial director at Mood Media