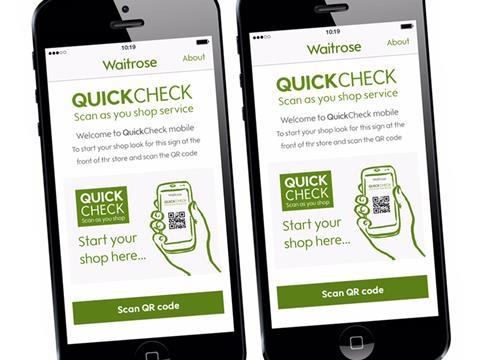 Waitrose is making its Quick Check mobile app available to all myWaitrose customers this week.

The retailer first revealed its 'scan as you shop' app in March, when it began trials at three Waitrose branches.

The app replicates the existing Quick Check handset service, which Waitrose was the first to launch in the UK more than 10 years ago.

"The rollout of the Quick Check mobile app marks a real step change in our aim to make shopping with Waitrose as easy as possible and to lead the grocery sector in smartphone shopping," said head of retail change Matt Clifton.

"We know that customers are shopping little and often and therefore want the experience to be as convenient as possible.

"Being able to complete a whole shopping experience using only a smartphone means shoppers can scan as they go, benefit from tailored offers, detailed product information and pay anywhere in the shop."

The app allows myWaitrose customers to scan barcodes on their smartphones as they put products in their baskets, removing the need for them to be scanned at a checkout.

The same can already be done with Quick Check handsets, which are currently available in only two-thirds of Waitrose shops and are now in the process of being upgraded.

However, the app gives the potential for future service additions that could include digital shopping lists, sending offers as customers shop, and integrating mobile payment.

"The dynamic world of smartphone technology means that the future capabilities of this app are endless," Clifton added.

All myWaitrose customers are automatically registered for Quick Check. They can download the Android or iOS app from Apple or Google Play and register their myWaitrose card. Once in a shop, they access the free in-store wi-fi and can then use the app in all branches (bar four where wi-fi is restricted).