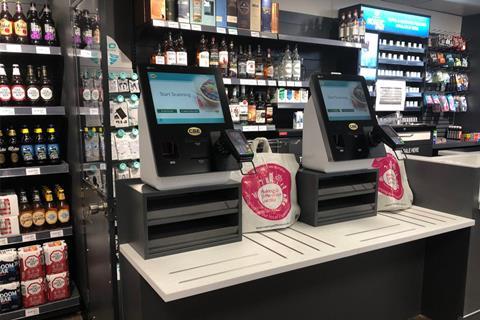 Ascona Group has begun a rollout of self-serve checkouts across its estate, with a total of 18 stores set to have the tech by next year.
The solution was first installed at its Anker Service Station in July. This saw the store drop from three manned tills to one, with two self-service checkouts installed.
The forecourt operator told The Grocer around 30% of all transactions are now going through the new tills, which have serviced more than 20,000 customers.
"It has allowed staff to focus more on the sales floor, which has enabled them to improve the customer experience all-round," the Nisa-supplied retailer said. "It also allows the customer the choice of till point with either human interaction or not which, when you are coming out of a pandemic, is a good choice to have."
Its Holywell site in Chester was the second site to get the tech earlier this month as part of a refit, off the back of the facility's success at Anker, it said.
It has plans to install the solution into another four sites before the end of the year, with a further 12 earmarked for 2022 so far. This will make up almost a third of Ascona Group's 59-strong estate.
"Our trial of the self-service checkouts was introduced to Anker Service Station in July this year and it has proven to be a great success, so we are looking at ways to introduce more units across the portfolio in the coming months," an Ascona Group spokesman added.
"We are constantly looking for ways to improve our customers' experience and the introduction of these self-service checkouts has allowed our hardworking retail forecourt staff to spend more time on the shop floor, working directly with our customers."