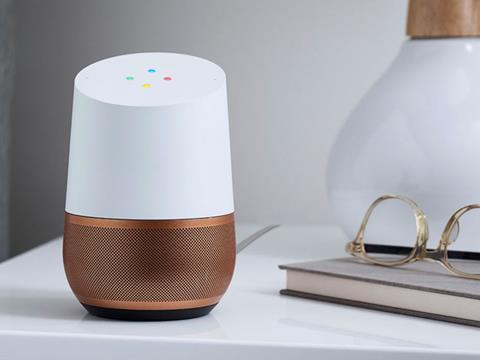 Carrefour is partnering with Google to sell groceries using smart speakers and phones and create a new Google shopping website.

The retailer will launch a 'new grocery shopping experience' in France using Google Assistant-enabled smartphones, Google Home speakers and a new website early next year.

Google Cloud AI experts and Carrefour engineers will work side by side at a new innovation lab opening in Paris this summer, Carrefour said.

A programme introduced at the start of this year will see more than 1,000 Carrefour employees trained in new technologies.
It comes after Carrefour rival Casino secured a deal with Amazon in March this year which sees Monoprix stores in Paris deliver products using the high-speed Prime Now service.

"This alliance makes Carrefour the first partner of Google on grocery e-commerce in Europe, creating a strong bond between the two companies," said Carrefour CEO Alexandre Bompard.

He added: "It allows us to accelerate our digital evolution and get a head start in deploying the omni-channel approach we want to offer our customers."

Google France VP and MD Sébastien Missoffe said: "Shoppers today are saddled with disconnected experiences through the shopping journey, which often lead to abandoned shopping carts and low customer satisfaction and loyalty. Customers want assistive, simple and personalised experiences that help them make decisions on what to buy, assist with easily building baskets across surfaces, and provide a seamless checkout.

"With Alexandre Bompard and his team, we wanted to explore new distribution models and e-commerce technologies to deliver simple, frictionless and deeply relevant experiences for shoppers in France."