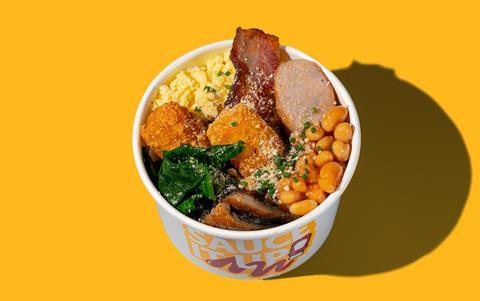 Heinz hot breakfast brand Heinz Brekkie has secured its first major onsite deal with workplace catering company Eurest, which will see the range made available at 200 sites across the UK.
The Brekkie range – which features Heinz-based hot food like All-day Breakfast Burritos, Bangin' Bagels, Hash Brown Dipperz, Med Veg Toasted Flatbreads and Sausage & Beanz egg bites – launched last year, and initially sold exclusively via courier platforms Deliveroo, Just Eat and Uber Eats.
It was developed by Heinz in collaboration with the Lean Kitchen Network (LKN), which licenses brands and tech to kitchens so they can make best use of their staff and facilities.
In some of the new Eurest locations the brand's products will be built to order and sold at counters and in others sold from 'hot hold grab and go towers'. Menu items will also be available on Eurest's Time2Eat app offering pre-order, delivery and click & collect.
"We're always looking for new ways to innovate and there was a real gap in the contract catering market for fun and on-trend breakfast products that can compete with the high street," said Ryan Holmes, culinary director at Eurest.
The Eurest deal follows several small-scale pilots of the Heinz Brekkie range being sold at onsite locations, including at Big Shot Golf driving range in Harrow. Hotel chains and universities are expected to follow soon.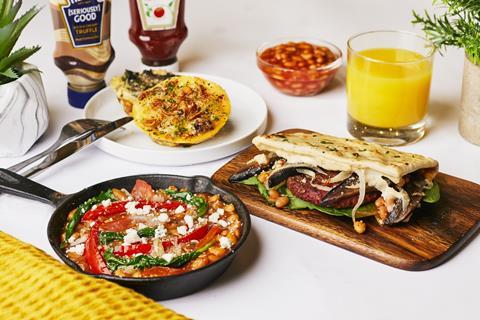 "Eurest has been leading the way in providing the nation's workers with exciting, high-quality, everyday food options which are both convenient and affordable," said Thomas Barlow, Heinz Brekkie Lead at Heinz. "These are the very qualities we set out to achieve with Heinz Brekkie, so it felt natural to partner up for the launch.
"Heinz is present in more than 250 million breakfast occasions annually in the UK, so creating a breakfast-led brand was an obvious next step for us," he added.
LKN now works with around 100 delivery locations as well as kitchens at hotels, food halls, universities and commercial sites. It is behind the Twisted London, Hot Chick, WTF and Korea Town restaurant brands. It also works with Doritos, and launched the delivery-only Dorito's Diner nacho bar concept in 2021. Asda made an equity investment in the company in 2021 and has established "tech-driven food-for-now counters" with LKN at several stores.
LKN worked with Heinz last year as part of the bean brand's 'Beanz Liberation' campaign, which saw its Beanz Burgerz on a curated burger menu – complete with Heinz sauces toppings – available at two sites in London on Deliveroo.
"As the breakfast market grows, so do our customers' expectations and we are proud to be leading the way in meeting their needs with flavour innovation and hot, convenient grab and go options," said LKN CEO Faraz Nagree of the Heinz Brekkie rollout.
"The feedback received from customers has been nothing short of incredible," he added. "We are already planning our next steps to continue expanding at pace, supported by the impressive operational capabilities of Eurest team."
Nagree said the company expected to launch 200 new locations across the UK in 2024.