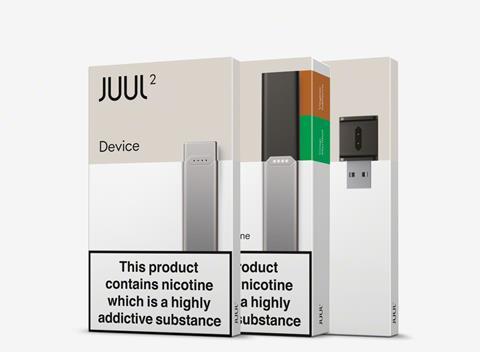 E-cigarette brand Juul is launching its 'next generation' device in the UK on Thursday, the design of which the company says will combat underage use.
Juul2 features technology which means counterfeit pods can't be used in the device.
"The Juulpod ID feature significantly improves the company's ability to identify unauthenticated products and prevent use at the device level, and the Juul2 device will only work with Juul2 pods," the company said.
Given UK customers using Juul's online site to order products are required to go through a "rigorous age-verification process" which includes photo ID age and identity verification, and retailers stocking Juul2 products "will continue to uphold the company's 'Challenge 25' age verification policy, which includes continued mystery shopping audits", the company argues this will help limit underage use.
"Counterfeit products, by definition, are marketed illegally and are often sold without proper age verification standards, which undermines efforts to restrict underage access," the company said.
Juul has come under fire in recent years from those that argue it markets its products towards teens. In June the brand agreed to settle a lawsuit – but agreed no wrongdoing – with the state of North Carolina, which accused the firm of marketing its products to young people. The Food and Drug Administration had previously said an "epidemic of youth use" of Juul vape products had come as "a direct result of your product design and marketing campaigns".
Juul Labs' EMEA VP Dan Thomson said the company had focused its resources on "development of technologies aimed at transitioning smokers and combating unauthorised and underage use".
"We have a product roadmap in place to accomplish that for years into the future," Thomson said.
Juul Labs, in which Altria is a minor investor, enjoyed substantial growth through last year, with the brand adding an extra £16.9m in sales [Nielsen 52 w/e 9 January 2021], an 87% increase on the previous year. This was thanks in part to the widespread closure of independent vape shops, which typically sell more open-system, liquid refill devices. Closed systems like Juul, more commonly stocked by supermarkets and convenience stores, gained more than 10% value share.
Juul is widely stocked at supermarkets including Sainsbury's, Co-op, Waitrose and Tesco, convenience stores McColl's, Budgens and Londis, Shell forecourts, Boots and WH Smith.
A retail rollout of Juul2 is planned for early 2022.