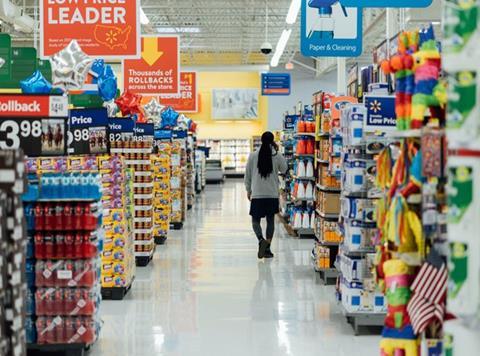 Retailers have been talking about the importance of digital transformation for a while. Retail's BIG Show, an annual New York retail technology event, this week provided an opportunity to evaluate progress.

Positioned in the calendar to capitalise on pent-up demand for new tech-enabled capability that builds from Black Friday through Christmas and up to the release of January trading statements, the show is also a good indicator of what technology trends are likely to help them on the transformation journey.

Hosted by the US National Retail Federation, the show attracts some of the world's biggest grocery retailers, and focused this year on the digitisation of stores, as opposed to making money from e-commerce.

"We're at a fork in the road," said Kroger CEO Rodney McMullen in a keynote discussion when asked about the future of the retail industry. "Trade negotiations, employment levels and consumer sentiment will likely decide if a US recession is likely."
But McMullen pointed to the steps Kroger has taken to ensure it is prepared to meet the digital demands of its customers, as well as to weather any macroeconomic or political storms. Kroger had, for example, already started negotiations to invest in Ocado's automated warehouse fulfilment platform when Amazon announced its intent to buy Whole Foods Market, he said. "We knew we had to accelerate where we were, and that it would take us five to 10 years on our own."
Many retailers were keen to talk up the strategic technology alliances they are forging. Kroger's work to pilot new store technology with Microsoft sees a strategic shift from managing the impact of digital on the supply chain to the customer.

McMullen's keynote comments set the tone and continued the trend where, having started work to overhaul their back-office operations for the digital age, grocers must now look to reflect these efforts in-store, for the customer.
This is where I found the presence of Alibaba at this year's show to be a watershed moment, not least for the fact that there was standing room only at a session where the CEO of its store-based Freshippo arm revealed just how central a role tech plays in its growing network of over 100 Hema stores throughout urban China.
Yi Hou, CEO of Shanghai Hema Network Technology Co, said: "Omnichannel is a retail-centric model. NewRetail is customer centric. With omnichannel, there is a need to spend to acquire online customers. With NewRetail, the traffic flows organically from online to the physical store because it's most convenient."
He also pointed out that, while e-commerce sales currently make up 8%-9% of total modern retail sales in China, 60%-75% of Hema store orders (for delivery or pick-up) originate online, from within the local community each Hema store serves.
But, just like McMullen, Hou underlined the importance of Alibaba tech development in both the back and front office: to ensure optimal inventory levels and 99% delivery accuracy, even with rapid, one-hour fulfilment windows; and to deliver personalised recommendations to customers' mobiles in the store.
The comments of Walmart chief technology officer, Jeremy King, summed up the general sentiment at the show, in responding to the fact that the US grocer is now the world's third-largest tech spender behind Amazon and Google parent Alphabet, and is also working strategically with Microsoft.
"Technology is essential for the future of this company," King said. "Rather than start with what the tech can do for us, we're letting the customer dictate where it goes. From easy in-store pick-up to home delivery to your fridge, it's all about being ready for where the customer takes us, so we don't get taken by surprise.
"When you think about the services we provide – we're the biggest money changer in the world, for example – it's all about how we prepopulate forms for cheque cashing or pharmacy prescriptions, for example. It's about how we scale and make the shopper experience better, across the board."
Miya Knights is head of industry insight at Eagle Eye Solutions