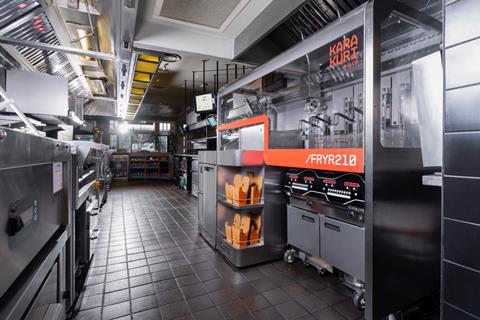 Ocado-backed kitchen robotics business Karakuri is trialling an automated frying machine with Nando's.
The FRYR210 robot will be processing Nando's chips "from freezer to scoop" in the trial, which is taking place at the restaurant chain's site in Park Royal, London.
The trial will provide Nando's with an opportunity to review the impact of FRYR210 on the quality, consistency and availability of their chips, Karakuri said.
According to the company, the robot can output up to 550 portions of chips per hour.
"The QSR and fast casual market is driven by finding fresh, new ways to deliver an exceptional customer experience that keeps consumers coming back for more," said Barney Wragg, Karakuri's CEO and founder.
"Chips are key to a restaurant's success, both in terms of customer satisfaction and brand consistency. Our FRYR product range is representative of how new technology can support every restaurant's mission to improve their service in ways that were impossible five years ago," he added.
Karakuri said the robot could work with existing fry wells, extraction and fire suppression systems to allow restaurant employees to spend "less time in front of the fryer and more time on value added, customer-focused tasks".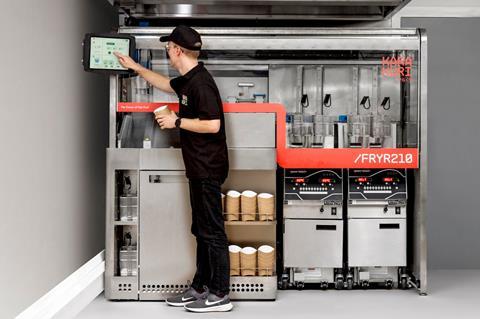 "In testing Karakuri's FRYR, we wanted to see how we can further improve the quality, consistency and availability of our chips, while meeting our environmental objectives of reducing food and oil waste and reducing energy consumption," said Cameron Roberts, group chief operating officer at Nando's.
FRYR210 is Karakuri's first automated fry line machine but the company has developed several robots to serve quick-service restaurants and canteens.
In 2021 its Semblr robot was trialled at Ocado's headquarters in Hatfield, preparing customised orders of hot and cold lunches. The robot – formerly known as the DK-One – individually prepared each meal, selecting from 17 hot or cold ingredients that are each weighed to match the customer order. The company claims Semblr can output 110 meals per hour.
Karakuri – which takes its name from traditional Japanese mechanised puppets – was founded in 2018 by Barney Wragg and Simon Watt, two friends who had worked at computer chip design business Arm. Ocado acquired a minority stake in the business in 2019.