Eustice dreams of Benefits Farm: A last-minute replacement for Owen Paterson - who was forced to pull out because of his recent eye surgery - Defra minister George Eustice managed to liven up an otherwise solid-but-dull performance by suggesting shortages in seasonal labour could be solved by forcing those on benefits to work on local farms. It didn't prove a popular idea with the farming crowd. Farmers can't pay for the government's social engineering experiments, Peter Kendall thundered.

Government beats retail as farming's biggest baddie: Retailers faced the usual flak over their commitments to sourcing more British produce. But while last year's conference put the retail trade on trial over Horsegate, the harshest words this year were reserved for UK and European government officials. The floods, badger culls, the Common Agricultural Policy and regulatory stalling over GM were frequent themes. Meanwhile, retailers came in for spontaneous praise over their support for farmers during the recent floods. And despite his pop at Red Tractor, keynote speaker Justin King's revelation that Sainsbury's was now sourcing more British produce than at any time in its history went down a treat.

Kantar puts the puns into punditry: Kantar Worldpanel's Ed Garner took farmers on a whistlestop tour of retailing trends with plenty of lols thrown in. Among his more serious points, the simultaneous success of discounters and premium retailers featured prominently, with Garner explaining why the big four were the squeezed middle. The one exception? "I hate to be Justin King's warm-up act, but it's Sainsbury's."

Boparan makes a surprise appearance: Delegates were treated to a rare - and unexpected - public appearance by 2 Sisters Food Group CEO Ranjit Singh Boparan, who replaced The Co-op's Michael Fletcher as a panel member on the day the sale of Co-op Farms was announced. During a measured performance, Singh lived up to his reputation as a key retailing ally, defending Tesco's sourcing record on poultry and urging farmers to see supermarkets "not as a problem - they are the solution".

Brussels causes brassica confusion: It's horticultural taxonomy gone mad! A cabbage will be considered the same as a cauliflower under the EU's new controversial three-crop rule, Eustice claimed. Delegates were left wondering if the EC had been inspired by Mark Twain's famous quote that "cauliflower is nothing but cabbage with a college education".

Morrisons gets its Cheddar in a twist: Quizzed about Morrisons' sourcing record on dairy, group corporate services director Martyn Jones offered the immortal line: "We are 100% British on Cheddar with the exception of Canadian." Jones was seeking to make a legitimate point - that there's a separate market for Canadian Cheddar - but the damage had been done. The room erupted.

NFU dinner narrowly avoids sourcing crisis: With a theme of Backing British and a line-up of heavyweight sponsors (including Marks & Spencer for the wine and 2 Sisters for the lamb), the NFU's glitzy dinner was going to be a showcase for the best of UK produce. Until it emerged the tomatoes used by the caterers were, in fact, South African. In the end, Cornerways Nursery saved the NFU's blushes by getting its UK-grown tomatoes to Birmingham just in time.

Meurig Raymond is elected NFU president: Having been the union's deputy president since 2006, this was expected. His successor as deputy - Minette Batters - made history, becoming the first female office holder in the NFU's history. Guy Smith was named vice president.

Kendall gets on his bike: Speculation about Peter Kendall's post-NFU career ran high. His plea to the government to take care in choosing the next EU agriculture commissioner prompted suggestions he was after the job. Kendall offered few clues on his plans other than a charity cycle race around the NFU's offices in the summer, and firmly ruling out a return to his days as a Brussels sprouts picker.
King hits out at Red Tractor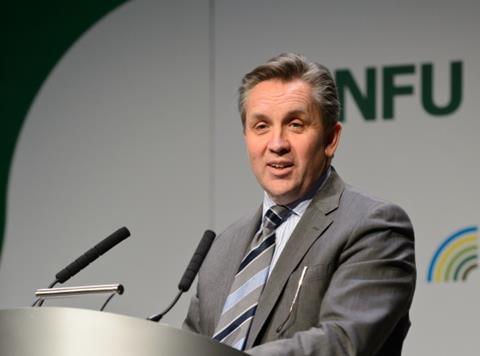 The fact Sainsbury's isn't Red Tractor's biggest fan is no secret: it announced back in 2012 it would stop using the logo on its own-label packs. But the ferocity of Justin King's comments nevertheless took many delegates by surprise. "Why would we add credibility to a label that pretty much everyone can stick on their products?" he retorted when asked why the logo was dropped. Ouch.