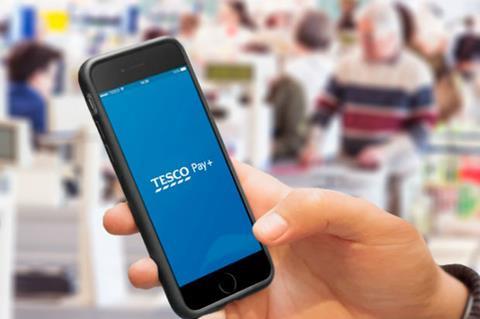 Tesco mobile payment app Pay+ has surpassed the £1bn payment mark, three years after its nationwide rollout, the retailer announced this week.
The app, formerly known as PayQwiq, which was rebranded in September 2017 under the new name, allows customers using either Android or iOS smartphones to pay and collect Clubcard points with one scan of their phone, up to a single transaction limit of £250.
Tesco said it now had 1.2 million registered users signed up. A transaction using the app took place, on average, every 1.4 seconds, it added.
"The world around us has changed rapidly, particularly over the past year, and we're proud that Tesco Pay+ is helping our customers every time they shop with Tesco," said Mark Loch, group payments and money services director at Tesco Bank.
"With the single scan of a smartphone, Pay+ provides a simple and fast checkout experience. Shoppers can track their grocery spend and have the convenience of a £250 single transaction limit with automatic Clubcard points collection, helping them to manage their money a little better every day."