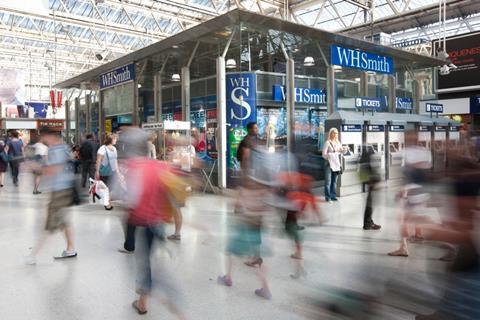 WH Smith is working to create virtual 'digital twins' of its travel store estate, allowing its property teams to safely tour and inspect sites from behind a computer screen.
It is working with CoreLogic to generate the scans. Specialist 3D cameras are placed around a store which captures each area and room. The resulting still images are then stitched together to create a seamless 3D representation of the store, which users can view from all angles and move around virtually within.
CoreLogic described the WH Smith project as a "practical solution to bring teams together to digitally walk around the space and jointly discuss elements of store layout, maintenance, remodelling and point of sale display".
The retailer has already made virtual versions of stores at London Heathrow's Terminal 2, Manchester Terminal 2, Colchester Hospital and Gridserve Electric Forecourt. Further locations will be scanned in the coming months.
"It's a great solution to support our store planning and development which overcomes some of the challenges of working in this current climate," said Steve Cole, WH Smith group construction director.
The retailer said it would be using the technology before and after store refits, aiding teams at the planning stages and showcasing the end result through their marketing channels. Similar scans have been widely adopted by the property sector to give virtual house viewings through the pandemic.
"In these challenging times when restrictions on people's movement and mixing is problematic, virtual tour technology is a powerful tool and works well for retailers for a variety of reasons from shop refits, marketing and merchandising to a full digital shopping experience," said CoreLogic sales director Stewart McRae.