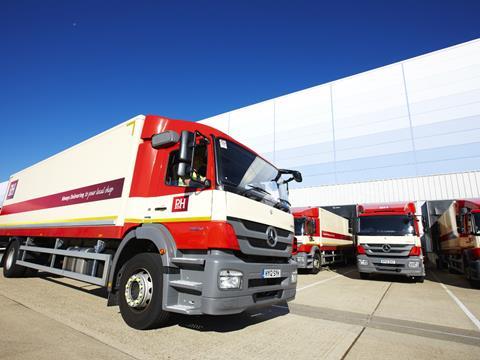 Palmer & Harvey has admitted that it would be forced to restructure its business if it were to lose its Tesco contract.
The troubled delivered wholesaler made the admission during a hearing with the Competition & Markets Authority as part of its ongoing investigation into Tesco's £3.7bn takeover of Booker.
A heavily redacted summary of the hearing was posted on the competition watchdog's website today. In it the CMA says "P&H said that it was naturally concerned about the impact of the merger on its business" and that "although it is comforting that Tesco has expressed that it has no current intentions to end the P&H contract, P&H must be prepared for every eventuality".
P&H told the CMA that following the merger Tesco and Booker would be able to provide the service that it currently provides to Tesco and One Stop but that the merged business would have to make "considerable investment in automation, multi-temperature vehicles and infrastructure".
It said that "Booker's delivery network is predominantly focused on the south of the UK, so it does not have the same level of national coverage as P&H. However if Tesco/Booker were minded to bring delivery in-house, they would be able to build the capability to do so".
Should it go ahead and make this investment, meaning that P&H lost the Tesco business, it told the CMA this "would have a serious impact on P&H's efficiency, pricing and operations". It went on to say that it would therefore "need to consider restructuring".
Finally P&H said it would need to win several significant contracts to bring it back to a status quo and that Tesco could not be replaced with just one new contract. The CMA said "P&H explained that this would be difficult to achieve and, since several wins would be necessary to replace the value of the Tesco contract, this was unlikely to be achieved in a very short time period."
The CMA is currently engaged in a phase two investigation into the Tesco Booker deal, which was first announced in January. It is due to publish the findings from this phase by the end of this month before making a final decision before the end of the year.