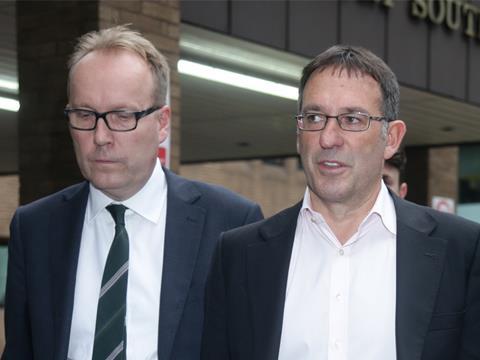 Two former Tesco executives accused of masterminding a fraud that sparked the biggest crisis in the retailer's history have been cleared after the case was thrown out by a High Court judge today due to lack of evidence.
Judge John Royce ruled that former UK managing director Chris Bush, and John Scouler, ex-UK food commercial director, should be found not guilty.
The jury was told a third man, former UK finance director Carl Rogberg, charged with identical offences was not well enough to stand trial and that a decision had not yet been taken on what action should be taken in relation to Rogberg following the acquittals of Scouler and Bush.
Today's events are a humiliating blow to the SFO which had twice attempted to prove the Tesco executives had manipulated the supermarket's financial records to meet targets.
The acquittal came after the judge dismissed the case brought by the Serious Fraud Office (SFO), bringing the trial to a halt after the prosecution presented its case.
The SFO went to the Court of Appeal regarding the dismissal, but its appeal was dismissed on Wednesday (5 December) and the men were cleared by Court of Appeal judges.
Scouler, 50, of The Park, St Albans, and Bush, 52, of Four Acres, Green End Road, Radnage, High Wycombe, were each cleared of one count of fraud and another of false accounting.
None of this could be reported until the jury was informed.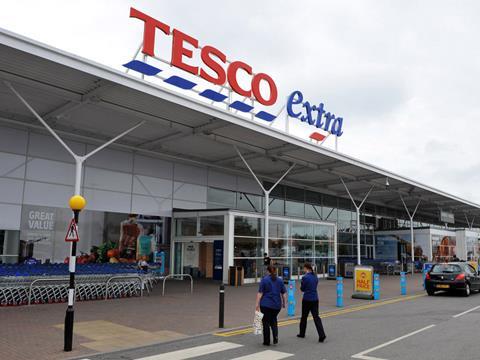 The case came after one of the most shocking days in recent UK retail history, when on 22 September 2014 Tesco issued a statement to the London Stock Exchange saying it had identified a £250m overstatement of its expected profits for the half-year, much of which relating to the bringing forward commercial deals with suppliers too early to inflate its financial performance. The figure was later increased to £263m and upwards again to £326m in April 2015.
The company's shares plummeted by nearly 12%, wiping £2bn off the share value.
The pair were accused of being aware that income was being wrongly included in the company's financial records to meet targets and make Tesco look financially healthier than it was.
But on Thursday (6 December) at Southwark Crown Court, the jury was told that they had been acquitted at the Court of Appeal on Wednesday.
The trial had been expected to last three months.
The prosecution in the retrial, which began in October, claimed Bush and Scouler "pressurised and coerced" staff below them into massaging the company's financial records to meet targets and make Tesco look financially healthier than it really was.
"I am now looking forward to getting home and spending Christmas with my family.

"That is all I wish to say, thank you."
The decision marks the end of a long ordeal for the men charged with masterminding the fraud.
Chris Bush said today: "On 25 November 2018, after considering the entire SFO case, the trial judge Sir John Royce, reached the 'firm conclusion' that there was no case against me, or against John Scouler
"I am sorry to say that the SFO tried to appeal that decision. I am pleased that yesterday the Court of Appeal concluded that the trial judge was right to decide that there was no case to answer and refused the SFO permission to appeal. Therefore yesterday, after a four year ordeal, I was acquitted of all charges against me.
"While I am delighted that my innocence has finally been established, it is troubling that Mr Scouler and I were ever charged. Put simply, these charges should never have been brought, and serious questions should be asked about the way in which the SFO has conducted this investigation. In my view, the SFO wholly failed to investigate this case thoroughly, independently or fairly from the outset.
"I want to thank certain people for their unwavering help and support: my amazing family and friends, my brilliant legal team at Hickman and Rose, and also the many people still working in Tesco, from the very top of the organisation down, for their countless messages of support.
"I am now looking forward to getting home and spending Christmas with my family.
"That is all I wish to say, thank you."
Emotional testimony
In the original trial last year Bush broke down in tears in the dock as the court heard he had opted not to give evidence a series of character witness statements.
Bush's daughter Emily told jurors her father had "literally dedicated his life to Tesco", and described him as having made many sacrifices for his work.
Bush sat weeping in the dock as jurors heard he was loved "to bits" by his daughter.
"It is really important to Dad to do the right thing. He has always said to me 'if you are going to do something, do it the best you can and do it properly'."
She also described her father as "honest and straightforward".
Bush became managing director of Tesco in December 2012, having previously served as chief operating officer and head of Tesco's Lotus business in Thailand.
Meanwhile, Scouler took over as UK commercial director in charge of fresh food & grocery at Tesco in October 2012, having worked at Kraft Foods before joining Tesco's buying operation.
He went on to become commercial director of TalkTalk and is currently on sabbatical.
Shareholder claims
The 2014 accounting scandal left Tesco facing a huge fine from the SFO as well as compensation to shareholders.
In April 2017 the high court approved a settlement between Tesco and the Serious Fraud Office, which saw Tesco agree to pay a £129m fine under a so called deferred prosecution agreement (DPA)
DPAs came in in the UK 2014 to allow companies to suspend a prosecution in return for meeting conditions such as paying a fine or demonstrating that its culture has changed.
Tesco also separately agreed with the Financial Conduct Authority to pay £85m in compensation to investors affected by a trading statement on 29 August 2014 that overstated profits and legal costs.