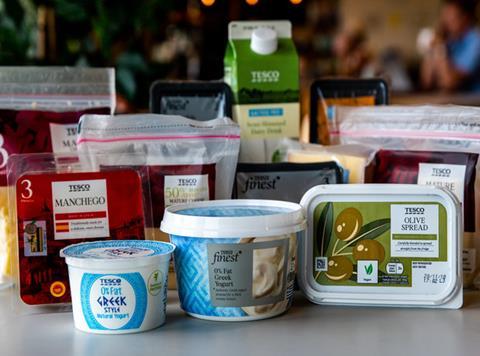 Tesco has continued the major overhaul of its dairy range, after unveiling more than 350 new and revamped products.

Products have been rolled into Tesco stores over the past week, as part of its revamp of 10,000 own label products, which is due to be completed by the end of the year. It follows a relaunch of Tesco's budget Creamfields tertiary dairy brand last month.

Tesco said the focus of the revamp was to improve its range and choice, but also to create healthier options and increase choice for consumers with special dietary requirements.

New cheese products include Vintage Coastal Bite cheddar, Red Leicester Bite, Wensleydale with cranberries and blueberries and Finest red Leicester with chipotle and peppercorns.

The retailer also has new yoghurts in its range, including Finest Greek yoghurt with espresso and Finest Greek yoghurt with honey to add to its existing 10% and 0% fat plain Greek yoghurts.
The range of cheeses has also been expanded with a new paneer, comte and manchego.

Tesco said many of its new yoghurts now contained less sugar, while smaller 200g portions of zero-fat yoghurts had been brought in to cut sugar and calorie content, as well as prevent food waste.

Other new healthier products include a 50% less fat mature cheese and a new strawberry quark.

Tesco said it had also made more products accessible for customers with a dietary requirement, including making its sunflower and olive spreads vegan-friendly.

The lactose-free range has been extended with a lactose-free semi-skimmed dairy milk.

"Customers will soon find a number of new products in our dairy aisle," said Tesco product development director Kate Ewart. "Some have less sugar, making it easier for customers to live healthier lives. There are more options for vegans or customers with an intolerance.

"We've also made changes to the pack design, making them a little easier for customers to enjoy."