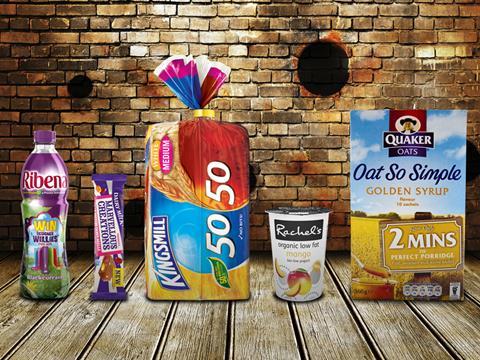 During a packed IGD briefing at Wembley in April, Tesco CEO Dave Lewis confronted suppliers with the sales figures from one of the its biggest superstores, as he made the case for the SKU cull known as Project Reset.

No fewer than 20% of products on its shelves, he admitted, were being shifted at a rate of less than one unit a week, which, even given the preceding catalogue of poor sales figures for Tesco, was grim.

With Lewis bemoaning that the supermarket giant's range had swollen by an incredible 31% in the 18 months before his arrival, the image of 10s of thousands of products gathering dust on shelves left suppliers in little doubt there would be bloodshed.

But how has the strategy worked in practice and has Tesco found it more difficult than it thought to push the reset button? Last week The Grocer revealed the list of casualties was stacking up, with brands including Clipper (tea and coffee), Cafédirect, Kellogg's and Quaker the latest victims. They joined Cadbury Marvellous Creations, Kingsmill bread, Rachel's yoghurt and Ribena, which have lost shelf space to varying degrees. Tesco has also cut 10% of SKUs from its soft drinks and fresh meat own-label ranges, whilst Finest tinned meat range is one of several to go completely.

Yet the range reviews to date have not yet been quite as brutal as the 20% of SKUs indicated by Lewis in January and certainly not the 30% several different suppliers had reported could be at risk after negotiations over the reset began. The figures so far suggest a SKU review more in the region of 10%-15%.

Analysts at Bernstein suggest Tesco may have tackled the "low hanging fruit," first and warn suppliers the biggest upheaval could be still to come - including rationalisation of its fresh food category, expected later this year - but some sources suggest Tesco has been forced to rethink elements of its original plans. One aspect that seems certain to have been jettisoned is a 'big bang' approach, with a seismic, virtually overnight shake-up of the store food and drink range having originally been envisaged to come into play virtually overnight, at the end of this month, having been shelved according to several independent sources.

Too disruptive

"Dave Lewis has realised that having this big bang approach would be too disruptive," says Bruno Monteyne, senior analyst at Bernstein. "It's way more sensible to make the rest part of a product cycle approach."

"Tesco has had to be pragmatic. You can't have a nuclear change overnight," adds one negotiator involved in the process.

Certainly many have questioned whether it would be asking for trouble to expect Tesco's front line store staff to pull off such a change, regardless of recent improvements in service, with potentially hugely damaging results for customer experience.

But there are other reasons why Tesco, which has been working closely with external experts at Boston Consulting Group (BSG) and using dat from Dunnhumby on the reset, may have had to tread more carefully.

"Cutting range is very dangerous," says Monteyne. "There are plenty of previous examples of retailers that have gone too far. Walmart did this in the States a while ago. All it takes is for one person's favourite product to be delisted and the risk is they will take their entire shop elsewhere."

Simply going for the tail could, some warn, be a mistake. "Just delisting the smaller SKUs to focus on core range risks alienating savvy shoppers," adds Dave Marston, founder of category management consultants Category Wins. "You also risk key high-margin lines, which drive category margin - generally a buyer's KPI. These can have significant impact on the bottom line, particularly when a huge growth spike is due to unforeseen circumstances, like, for example, the Great British Bake Off impact on the home baking aisle."

Marston also points out there is a risk that "the range offering just becomes dull and does not attract incremental penetration from Tesco's competitors".

Project Reset, however, represents far more than a range review for Tesco. It's also a whole new basis for trading for a retailer caught in the eye of a public storm over its relationship with suppliers. On the back of the scandal surrounding the investigation by the Serious Fraud Office into its £263m accounting black hole, not to mention the ongoing probe by the Grocery Code Adjudicator, Lewis has vowed to change the basis of Tesco's trading from murky back margin negotiations to a strategy based around front margins, volume and price.

The issue of overriders

Earlier this year he revealed to The Grocer that the 24 different back margin mechanisms used by Tesco would move to five by the end of 2015. And by 2017 he promised there would be just three - volume, prominent positioning, and compensation payments in the event of recall issues. Insiders suggest this has proved difficult to quickly bring to the negotiating table.

"What Tesco has found in reality is that in certain categories it's going to be very difficult to move from back margin," says one source close to events. "Lots of suppliers rely on overriders and don't want to move to front margin. There's no doubt that if a company has a brand of SKUs that are in the lower-performing quartile, they are vulnerable. But it's clear that for certain suppliers, especially some big, powerful players, it is going to allow overriders to continue. I think Tesco have accepted the reality at least for the time being."

"It's not about the size of the supplier," says an alcoholic drinks boss, who's anticipating a late September reset of the booze aisles. "It's about the evolution of the category. If you own the category you still have a big say. In competitive categories like ours, ranging is fairly tight. The biggest tradeoff is whether you trim a small amount of range from large volume lines, or simplify the craft side. A lot of mults have introduced a big selection of premium bottled ales and ciders to create a destination, but where there are quite a lot of shelf warmers."

Much of the responsibility for these decisions has rested on commercial directors, working closely with BCG, and behind closed doors.

"It has been fairly tightly controlled, with communication limited with buyers and other personnel when reviewing categories," says a supplier source involved in the negotiations. "Communication has even been limited between Dunnhumby account teams and those in Dunnhumby working on the project." Reports vary as to the extent to which Tesco's buyers had their noses put out of joint by the process, and the use of BCG. But the reset has also come at a time of massive staffing changes in the commercial teams. "Lewis has also had to do this not only having only just arrived at Tesco but with huge changes to his buying team because of the cutbacks he has had to make," says one negotiator, who described the changes in Project Reset so far as "little more than good housekeeping."

"Many of the category heads that are in charge of making sure Project Reset delivers are new to their roles," says one negotiator. "That has made it difficult for them to go as fast as they wanted."

"I don't think Lewis has suffered from any lack of experience in his buying teams," says Monteyne. "Yes there have been sales roles taken out, but another way of looking at it is that it's taken layers out of the decision-making process and given buyers more power.

"What people have to remember is Tesco had a unique problem. Its range was out of control. With this reset we are talking about a problem which is a Tesco problem.

"Given what a careful communicator Dave Lewis is I would be very surprised if Tesco doesn't deliver the 20% reduction in SKUs he has spoken about."

Big bang or not, plenty more brands are going to emerge as losers in the coming weeks and months. Which ones we will have to see. But perhaps the bigger question is whether the changes to the range will achieve the necessary sales and profits and footfall.

"If you delve into the ranging principles of the reset, they want to make it simpler," says the alcoholic drinks boss. "Success equals easier for customers and easier for colleagues.

"If they get the changes right, I suspect most consumers won't even notice," It's not how Tesco will probably measure success; but it's not a bad start.
The reset to date
Branded toilet paper: 48% drop in SKUs
Branded frozen SKUs: 5%-plus fall in SKUs
Breakfast cereals: 11.5% cut from 483 SKUs to 427 SKUs
Children's toys: 17% SKU fall
Coffee: 324 to 280 SKUs
Soft drinks: 10% own-label line-up reduction
Tea: cut from 447 to 388 SKUs
Tinned meat: Range cut from 127 products to 116 SKUs
Own-label fresh meat: 10% SKUs cut
Prepared seafood: down 13%
Source: Brand View/Bernstein