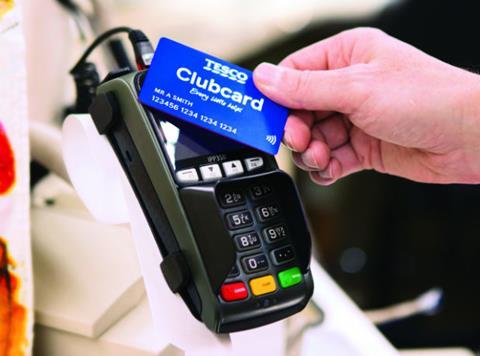 Sir Terry Leahy, the man whose transformation of Tesco was in no small part helped by the launch of its famous Clubcard, once said that loyalty cards themselves were overrated.
"The true source of loyalty is to create benefits for people," he said. "That's really what builds loyalty. Sometimes people concentrate too much on devices like a loyalty card, such as the Clubcard. These really are just methods by which you create loyalty. They don't create loyalty in themselves."
So it will be interesting if today's news that Tesco is relaunching the mother of all store cards – in what it claims is an exciting reinvention of the 1995 original – grabs the attention of everyday users as much as it doubtless will retail and tech enthusiasts.
For some time there has been a sense that Tesco has not been able to capitalise on the card, and its 17 million plus users, to the extent Leahy and co were back in the 1990s.
As well as the fact that, one by one, other supermarkets have caught up with their own cards and at-the-till price guarantee offers, the arrival on the scene of Aldi and Lidl has given the card something of a crisis of identity.
In the age of the discounters and everyday low pricing, the thud of those Clubcard vouchers landing on the doormat has lost much of its excitement.
For too long Tesco's Clubcard was only relevant to users at certain times of the year, and even then only to an element of its massive user base.
Up until September 2011, Tesco blazed a trail with the Clubcard with a policy of offering double Clubcard points. But even before new boss Dave Lewis arrived on the scene the old guard under Philip Clarke had veered away from the policy as they ploughed millions into price cuts instead.
In April last year, Lewis ditched Clubcard Boost altogether, believing it was a policy that all too often applied only to a minority of Clubcard holders storing up their points like squirrels do with their nuts for winter, and not enough to the everyday customer.
Today's relaunch will see this policy extended so there are more of the types of benefits Leahy talked about. Tesco is also significantly lowering the threshold for benefits with its Clubcard reward partners to as little as 50p.
The new version also features a tie-up with new generation taxi company Uber, which, as The Grocer revealed last month amid speculation of such a deal, has proved less than popular with black-cab drivers.
Tesco says it hopes the new dark blue card will be more accessible to all its customers than its predecessor.
But the big gain, of course, is the potential for contactless technology, so commonplace in stores these days and already used by Tesco in other areas such as its PayQwiq payment service, to give a new lease of life to the Clubcard and allow much more accessibility and instant marketing around shoppers' buying habits.
It's much more than about making the checkout experience quicker. All of a sudden, Tesco has the chance to open a new conversation with 17 million-plus users at the till, who will be able to instantly use their vouchers as they choose.
Linked with a much improved Clubcard app, the potential for Tesco to target individual customers with tailored offers is also one that will excite brands as well as Tesco.
As Leahy also once said, the Clubcard is one of the first examples of Big Data, and this is Tesco's chance to make good one of the advantages it has over the likes of Amazon, which has been much less reticent about unleashing this sort of technology in its retail businesses.
For many customers, Tesco's new card will be a case of banging at an open door, or rather at an open iPhone wallet. Only today, an IGD report found the adoption of technology within the food and grocery industry has been much slower than in other industries.
But it said a growing proportion of food and grocery shoppers are open to using technology in-store, with huge levels of interest in handheld scanners, in-store touchscreens and personalised mobile offers.
The trick for Tesco is going to be how it capitalises on this big data. It is about how it makes the younger generation excited about the opportunities of the card, while still carrying along those customers who probably prefer the way things used to be. The coupon hoarders saving up for festive treats are not likely to be too enthused by the benefits of apps and instant rewards at the till.
Tesco says it has no intention, for now, of scrapping physical coupons altogether, but it would seem this is an inevitable step on the way. That is going to be another brave move, and one that might not be too far away.