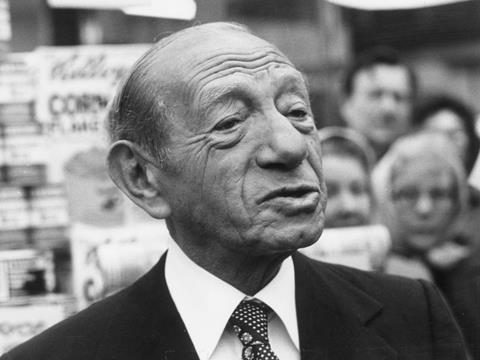 Pile 'em high, sell 'em cheap' was the mantra of Tesco founder Jack Cohen - and if reports are true, current CEO Dave Lewis is set to take his advice and give him a posthumous star billing in the process. Tesco is said to be weeks away from opening a discount chain to take on Aldi and Lidl, with plans for up to 60 stores under the name Jack's, using mothballed and repurposed existing branches.

Following initial reports in February that Tesco was thinking of trialling a discount chain, it has begun advertising for staff for a "new retail format" that would be "operated separately from the core Tesco business".

But can Jack's really allow Tesco to take the fight to the all-conquering discounters?

One popular nickname for Cohen was Slasher and while a chain of 'Slasher's' is perhaps a step too far for Tesco, its discount ranges make it far better placed than when Lewis took over in 2014 to 'sell 'em cheap'.

"What started as 76 Farm brand products two-and-a-half years ago has now been extended into nearly 300 discount brands covering the daily essentials from fresh food to dry grocery, frozen, deli and ready meals," says Bruno Monteyne, senior analyst at Bernstein. The breadth of the range and its pricing are "much stronger than we would have anticipated a few years ago", he adds.

In June this year, Farms brands were 5% more expensive than the hard discounters, but newer Tesco discount brands to have emerged since 2017 were up to 22% cheaper, according to Monteyne. This "allows Tesco to entertain the idea of a discount chain", he says.
Bryan Roberts, global insights director at TCC Global, says Tesco could put its Farms brands and discount ranges at the forefront of the new chain, while also tapping into Booker's discount products.

Tesco has been trialling the sale of bulk buy discounts at stores across the country and some believe its new chain will take on elements of a Costco-style model - able to utilise both its discount own-label brands and those from Booker.

But Roberts warns it could be risky to try to lure customers from Aldi and Lidl with bulk buy tactics. "You are talking about a lot of outlay for customers on a budget," he says.

Tesco must also be wary the ranges it carries at the new stores don't "alienate its own shoppers" adds one supplier.

"They can't be seen to be carrying Tesco products in there at cheaper prices," he adds. "Or they will be laying themselves open to the accusation they are simply ripping customers off."

But Monteyne thinks Tesco has this covered through its discount lines. He says the proposition can be "amazing value and quality on this limited range in a quick shopping process" at Jack's or "discounter ranges at the same price and 20,000 other products" at bigger Tesco stores.

The locations mooted also pose questions. Previously mothballed sites, including those at Chatteris and Immingham, will be joined by sites such as Wandsworth, St Helens and Edge Hill.

"If you look at the areas mentioned it's not going to be easy for Tesco to use its DCs," says Roberts. "Booker's network as mini-DCs could be an option."

Clive Black, analyst at Shore Capital, thinks we "could be looking at a modest but dedicated number of locations, not dissimilar to what Booker has done with Family Shopper. It may be that it's serviced out of Booker, not Tesco."

So will 60 stores be enough? Black calls it "a pimple on an elephant's backside for the Tesco business". If, on the other hand, it's to be much bigger than that, it will lead to "serious questions from shareholders" about the investment needed.

Cohen, surely, would have admired Lewis for having the experts guessing at what's next. Once Jack's opens its doors, however, there will be nowhere to hide and Tesco will need to ensure the concept is right. Retail history is littered with the names of those that didn't.