snapshot
Name: Jason Tarry
Job: Chief product officer
Age: 48
Born: Tonbridge, Kent
Lives: Hertfordshire
Family: Married to Cathryn with three children: Patrick (17), Sophie (16), Daniel (14)
Education: BA (hons) in business studies, Staffordshire University
Potted cv: Joined Tesco in October 1990. Moved to commercial in 1993, with various roles in impulse, bakery, non-food and clothing. Promoted to commercial director for UK general merchandise in 2005. Ran Central Europe and Turkey clothing from 2008. Appointed CEO Group clothing in 2012, adding UK & Ireland store and online operations. Took F&F to Tesco Asia. Promoted to executive board in January 2015
Best career decision: Taking the plunge into commercial as a buyer
Career highlight: Promoted to category manager of household. I didn't expect it due to my age and inexperience
Business mantra: Be yourself, seize the moment and no regrets
Most commonly used phrase: Thanks
Business idol: I haven't got one. My dad was my idol.
Hobbies: Football (Arsenal and Bury Rangers u15 and u17 - where my sons play!) and fishing
Favourite meal: Any that brings the family together. Sunday roast does it best
What book are you reading: I haven't had time for a while but I enjoy historical fiction
Last good film you saw: The Guard
Jason Tarry is Tesco man and boy. Next month he celebrates 25 years with the retailer. And, as he reels off the former bosses he counts by way of inspiration - John Gildersleeve, Richard Brasher, Steve Ager, John Horner - he seems a strange choice, on paper at least, to bring about the cultural revolution new CEO Dave Lewis has prescribed in Tesco's notorious 'commercial' function.
Yet Tarry is not at all the archetypal bully-boy buyer. Never was, never will be. "I remember Richard Brasher once said: 'I can't find anyone who says a bad word against you but you seem to get things done," he recalls.
And so it was, this January, that Lewis pulled Tarry out of F+F, a rare success story in the otherwise disastrous turnaround of ex-CEO Philip Clarke, to initiate 'Project Reset'. Lewis confirms his rationale to me in a text. "Very strong track record, even stronger values. He's doing a great job."
Tarry's certainly been busy. Since his move the commercial function has been turned on its head, with more than 1,000 roles axed, the senior team halved and the global buying function dismantled. At the same time, Tarry has been tasked with conducting a complete review of all 40 categories in which Tesco trades. Nothing less than the future of Tesco depends on the turnaround plan.
So how is it all going? What's he been up to? And can he really change the culture at Tesco and bring home the bacon at the same time?
With a focus on simpler terms, cost price and selling price, "the good news" is that the turnaround is starting to take shape, Tarry believes. "You've seen in the results that our performance is on an improving trend, in terms of volumes and footfall - they're still not where we want them to be but we think we're on the right track."
And while a lot of time was initially focused on the restructure of his department, with its completion in May, Tesco's new chief product officer is focused more on customers. "Improving value for money, becoming more competitive, reducing some of the less effective promotions, making some price investment, and, of late, starting to focus on our ranges, making them a bit simpler to shop, a bit clearer for customers."
Work on the so-called Reset has been going on for most of the year in Tesco's fresh food ranges, "because of the seasonal cycles, and because the range changes we're making there are more straightforward". In two tranches, produce and meat ranges have been trimmed by around 15%. Now come the bigger category reviews. In recent weeks, Tarry's team - aided by Boston Consulting Group, and armed with Clubcard data - have completed its work on core grocery lines: tins and packets; tea and coffee; cereals; and other cupboard essentials.
Next up will be soft drinks (this week), followed by BWS, crisps, nuts & snacks, confectionery, health & beauty and household, with the reset due to be completed "by the end of the year".
Tarry can't say how many lines have been cut, or how many delistings there will be in total. But he insists that achieving a number or a percentage is not the brief.
"What's driving the work is what's right for customers. Offering the right choice - still with a bigger range than our rivals but without duplication. Whatever that number throws out will be the answer. It will vary by category but so far it's been around 15%. In some cases it's been higher. Oils and condiments was around 20%. In tea and coffee, we took virtually nothing out: we made some changes, as we could see growth in speciality tea and speciality coffee, but it worked out the same as it started out [in terms of SKUs."
He's also tried to apply the same logic to own label that he used when in his successful transformation of the F&F clothing brand.
"We think we have a fantastic offer. But we've said to the teams: "If you weren't guaranteed distribution; if you had to really think about positioning, in the same way as a branded manufacturer, and about the customer reason, what would you do, what would you offer? Let's apply that thinking to our own brand ranges, to make sure we're putting our very best foot forward. I think we've got some fantastic ranges, but I still think there's lots of room for improvement."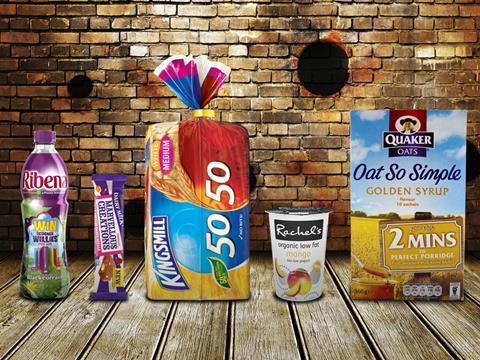 'We want to get this right first time'
Tarry also rules out further culls in categories already reviewed. "We wanted to do this properly. If you get this bit wrong - the range reviews, the pricing architecture - and you go too quickly, it's a big issue. So we've left no stone unturned to make sure our output is as good a job as possible for our customers, that we get this right first time.

"Of course we will always review our ranges. But it's not our intention to go again. The range going forward will be what we believe to be right for our customers. It might mean we cut ranges further in the future. But it might mean some expand, that we put more in again. We will do whatever is right for the customer, but so far so good."
Tesco's reset is being driven by the view that a stripped-back range, less cluttered displays and extra facings for bestselling lines will deliver improved sales. Even before the reset is completed and recent trials of new adjacencies - based on need states rather than product types - began in 50 stores, availability has already improved. Dotcom availability has improved 1.2% year on year, with customers now receiving over a third fewer substitutions. And a sales-based measure of the 1,000 most popular items has improved by 2.6% year on year, with out of stocks, for customers up to 9pm, reduced by a third. "We're pleased with that but there's more to do," says Tarry. "We always wanted to get to 98.5% availability and that remains our goal."
"The heart of the business is still the same: the energy, the passion, but there are some words you might not recognise, like 'modest' and 'humble'"
A lot of the delisted SKUs have involved smaller companies, which has led to claims that Tesco only wants to deal with the big boys. Tarry denies this.
"We're continuing to back local suppliers and British products. We buy more British products than any other retailer and offer 3,000 local products sourced through our regional buying teams."
Examples include Hilltop Honey a small father and son local producer from Powys, Wales which this year has received listings in more than 650 Tesco stores; and More Drinks ("we helped them develop a new range of low-calorie, high-vitamin healthy drinks in 2013 and they are now listed in over 800 stores").
In some stores Tesco has also curtailed local store manager empowerment. But Tarry attributes this to trials of new ranges. "There's a moment in time where we've asked our managers as we've reset the ranges to hold them for a period of time, so we can understand sales and other metrics. But it doesn't mean we'll take local choice away. We are still the biggest buyer of local listed goods, and there's been no change of focus."
In the last two or three weeks, Tesco has also started to trial new adjacencies to cater to "need states". So, for example, the tinned tomatoes will be placed next to the pasta and spices; and all home baking goods have been brought together with cake decorations.
"Over the years all of us have conditioned customers to shop by package type, rather than product type, all the glass, all the tin, all the packaged goods, and in fairness they've got used to it," Tarry explains. "But if you look at need states, it's quite different. We feel like it's a good thing to do but when you move stuff, customers don't like it so we are trialling layouts in 50 stores."
Of course store layouts haven't only been driven by product type, I point out. For example, milk has traditionally been placed at the back of the store to entice shoppers to shop more of the store. Even the positioning of milk is up for grabs, Tarry insists.
"The location of items like milk is historical. In terms of positioning and product to maximise sales, I can tell you that's absolutely not the key criteria going forward. It's about putting the best sellers in the most obvious place for customers to be able to buy them."
Another factor in the new store layouts has been health, with guilt lanes removed from all checkouts in January last year. That didn't stop Jamie Oliver from having a pop over the siting of sweets next to guilt-free aisles. Is his criticism fair? No, says Tarry. "We're very focused on the health agenda, with own-label soft drinks in particular seeing a lot of own-brand development, but it's an ongoing programme across the store."
For example, in the cereal fixture, he says Tesco has removed 114.6 tonnes of sugar and 2.8 tonnes of salt from own-brand cereals, with lower levels of sugar and salt than the branded equivalent in the core children's cereals (Coco Pops, Frosties, Rice Krispies, Weetos).
Further cuts in sauces and spreads takes the total to 191 tonnes of sugar, 7.3 tonnes of salt and 13 tonnes of fat annually from own-label brands. Another area of focus is yoghurt. Though Rachel's has already been delisted in the reset, he finds "the whole fixture confusing".
But though added sugar has been removed, at Tesco's insistence, from lunchbox drinks such as Ribena and Capri-Sun, Tarry claims Tesco isn't forcing suppliers to reformulate. "I wouldn't say we're forcing. We have an agenda to improve the healthiness of our products. But we're still stocking full-sugar Coke, Pepsi, Ribena. We have an agenda in soft drinks, which leads the way for us. But first and foremost we'll make sure there's the right selection for our customers."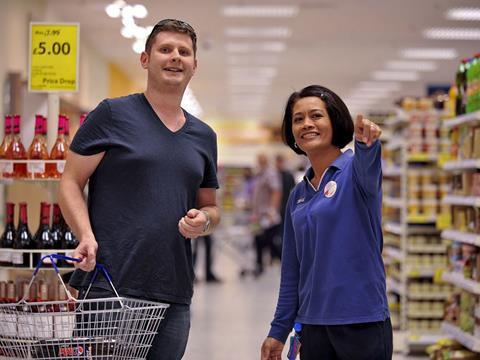 Price
And then there's the thorny issue of price. In December Tesco launched a simple 'festive five' promotion that helped achieve a marked improvement in trading over Christmas. Analysts were also delighted with a new year initiative on 380 brands. Since then Tesco's gone quiet on the pricing front and is behind the pace in The Grocer 33. So is the customer benefiting yet?
"We've gone again three times on price and a new initiative is launching this week on 130 own-label kitchen cupboard staples and everyday items - including cereals, pasta and bacon. It's not the Big Price Drop. We'll make sure we invest in the lines that matter most to our customers, it's going to be a key part of our offer. We're making progress. But there's a lot more to do, I accept that. I just can't tell you what it is, can I?"
Tarry is also pleased with Tesco's progress in resetting supplier negotiations. Tesco is "on track" to reduce the number of commercial income triggers to just five by the end of 2015. And the switch in focus from % gross margin to £ gross margin is also "working well". "We are focusing on profit through sales. It's always a balance, the P&L relies on a gross margin, but what we have been doing is driving more sales through £ margin where we can see the opportunity to do so.
With simplified terms, relations with suppliers have also improved. That's not to say everything is perfect, he concedes. "We have an internal supply measure based on a twice-yearly survey. We've just had a half-year measure. Overall satisfaction with Tesco is the overall measure. It's up from 51% to 60%. So there's still lots to do. Don't ever get the impression that I'm smug or complacent, but to get that kind of a move is really encouraging for us, and for the team to see the response of our suppliers makes a big difference."
Initiatives like the new Supplier Protector Line, launched in March, are also rebuilding trust. It's received 283 calls. All queries are actioned within 48 hours. And over 90% of the issues have been resolved.
"We've left no stone unturned to make sure we get the range reviews and pricing architecture right"
Indeed, despite the GCA investigation - with Adjudicator Christine Tacon last week vowing to force suppliers to comply with her enquiries - he detects a lot of goodwill towards the new team. "All of us want to move forward. For all of the things you read about Tesco, Every time we sit down with suppliers, they say they want Tesco to succeed. We have an ongoing programme to visit suppliers, and everywhere we go they are welcoming. We've made a lot of progress with supply partners."
So what's his response to claims by Professor Chris Elliott in a recent Grocer column that it was "back to the bad old days" in some parts of the red meat sector? Tarry talks a good game but how can he control buyers?
"Look. It's a work in progress. I too talk to a number of suppliers, some of whom I've grown up with, and some tell me things I don't want to hear. They say similar things to you. That it's changing but there's still work to do. But we are going through a culture change.
"It started with our reorganisation. We moved away from group and UK teams. There were possibly too many leaders as well. There's one team now. And 50% fewer senior leaders, with broader spans of control. It allows more empowerment further down the organisation. We've brought in the supply chain team and increased their remit to supplier to store as opposed to distribution to store. The technical quality team is part of the group now. And we've brought in other elements such as price/promotions, space/range/display. That really helps. You can create one group with one approach."
Then there's tone. "The tone from the top - from Dave and me - is a different tone. I say to my team: 'Speak softly because you carry a big stick.' It's something Richard [Brasher] used to say, a quote from Roosevelt. The bottom line is: I want a professional, expert, skilled, motivated team, who work well with our supply partners and respect them for that and not because we're the biggest."
And he's been encouraged by the change. "The heart of the business is still the same. The energy, the passion. But there are some words you might not recognise, words like 'modest' and 'humble' and 'focus on customers'."
So has Tesco gone soft in its old age? Is Tesco commercial on a bit of a holiday? "There's no feeling that we don't need to deliver," says Tarry. "Believe me. We're still very focused on doing a great job. That doesn't mean we don't sometimes have conversations that aren't nice. There are situations we need to get after, but you can have conversations in two ways."
So what's he doing about milk and the review of the Tesco Sustainable Development Group? Tarry vows to maintain a cost-based model. Introduced in 2007, the TSDG "needed a review as the market has changed but the bottom line is we are committed to supporting farming, not just dairy, but sustainable producer groups across poultry, pork, eggs." This year Tesco started to include arable crops like potatoes in these groups. "We have been working in partnership with our suppliers, producers and growers to see how we can help support the volatile market. With falling demand and often large-scale infrastructure and factory costs, we are working towards long-term partnerships and solutions to help create greater security for growers."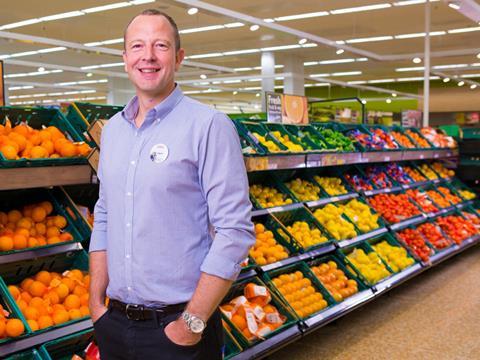 Global buying power
From next week, Tesco will also be launching the ProducerClub, a joint initiative between Anglia Farmers and Tesco, which will provide purchasing support for the day-to-day running of farms as well as providing discounts for goods and services like feed, fertiliser and vet fees. Sourced by Anglia Farmers' specialist buying teams, it will help save suppliers time and money. It will also allow producers to become shareholders in Anglia Farmers (one of the largest agricultural purchasing groups in the UK with a turnover in excess of £260m.)
"Shortening and having a more transparent and open approach from growing to processing is key. We have to strike the right balance and offer the right competitive proposition for customers."
He is also committed to maintaining Tesco's support for UK supply. Most contracts are in sterling. And in theory, with the devaluation of the euro against the pound, there are savings to be had.
"There's always a short-term temptation. You want to source product from the best place from a long-term quality and competitiveness point of view. Currency can be managed without changing sourcing, but we wouldn't be doing our job without looking at impacts. You work with the right producers first, then look at price second."
Having run F&F at a global level, and also Tesco's stores in Central Europe, it's clearly not lost on Tarry that the sale of its South Korean Homeplus arm last week, together with its declining sales in the UK, has lessened its global buying power. Then again, with the group buying function dismantled in the restructure, I put it to Tarry that buying on a global scale is no longer possible anyway. On the contrary, he says. "Tesco has retained a lot of the skill that had been built up in the group team. Rather than remove it we have brought it together under one leadership team. I really believe there was great work done, and we want to make sure we get more out of it. In non-food I ran sourcing, I could see that opportunity, I could see the group food model, it is good, but we are bringing it together, aligning it, and it is already having a benefit [in the reset]."
"We've left no stone unturned to make sure we get the range reviews and pricing architecture right"
Nonetheless, with such a new, inexperienced and relatively small team in place, some suppliers believe Tesco has cut back and dumbed down too much. Does he still have the talent pool to do the job? "When we simplified the structure at the top it enabled us to simplify throughout and gave people broader and more interesting roles. At the same time a key focus is on training and capability. I would not say we've dumbed down. It's about liberating people. My job is to unite the team behind common goals and to enable them to do their best work. I like to work with the team to create a vision and goals and give them space to get on with it. And to help support that we are upweighting training."
"But it's a work in progress. The restructure didn't complete till May. The summer is always a disruptive time with holidays. So it's early days," he adds.
As well as training, Tarry has also introduced a feet on the ground initiative, with buyers visiting stores now on a regular basis. "It's a great way to connect to the customer on a regular basis. I don't want people in the office at the end of the week. I want them out in the stores, or visiting suppliers, out in the factory or the field. You learn a hell of a lot. You learn there's a massive amount of expertise you can tap into."
So. It's a busy and challenging time. Is he still enjoying himself? "It's more intense. And the stakes are higher than at F&F. But I'm really lucky," says Tarry. "I've run so many divisions, I understand the job, nothing from a technical perspective or skills basis fazes me, it's always about making sure the team are able to lead their teams to do the best they can do. And I have to make sure I'm contributing."
But was there ever a moment when he wondered whether he would still be there to celebrate 25 years with Tesco? "I've always thought: if I enjoy what I'm doing and I believe in the business that's going to be good enough. And I still do. It's in my blood."