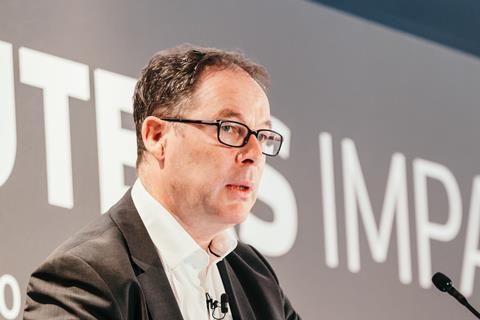 Tesco has sent a message to a summit of world business leaders in New York that politicians need to regain their focus on tackling food waste, as the supermarket leads calls for a UK government u-turn on its decision to axe plans for mandatory reporting.
Speaking as UN and business leaders met in New York for the Champions 12.3 summit, CEO Ken Murphy said there needed to be "global action across supply chains" led by governments across the world.
The United Nations' Sustainable Development Goal 12.3 calls for countries to cut food waste at the retail and consumer level by half by 2020.
Tesco is a founder member of the group and was the first supermarket to begin reporting its food waste figures, in 2013, though Murphy was not among the delegates today.
Among the delegates were leaders from Walmart, Danone and the World Bank.
At the event last year, Tesco announced it was accelerating its plans to halve its operations' food waste by 2025, five years ahead of the Champions 12.3 and UN target.
Today, Murphy said to turn the tide on food waste there needed to be more joined-up action.
More than 100 of Tesco's suppliers have agreed to disclose their food waste data, but Murphy said to hit the target there needed to be global action across supply chains.
"We're proud of the action we're taking in our own operations, with our customers and with our suppliers, but there's more that we can all do to drive long-lasting change," he said. "Today, Tesco is calling on others to report their own food waste data and help turn the tide on the amount of food waste that is produced around the world.
"We need global action across supply chains and government leaders to remain focused on supporting the industry and educating consumers, so that we continue to ensure no good food goes to waste."
Last week, campaign group Feedback announced it was to launch legal proceedings against Defra after the government confirmed it was ditching plans to make food waste reporting mandatory.
Tesco is among supermarkets who have called for a rethink, along with Ocado, Morrisons and Waitrose.
The Grocer revealed in July that ministers had backtracked on mandatory reporting because of fears over the cost to businesses and the impact on food prices.
That is despite the plans first being proposed by Michael Gove in 2018.
The Grocer also revealed in March that, prior to Defra's decision, the landmark commitment by retailers and suppliers to tackle food waste had to be relaunched, and some of its ambitions watered down, after it failed to hit key targets because of the pandemic and cost of living crisis.
At the time, Wrap and IGD, which launched the Food Waste Reduction Roadmap in 2018, put the blame for a lack of sign-up on government for delaying its promised introduction of mandatory reporting on food waste.
Although around a third of major food and drink companies have signed up to the roadmap, Wrap told The Grocer the industry needed to act "much further and much faster" if it was to achieve its target of halving food waste by 2030, in line with the UN goal.
Some 300 food businesses have signed up to the roadmap, including all the major grocery retailers. Plans for 75% of large businesses to be "targeting, measuring and acting" on food waste by the end of 2022 were missed.
Prime minister Rishi Sunak has since embarked on a series of backtracks on government environmental targets, claiming they will worsen the cost of living crisis.