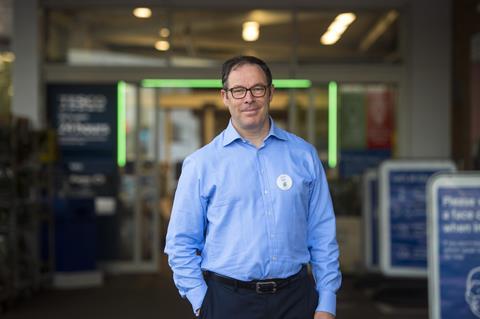 Tesco boss Ken Murphy claims it has halved the price gap with Aldi in the past three years, as the supermarket continues to lead the fight against the rise of the discounter.
The Tesco boss was speaking as he revealed increased like-for-like UK food sales of over 10% in the first half of the year.
Tesco launched its Aldi Price Match scheme in March 2020 and is now matching Aldi on 650 products, with a further 1,500 pinned to B&M and Home Bargains.
Asked today to comment on the price differential between Tesco and the German discounter, Murphy said: "We can't comment on specific numbers but what I would say is, compared to what it was in 2008, the gap between us and Aldi is now four times smaller. We've halved the gap in the last three years."
Murphy added: "We're making huge efforts to be more competitive."
Tesco's CEO also denied suggestions it was benefitting from increased profits by putting the squeeze on suppliers.
Last week's report by the Groceries Code Adjudicator Mark White, which accused supermarkets of resorting to "combative rather than collaborative" approaches with their suppliers, was widely interpreted as an attack on Tesco.
The supermarket has launched a controversial call for suppliers to pay fulfilment fees for the use of its Booker and online services and has also embarked on a major range reset in the past few weeks.
However, Murphy said Tesco was "working very hard with our suppliers right across the board" in a bid to help consumers who were still under the pump due to the crisis.
He said it operated an "open book" policy with many suppliers, such as in the fresh sector, which meant prices could react quickly to changes in inflation.
Tesco's results received a positive reaction in the City, outperforming expectations both for like-for-like sales – up 8.9% overall excluding fuel – and profits, up nearly 14% year on year.
Retail Economics CEO Richard Lim described the results as "mightily impressive".
He added: "Tesco's relentless focus on value has delivered strong growth, while the significant bounceback in profitability will be a cause of attention.
"Many shoppers are prioritising cost above everything else, trading down to cheaper alternatives and searching out the best bargains. This is where Clubcard Prices have delivered incredibly well with a hugely impressive number of customers using the app."
Shore Capital analysts Clive Black described Tesco as a "well oiled machine" which was "pressing all the right buttons".