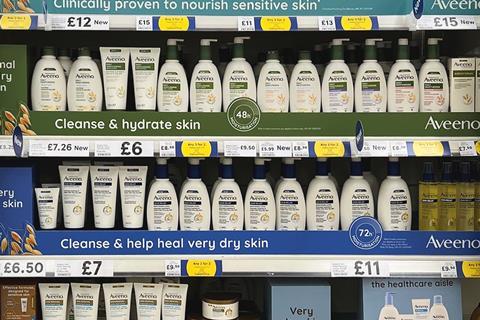 Tesco is trialling a new sensitive skin section in selected stores, in a bid to help customers with skin issues.
It said with 27 million people in the UK suffering from some form of skin sensitivity, it wanted to provide easy ways for customers to find products to help them.
The retailer has gone into partnership with skincare brand Aveeno for the pilots, where customers can browse brands such as Aveeno, E45, Cetaphil, Weleda and Cetraben.
The new skincare zone, which is being trialled in almost 100 large Tesco stores, groups products by skin type, including 'sensitive face', 'normal to dry skin', 'very dry skin' and 'very dry, itchy skin'.
"This exciting new trial will bring together brands and useful information to help the 40% of the UK population with sensitive skin find the right solution for them," said Sarah Sturgeon, category buying manager for baby and beauty at Tesco.
"Most customers don't know where to look in stores to find sensitive skin products – so when we learnt that the majority of customers want to find solutions alongside other familiar products in the skincare aisle, we created this new dedicated area in-store to make it easy to find the products they need all in one place."
Charmaine England, Kenvue's area managing director for Northern Europe, said: "We're proud to have worked with Tesco to design and install the new Aveeno Sensitive Skin bays, helping shoppers and consumers navigate the aisles and find the right products for their sensitive skin needs, all in one place".