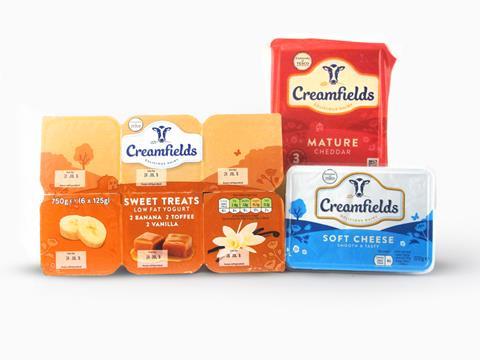 Tesco has revived its budget Creamfields tertiary dairy brand, four years after it was ditched at the height of the ­supermarket milk price war, launching 20 new products this week.

The return of Creamfields comes amid a major overhaul of Tesco's own label offering, dubbed Project Atlas, and less than a month after The Grocer revealed it had undertaken a far-reaching shake-up of its dairy aisles with the delisting of more than 150 mainly branded BSM, cheese and cream products.

The range includes three low-fat yoghurt SKUs in Sweet Treats, Garden Fruit, Sunshine Fruit and Berry Medley flavours; an Apricot, Strawberry and Raspberry fromage frais; five various cheddar SKUs and two Italian hard cheese variants.
Individual French Brie, soft cheese, grilling cheese, salad cheese and cheese slice SKUs are also available, in addition to a low fat cottage cheese and fresh cream.

Creamfields adopts similar design cues to other recently launched Tesco tertiary brands such as Eastman's Deli Foods, the Hearty Food Co and HW Nevill's Quality Bakers, by carrying a prominent 'Exclusively at Tesco' label.

Products are competitively priced, with the 450g Creamfields grated cheddar SKU priced at £2.30, compared with £1.90 for a 250g bag of standard own label grated mature cheddar.

A 200g tub of soft cheese is priced at 49p, compared with 89p for a 150g tub of standard own label soft cheese, while the Creamfields French Brie costs 85p for 200g, compared to £1.60 for a standard own label 190g French ripening Brie.

"Customers will soon find a number of new products in our dairy aisle," a Tesco spokesman said. "Some are lower in sugar, making it easier for customers to live healthier lives, whilst others have been reformulated, making them suitable for vegans or customers with an intolerance. We've also made changes to the pack design, making them a little easier for customers to enjoy."

The Creamfields range was first launched in 2009 to challenge cut-price own label dairy products sold by the discounters. Tesco delisted it in March 2014 as part of a new price-cutting initiative.