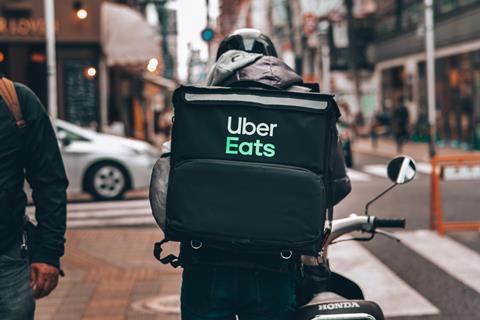 Tesco is partnering with Uber Eats to leverage its network of couriers to deliver orders for the supermarket's one-hour service Whoosh.
The partnership launched today from an initial 20 stores in Edinburgh, Bradford, Portsmouth, Norwich, St Albans and Letchworth.
Despite being delivered by Uber Eats couriers, Whoosh orders are not made on Uber's platform, but via Tesco.com or the Tesco Grocery and Clubcard app.
"It's clear that the needs of businesses and consumers have been rapidly evolving in recent years and that trend is accelerating," said Alex Troughton, head of new verticals and grocery at Uber Eats UK.
"This exciting new partnership will harness the best of Uber's technology to power super-fast Tesco deliveries across the UK," Troughton added. "The partnership is proof positive of the momentum we're seeing in our groceries and retailer delivery offer and we're committed to providing world-class solutions to our partners."
Tesco launched Whoosh – offering a range of Tesco's most popular 1,700 products, including fresh food, essentials and household products – in May last year. The service has expanded from a single store in Wolverhampton to now cover 200 Express stores across the UK.
In January, Tesco CEO Ken Murphy said Whoosh would be available from at least 600 stores by the end of next year.
Currently, most Whoosh orders are delivered by courier company Stuart by bike, moped or car after baskets are picked from shelves by Tesco staff.
However, Murphy said earlier this year the "sweet spot", was when Whoosh could leverage Tesco's urban fulfilment centres (UFCs) "because you can capture an order and process it through a UFC in seven minutes".
"So all of a sudden you could be offering a much larger shopping trip in a much shorter timeframe than we currently do," Murphy said.
As well as Tesco's ambitious plans for Whoosh, it continues to partner with rapid grocery player Gorillas, with which in November it entered a "commercial and real-estate partnership".