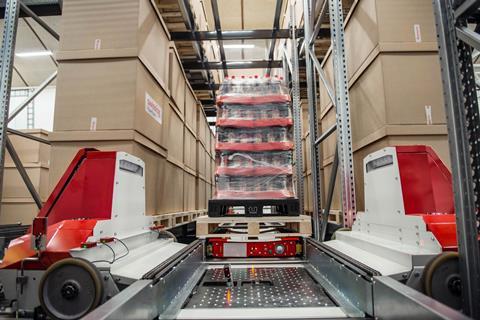 Tesco has begun using warehouse robots from a tech partner behind Ocado's automated fulfilment centres.
The supermarket is working with Swisslog on an automated pallet retrieval and storage system, which is currently in the testing phase.
Central to the system is a fleet of red robots – likened by a Tesco employee to the car in Knight Rider – rolling along narrow tracks picking up and dropping off pallets, which ride conveyors between levels.
The system is intended to increase the centre's storage capacity and throughput, Swisslog said. The same 'PowerStore' system is being used by PepsiCo in the US and Coca-Cola in Australia.
It's Tesco's first partnership with the automated tech provider, which is behind other robotic warehouse systems in use by Ocado, Nestlé, Asda, Boots, Walmart, Unilever, L'Oréal and P&G.
For Ocado, Swisslog is behind the rapid picking robots that can be found swarming over a grid of storage bins at a number of distribution centres.
Tesco said its new robots would be put to work on its fastest moving products.
"It picks up a stock pallet and stores it," explained Billy Currie, Tesco national manager of automation, distribution and dot.com.
Shane Faulkner, Swisslog head of sales in the UK, said: "For Tesco, the system is significantly improving throughput capacity, and compared to their traditional racking, is increasing storage density by up to 60%. It is designed to utilise virtually every square cube of space.
"The solution removes the dependence on replenishment to a pick face, as processes are now automatic," he added.
The 850,000 sq ft Reading DC opened in 2013, following a restructure which saw several depots close. In 2017, the site absorbed grocery operations from the supermarket's Welham Green DC which was then closed. That year saw most of Tesco's warehouse operations brought in-house.
Since then, the company had found £117m in cost savings on logistics and distribution, it revealed in October.
Last year, Currie described the Swisslog system as "Industry 4.0 technology on its way to Tesco".