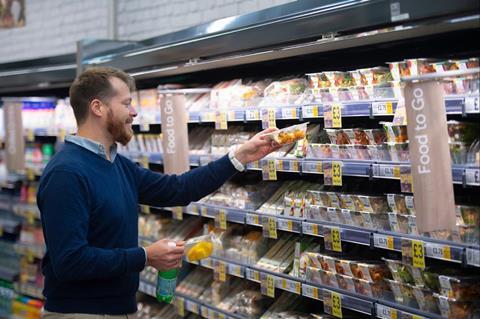 Tesco's second "checkout-free" GetGo store will feature a bank of self-service terminals when it opens in central London in the coming weeks.
Entry gates and camera arrays were spotted at the Tesco Express, Chiswell Street near The Barbican in London by Toby Pickard, IGD head of innovations and futures.
Tesco confirmed to The Grocer the second GetGo store was preparing to launch, but it was not able to share an opening date.
The supermarket's first checkout-free store opened in High Holborn in October last year, following a successful trial of the technology at Tesco's colleague store in Welwyn Garden City, which has been in place since 2019.
The new store will use the same technology – akin to Amazon's rival Just Walk Out tech – which is provided by Israeli startup Trigo. Tesco announced an equity investment in Trigo in 2019.
The GetGo stores are fitted with cameras on the ceiling and on-shelf weight sensors that monitor customer movements and product picks so they are able to pick items and walk out without stopping at a checkout. Customers check in with the Tesco.com app at the entrance, shop as normal before payment and receipts are "settled digitally" via the app.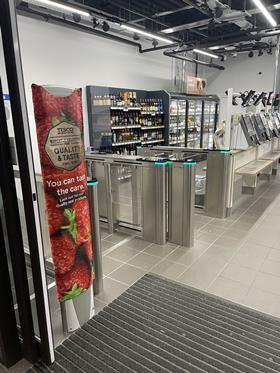 While Tesco Express High Holborn is completely checkout-free, the Chiswell Street store will also feature self-checkouts.
Speaking to media during a preliminary results call in April this year, Tesco CEO Ken Murphy said while the Trigo tech "works really, really well" and customers are responding, "we're now working on a hybrid model that allows customers to do either grab and go and completely frictionless or checkout on exit".
"We'll see how that works as well," he added.
Pickard said the hybrid approach "makes a lot of sense as it offers shoppers a familiar way to shop while also offering an even more seamless approach for those that want to embrace new cashierless technology and potentially avoid having to queue".
The Chiswell Street store can be accessed by any shopper, whereas Tesco's first GetGo store is only accessible to those using the Tesco app.
"We expect Tesco to pursue a hybrid shopping experience as this could help onboard shoppers to this new way of shopping," Pickard added. "We have seen a number of other retailers around the world embrace the hybrid approach, as often new technologies require shopper behaviour change, which can take time."
The rollout of GetGo comes as Amazon is rapidly growing its Amazon Fresh 'Just Walk Out' store estate. Last month, the company opened its first checkout-free store outside London, in Sevenoaks in Kent.
The store was the 19th Amazon Fresh store to open in the UK, the first of which opened in Ealing – the e-commerce giant's first physical retail site outside North America – in March last year.
Late last year, it was revealed in an internal documents that Amazon was planning an estate of more than 260 Fresh stores by 2025. The e-commerce giant this month launched a price-matching campaign against Tesco, the first time it has price-matched another retailer by name.