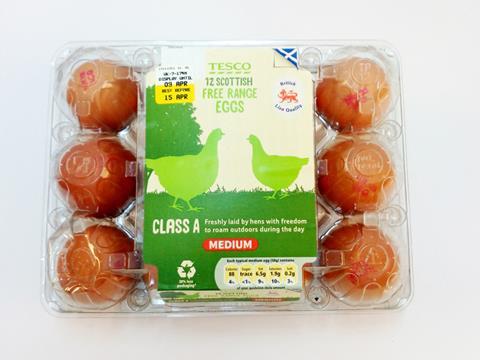 Tesco plans to convert all its own-label free-range egg lines from pulp carton to new eco-friendly plastic packaging by the end of 2014.

It has been trialling the packs - which are made from recycled plastic drinks bottles and were developed by Ovotherm - with egg suppliers Glenrath Farms and Skea Eggs over the past eight weeks.

The trial ran on six-packs, 12-packs and 15-packs of eggs in about 200 stores. "Our plan is to roll out the packaging across all our free-range own-label egg lines by the end of the year," a Tesco spokesman said.

A key advantage of the new plastic packs is they can contain seepage if an egg breaks - if there's breakage in a traditional pulp pack, seepage can often, preventing damage to other packs, making them unfit for sale. Tesco believes it he new packaging will help it stop one million eggs from going to waste a year.

"We know that plastic packs reduce food waste - now we have a pack that will reduce food waste and offer customers a more environmentally friendly packaging solution," said Tesco technologist Lee Gray.