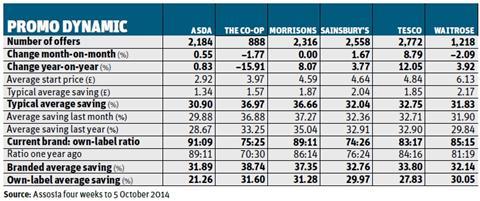 In the aftermath of Tesco's £250m profits overstatement, with huge swathes of the senior trading team currently suspended, we thought we would take a look at in-store trading.

And, according to the latest figures from promotions specialists Assosia, it seems Tesco has gone deal crazy.

In the four weeks to 5 October, Tesco ran a whopping 2,772 promos in featured space. Not only was this an increase of 12% on the same period last year and 8.8% up on the previous four-week period - it was 214 more than any other major retailer.

"Tesco continues to ramp up its prime promotional space, offering more deals year on year and month on month," says Assosia MD Kay Staniland. "In a period when 'Every Little Helps' couldn't be truer, Tesco seriously needs to regain some consumer confidence and more high-profile promotional activity will certainly help.

"Tesco remains the market leader but, clearly losing share, it cannot afford to lose the battle for footfall and spend in the build-up to Christmas."

Tesco's nearest rival in terms of the volume of deals was Sainsbury's - another retailer that has had its share of negative headlines in the past couple of weeks - with 2,558.

The latest Assosia figures show that though it ran 3.8% more deals than a year ago and 1.7% more than the previous four weeks, Sainsbury's was the only one of the leading six grocery retailers to reduce its average saving both year on year and month on month.

Further analysis reveals that for the total number of deals in featured space so far in 2014, Sainsbury's average saving per deal was 2.8% less than for the same 10 months in 2013. By contrast, The Co-op Group was offering 1.7% more per deal, Waitrose 1.5% more, Morrisons 1.3% while Tesco was offering 1% more and Asda 0.1% more.

Last month, Morrisons said it had reduced the number of items on promotion in the previous quarter by 12.9%. While it was not running exactly the same amount of deals in the four weeks to 5 October than in the previous four-week period, it had 8% more promos than during the same period last year, suggesting that Dalton Philips' hope of getting its promotional participation below 40% is still a long way off.