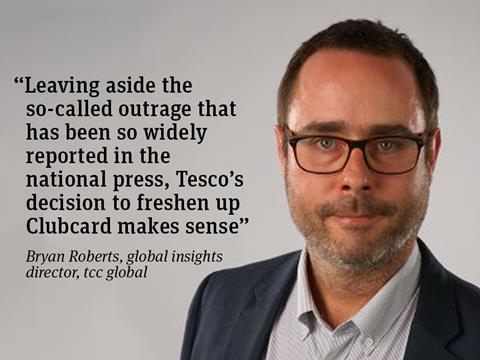 Tesco's decision to change the way its Clubcard holders are rewarded has finally laid bare a schism between retailers and shoppers that has been slowly festering under the surface for some time.
There are deep discrepancies between the way supermarkets think their customers want to be rewarded for showing loyalty, and the rewards that shoppers actually want to see.
And yet, leaving aside the so-called outrage that has been so widely reported in the national press, Tesco's decision to freshen up Clubcard makes sense. Increasingly, retailers are coming to terms with a need to reconsider whether their current loyalty schemes are truly fit for purpose, in an age where shopper promiscuity is at an all time high.
There is a palpable sense that both shoppers and retailers are becoming increasingly disenchanted with traditional loyalty mechanisms. For retailers, the resultant data and insights are all well and good, but the fact that the schemes are failing to generate much in the way of loyalty is a concern.
As shoppers have enjoyed an increasing choice of available stores – and that's before we even begin to consider the abundance of online options – their sense of emotional loyalty has decreased. This has been exacerbated further by a feeling of anonymity within any loyalty schemes they are a part of: shopper research undertaken by tcc global has revealed that shoppers want personalised rewards, but very rarely receive them.
A shake-up is overdue, but does this translate to the end of the loyalty card? Perhaps not just yet, if the reaction of Tesco shoppers if anything is to go by, shoppers still place value on the rewards loyalty cards can give them.
Plastic is set to remain for the time being, but the way shoppers are rewarded needs to change. Our research shows that two thirds of British shoppers are seeking rewards for their loyalty that go beyond loyalty cards and points. Shoppers increasingly want to see their schemes become more digitised, and deliver more meaningful rewards. Notably, Tesco's change will impact more experience-based offers with partners like Zizzi and Pizza Express. It's these sorts of rewards that allow families to spend quality time together and treat themselves: they can be more meaningful than vouchers in isolation.
Beyond offering experience, personalisation goes a long way. When done well, personalisation can be very meaningful and can be a strong driver of affinity and loyalty. Retailers can follow in the steps of Waitrose and enable shoppers to tailor their loyalty schemes towards the products that really matter to them.
To succeed in generating loyalty, retailers need to stop regarding it as an objective and instead regard it as an outcome – if you get the appropriate range, price, quality, and service levels right, and build emotional connections with your customers, then loyalty will result.
Bryan Roberts is global insights director at Tcc Global