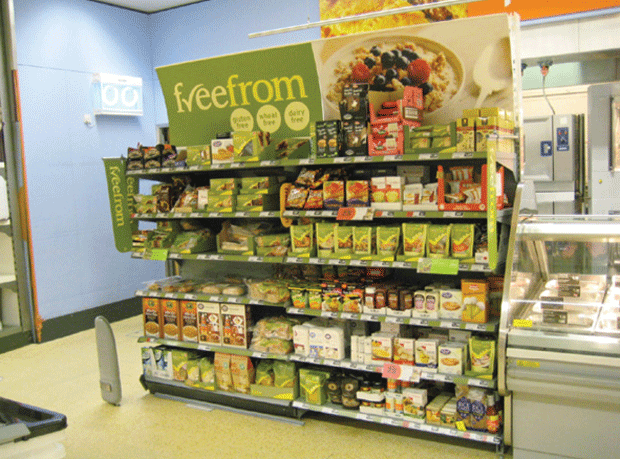 Has free-from's moment finally arrived? Retailers are dedicating more shelf space to the category and improving in-store signage.
In May, Tesco included Nakd snack bars on ladder racks to coincide with promotional activity and last month it featured the brand at 9,000 till points. "This is the first time a free-from brand has had this kind of exposure and recognition," says Marina Love, marketing manager at brand owner Natural Balance Foods.
However, there's still a dilemma: where should free-from be located? Some retailers began merchandising free-from lines such as bread alongside mainstream products, but consumers have raised concerns about cross-contamination.
"Current retailer strategies are to separate free-from and the mainstream alternatives," says Bob Trice, MD at gluten-free food brand Dr Schar.
This is the case at Waitrose, for example, which overindexes more than any other retailer, and carries its free-from products on a dedicated fixture.
Melissa Burton, MD at gelatine-free sweet brand Goody Good Stuff, praised Waitrose for siting its free-from section near the front of store and for signposting it well. "Free-from products are easy to find, yet part of the everyday shop and this is what consumers who are looking for free-from items want," she says "Waitrose is leading the way in terms of strategy in this sector."
But gluten-free bread brand Genius wants to see its products double sited (ie in both mainstream and free-from aisles) more regularly. "This provides us with a strong opportunity to win over new customers who may not have tried our products before," says chief executive Roz Cuschieri.
Chris Hook attributes the 91% growth in Newburn sales since the Warburtons gluten-free range was rebranded to double siting. "We are seeing activity to target new category users, such as Tesco promoting Newburn Bakehouse muffins in featured space within core bakery."
Whether in dedicated areas, with mainstream products or both, free-from is growing in popularity, and retailers would do well to heed that fact, adds John Allaway, commercial director at Alpro. "It is key that retailers move with the new wave of consumers who acknowledge the benefits of these smarter choices as tasty options."