A revolution is sweeping through the corridors of power in The Co-operative Group's impressive new HQ at Angel Square, Manchester. The sense of progress in and purpose to the three-year rebuild programme that's been under way since last September is tangible. And no-one is more driven than group chief executive Richard Pennycook.
The ex Morrisons CFO may be an outsider - and in an institution like the Co-op it is remarkable how many of the next-generation executive team are from the big four - but in his calm, quiet, intellectual way, he clearly believes in The Co-op, and its values, and wants it to work.
"I would not have joined if I had not believed in the cause. I believed The Co-op mattered. That it stood for something different, and powerful. The only question in my mind was whether it could be saved from itself. Because if it could not change, I knew I could not stay."
So what went wrong? And how are Pennycook and his new team getting on in fixing it?
Ironically, Pennycook had been persuaded to join as interim CFO following the 2013 appointment of ex-Kingfisher boss Euan Sutherland as its then new CEO. "I thought: 'Good for them. They clearly want to change.'"
What Pennycook had not reckoned on was a £2.5bn black hole that opened up in the bank's finances. Accompanied by a sordid sex and drugs scandal, The Co-operative Group came perilously close to imploding. And the best he can offer by way of explanation for this bizarre, squalid and near-disastrous chapter is to cite the five words on the cover of Sir Christopher Kelly's report, published in April 2014. Those five words were 'failings in management and governance.'
"Everything was set up for an accident," Pennycook gravely recalls. "You can't point to any one thing, but you can point to 10 things. And those 10 things all come back to failings in management and governance.
"There was no strategy approved by the board. There was no bilateral agreement between the Group board and the Bank board. And there was no risk appetite or framework signed off by the board. Without those, how can you hold the executive to account?"
The realisation of those failures - and the £2.5bn black hole - has led to brutal but necessary changes at The Co-op. The first decision was to dispose of some businesses. "That was painful because they were very good businesses that had been part of The Co-op for a very long time. But we needed to fix our balance sheet."
"We're starting to get more things right. We can be really good shopkeepers in small stores but we now need to manage our way through that large store conundrum"
Over the course of 2014, The Co-op sold The Co-operative Pharmacy to Bestway for £620m, The Co-operative Farms to The Wellcome Trust for £249m and Sunwin Services Group to Cardtronics for £41.5m, as well as all but a 20% stake in The Co-operative Bank. Those disposals brought in £1bn and allowed the group to fix its balance sheet.
But the single biggest decision came first in May, and then August, when the society's 600 elected members voted through crucial governance reforms at two special general meetings.
"There was a lot of talk about turkeys voting for Christmas," Pennycook says of the decision by the society's 600 elected members voting through crucial governance reforms at two special general meetings last summer. "But through that process the real turkeys voting for Christmas were the executive team, because we're standing up to be much better governed and challenged more around our performance, which is absolutely right."
Tough decisions made, the society is out of 'recovery' mode. But there's still a lot to do. And now the finances are in order, his role is to provide focus. The society was "a mile wide but an inch deep," he says. "We needed to do fewer things and do them brilliantly." Hence Pennycook's decision to abandon online trials, for example.
He also urges patience. "We must make sure we don't run before we can walk. The rebuild phase is three years so it will be three years before we can think about a dividend. We've just got to do the hard graft."
And nowhere more so than in food. It's always been The Co-op Group's biggest business, but now the group is leaner, its underperformance matters more. That's where retail CEO Steve Murrells comes in. Since joining in 2012, the ex-Tesco exec has introduced a wide-ranging new strategy (launched in March 2013) called True North, through which it has been focusing on convenience retailing, selling off supermarkets, refurbishing stores, lowering prices and reworking store operations. And it's working. "Like-for-like sales in 2014 were up 3.5%," claims Murrells, "against the backdrop of a market that has probably managed -3% or -4%."
The most significant change has been to store operations. S3 Store Standards, or Simple Store Standards, were introduced at the beginning of 2014, and 10 implementation 'waves' followed over the year.
The aim is simple. "It's about putting the right equipment in stores as opposed to a mish-mash, and putting in the right hours to best serve that store," explains retail director Steve Hammett.
So why wasn't it doing this before? It's a legacy of The Co-op's acquisition programme, says food CIO Cheryl Marshall. "There were a lot of historical contracts, different hours run in stores, and hours in the wrong place. Making those changes means we're able to fund True North, and put money into our new ranges and formats."
It hasn't all been plain sailing, though. As part of S3, staff hours have been cut, leading to redundancies. And staff have taken to thegrocer.co.uk and The Co-op's staff Facebook page to voice their concerns and vent their anger. Hammett acknowledges this, but claims the majority of staff have been supportive. "In the few areas where it has not worked so well it is mostly where we have not got the communication and leadership quite right," Hammett admits. "But what they do like is the new equipment we've put in and the processes that are making operations simpler."
The Co-op is now aiming to convert more of its 2,700-strong estate to its new Generation Two format. These stores mirror shopper missions - focusing on top-up, food for today and food to go. It already has 300 Generation Two stores and is aiming to convert a further 100 this year. They're performing well, says Murrells. "Generation Two stores are averaging around 7% like-for-like growth. That gives us confidence that we can be really good shopkeepers in small stores."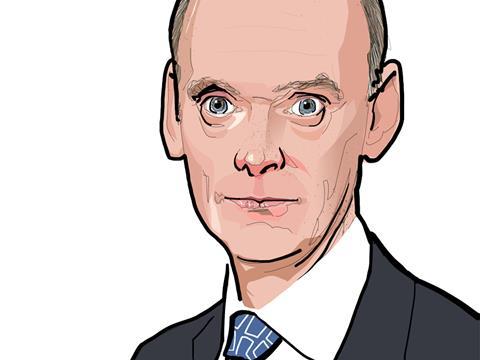 Chief architect
Name: Richard Pennycook
Title: Group chief executive
Start date: June 2013
An expert in turnaround, Pennycook joined as interim group finance director after eight years as CFO at Morrisons. He became interim chief executive in March 2014 following the resignation of Euan Sutherland, before taking on the role permanently six months later.
Large store conundrums
The challenge now, he adds, is "to manage our way through the large store conundrum." Most of the 300-odd stores over 15,000 sq ft are a legacy of The Co-op's acquisition of Somerfield, and they dragged down overall like-for-like growth to just 0.5%.
However, while the strategy involved selling them off - enabling the Co-op to fund the rest of the True North programme - it's only sold "25 to 30" stores, with Waitrose and Aldi alone showing any interest.
Murrells isn't panicking. "A fire sale would be unwise," he says. But following recent store closure announcements from Tesco and Morrisons, Murrells is prepared for the property market to get tougher and is investigating whether it can make its larger stores work.
"We were ahead of the curve in our disposal thinking, but we've got to start looking at some of those large stores because the property market is harder than we thought," Murrells explains.
"We've got time to do some proper trials. They will either give us the confidence we can do those formats or the realisation we will have to dispose of those stores in a shorter timeframe. A lot of the larger stores are actually quite profitable. It's just that when someone comes along and parks their tanks on our lawn, the property value is not as attractive as it was."
"We were ahead of the curve in our large store disposal thinking, but we now need to manage that conundrum because the property market is harder than we thought"
Price is another problem to be addressed. The Co-op has been unable to shift a perception among shoppers that it is expensive. The Co-op's own poll in 2013 found just 10% of shoppers thought The Co-op offered good value for money, while the long-awaited results of its Have Your Say survey, published in November, found cheaper prices was the top choice (53%) when asked what three factors would encourage people to shop at The Co-op more often. "We allowed price to get away," admits Murrells. "It still is, and will be, the biggest barrier, and we've got to face into it."
In 2014 The Co-op invested "£65m-£70m" on price through a programme called Fair & Square, which saw it permanently cut the price of KVIs, including own-label bread for 75p. However, just as The Co-op's price campaign kicked in, so did a full-scale price war among the big four - meaning what little impact The Co-op made was wiped out.
"If you take a Tesco main shop as 100, our price was around 113," explains food finance director Steve Bailey. "We reckon Sainsbury's Local is around 112 at the moment and we're probably only just off that at 112.2 or 112.3. Tesco Express is probably around 108. When we started to invest around April last year, we were around 113. We went down to 111ish but have gone back up. The supermarkets are moving with us."
Food trading director Michael Fletcher points out the price cuts are deeper in relative terms: "If that was Tesco, you'd need to multiply that £65m by five on a scale to us." Murrells agrees: "Compared to our size we've invested proportionately more than any of the big four over the last 12 months. The big four have reset their margin aspirations so our investment has kept to the status quo. But if we hadn't started the journey already we would have been much further back by now."
Customer director Andrew Mann promises key categories such as fresh produce will be the main focus in 2015. "We are never going to be really cheap, but we are going to be fair in terms of prices," Mann promises. "We've focused on KVIs not being outrageous and have already taken big steps on categories like bread and cooked meats."
The Co-op has also been working hard on improving its own-label offer, adds Fletcher. "By the end of this year, we will have reformulated or relaunched more than 3,500 products into either Loved By Us or Truly Irresistible." He points to moves like The Co-op's recent decision to sell all its whole chickens in bags as "a really convenient product for the convenience shopper" and an example of "The Co-op once again leading from the front on innovation."
Murrells also sees evidence of The Co-op's leadership in the way it's now running its stores.
"Convenience is one of only two channels that are growing, and it is easy to assume you can make money," warns Murrells. "But convenience shopper missions are very different now. When the Competition Commission identified a dual market, it gave supermarkets the chance to bring all the things from a supermarket into a local corner shop, and that's where the growth came from. Now it's very much being in tune with shopper behaviour - the expectation of great quality, availability, pricing - and they're not necessarily loyal to one retailer. So it isn't easy." But while the discounters offer a new threat to the convenience market, the Co-op has the edge over the big four in smaller format, he believes, because it runs its stores "very differently."
"We are ahead in terms of understanding because we have been refitting stores for the last few years," he claims. "For the first time in many a year we are starting to lead in this channel in the way we set the store up and in how it follows how people want to shop. We have enjoyed the last 12 months, outperforming the market as an overall business, and that gives us some confidence we can get more things right.
"The main things to get right are obviously price, service, availability and range. I can already see significant improvements in all those areas - half a 'tick' on price, service and availability, and quarter of a 'tick' on range. We are going to have to get to a full 'tick' on at least two this year for customers to see a real thump at the shelf edge."
Champion
The other area in which change will come is in terms of the Co-op's values. It's preparing to bring its new purpose and strategy - 'championing a better way of doing business for you and your communities' - into practice.
"The Co-op was at its best when it was championing," says Pennycook. "The Co-op should have a purpose to lead - moving faster than the others. We need to become the disruption in the market again."
Key to that, he believes, will be carving a unique position in the community for its stores. While the other major multiples have store noticeboards, sponsor local football teams or operate community token schemes, The Co-op wants to go further.
"It can't be just tokens," explains Pennycook. "We are owned by people who live in those communities and what we do has to resonate with the lives of those people. As a business, we became too distant to our members on the ground. We want to take the decision to them - where we should open, close or make investments in stores. This is their money."
Murrells adds: "To put our food business behind the group purpose we need to be able to provide sweeter services in our shops that aren't just about food - other things that make lives easier. We need to do those sensible, logical things that make the Co-op work as a business, but we also have a chance to do something very special."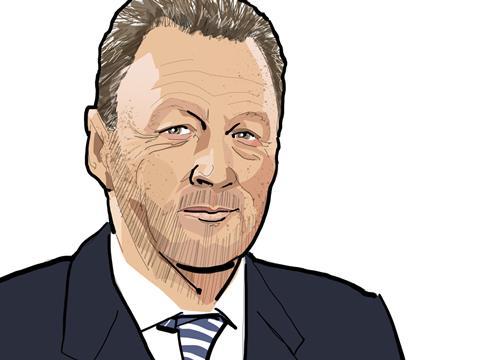 Civil engineer
Name: Steve Murrells
Job: Retail CEO
Start date: July 2012
One of many former Tesco executives on The Co-op's new-look food team, Murrells was at the retailer for 10 years, holding roles including chief operating officer of garden centre chain Dobbies, as well as chief executive of convenience arm One Stop. But he joined the society from pork supplier Tulip where he was chief executive for nearly three years. Originally food CEO, he took the wider role of retail CEO last year.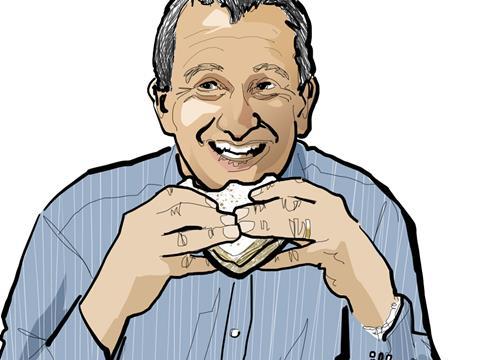 The rest of the rebuild team at Co-op Food
Quantity surveyor: Steve Bailey
Job: Finance director
Start date: June 2011
Has held finance roles at Carlsberg, Heinz and PwC.
Purchasing planner: Michael Fletcher
Job: Trading director
Start date: July 2013
22-year career at Tesco including commercial director for Tesco Malaysia and latterly commercial director for group procurement.
Field engineer: Steve Hammett
Job: Interim retail director
Start date: Nov 2014
Another Tesco veteran, Hammett has been working for The Co-op in an interim capacity and leaves in April when he hands over the reins to new retail and logistics director Chris Whitfield - a Tesco lifer who is currently store operations director for Tesco Lotus in Thailand.
Technical surveyor: Andrew Mann (pictured)
Job: Customer data experience director
Start date: January 2013
Joined from Sainsbury's, where he was director of insight and loyalty, as customer director for the food team. Was last week appointed to a wider group role.
Structural engineer: Jane McCall
Job: Transformation & change director
Start date: January 2015
Joined this month from her consultancy JMC. Has previously worked for Bupa and Tesco.
Estimator: Cheryl Marshall
Job: Chief information officer
Start date: 1998
One of the remaining 'old guard,' Marshall has held a number of roles at The Co-operative Group, including director of Somerfield integration. Moved across to the role this month. Was previously transformation and delivery director.
Construction manager: David Roberts
Job: estates services director
Start date: 2001
Another of the 'old guard,' Roberts has held a string of property roles for the society, both at a regional and national level. He has been in his current role since October 2011.
Building control officer: Jim Tully
Job: Legal counsel
Start date: January 2015
Recently joined as legal counsel for the food executive team. Was previously at Addleshaw Goddard.
Facilities manager: Helen Webb
Job: HR director
Start date: January 2014
Sainsbury's HR director for six years before joining The Co-op. Has also worked for M&S.