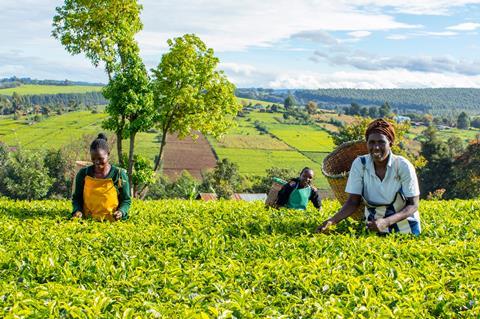 The Co-op has joined forces with Fairtrade Africa and the Fairtrade Foundation to support producers battling the climate crisis.
The convenience retailer also said it would continue in its commitment to spend more than 0.7% of its pre-tax profit to international aid after the government decided to cut spending to 0.5% of national income at the annual aid budget.
The convenience retailer made the announcement in its latest report: Climate Justice for People and Planet. It calls for increased business accountability to protect and invest in the resilience and transition of global supply chains facing the climate crisis.
It said its new long-term commitment and investment Fairtrade Africa would help to drive Fairtrade's climate strategy, supporting a series of scalable and sustainable interventions across tea, coffee and flower producer organisations in Sub-Saharan Africa to strengthen sustainable farming systems and climate resilience.
"The new approach will pool the investment that we make together, which will be used for long-term, strategic programmes…rather than single and individual projects," said the Co-op.
The new approach would drive a deeper impact with communities by pooling Co-op's current investment from individual projects into a strategic programme directed by producers themselves, it added. 
"As we have seen throughout the pandemic, we are reliant on the global food system for the food we enjoy here in the UK," said Co-op Food CEO Jo Whitfield.
"However, the reality is that for many of our suppliers the climate crisis is as immediate and pressing as the impact of Covid-19.  It's crucial that we ensure producers in low-income countries receive adequate support to cover the cost of adapting to climate change and transitioning to low carbon production.
"Globally, 2020 was the joint hottest year on record, and 2011-2020 was the hottest decade recorded. As a consequence of climate change, it is expected that the total area of land suitable for coffee growing will have halved by 2050, which will be devastating for communities that rely on coffee for their livelihoods. 
"We are disappointed in the government's decision not to return to its 0.7% commitment. However, it's not just government who has a part to play in investing in climate resilience and adaptation, businesses like ours do too. That is why will continue spending in excess of 0.7% of pre-tax profit to international investment and encourage other retailers to follow given their international supply chains. We must work for a just transition, as we recognise that climate change is a human issue as much as it is an environmental one."
Fairtrade Africa programmes director Chris Oluoch said: "Co-op is standing side by side with Fairtrade producers, ensuring a farmer-centric approach to adapting and mitigating the very worst effects of climate change and channelling crucial funding to the areas of greatest need in a flexible and responsive manner."
This new commitment forms part of Co-op's 10-point climate change action plan, which it unveiled in May. The plan sets out blueprint for Co-op to achieve net zero for its direct and indirect carbon emissions by 2040, with one of the action points to help suppliers on the frontline of the climate crisis.