It's been another tough year for Cheddar brands. Having shed 4.5% of their value in 2014/15, branded sales have nosedived by an even more eyewatering 7.7% on volumes down 2.3% [Kantar 52 w/e 22 May 2016].

Own-label value sales have also fallen - albeit by a smaller 2.1% - but unlike brands, volumes are up 5.7%. As a result, the total Cheddar category has returned to volume growth, despite value slipping a further 4.4% as average prices plummeted by another 7%.

The widening disparity between branded and own-label Cheddar sales reflects savage price cuts on supermarket own-label cheese SKUs over the past 12 months, and a prolonged period of ruthless range rationalisation in the mults.

So as the crumbs settle on the cheese aisles, who have been the winners and the losers? And what are Cheddar brands doing to make sure they remain on shelf?

Most of the major supermarkets have found space for three mainstream Cheddar brands on shelf, the exception being Morrisons, which has built its entire branded Cheddar offer around Cathedral City and Seriously Strong.

With five major brands competing for three spaces on shelf, it is inevitable there have been losers. And it's been Anchor - until recently a resurgent force in the cheese aisle - that has been the fall guy.
"A competitive category prevented Anchor from gaining a foothold"

- Hamish Renton
Despite racking up sales of almost £30m by mid-2015 following its return in 2013, the brand's revival has been short-lived, and it has lost listings in all but Asda. "A competitive Cheddar category with several similar brands prevented Anchor from gaining a foothold," says Hamish Renton, MD of HRA Food & Drink Consultants.

With Cathedral City maintaining its status as the Cheddar category's brand leader, the remaining mainstream brands - Pilgrims Choice, Seriously Strong and Wyke Farms - are effectively competing for second or third position on the fixture. By and large they have kept their heads above water, although not without some shifts in volume between retailers.

"We've lost volume in Asda but at the same time we've done better in Waitrose, Sainsbury's and Tesco," says Wyke Farms MD Rich Clothier.

Of course, retaining listings doesn't mean these brands can afford to rest on their laurels. Serious downward pressure on prices - especially through own label - means they still face a fight to grow sales.

And while deflation in the dairy market is starting to ease, supermarket pricing and promotional strategies on Cheddar are driven by more than just the price of milk.

"Retailers have really worked hard on trying to match their own-label offering with the discounters or get close to them on price, and in most cases by focusing on EDLP rather than a high:low strategy," says Clothier.

With the real pressure in the category coming from this own-label pricing strategy, brands owners are having to fight increasingly hard to demonstrate why their Cheddar is worth paying more for.
Cracking snacking: the on-the-go opportunity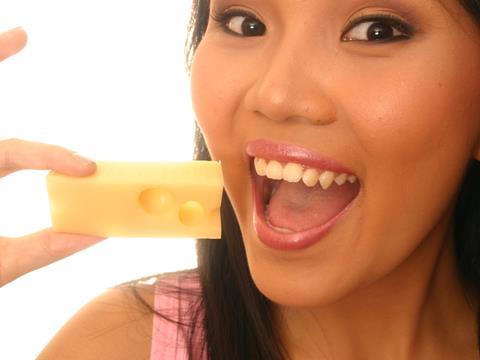 For brands struggling to maintain sales of block Cheddar, creating new usage occasions is one way of adding value back into the category. "With kids' packed lunch sales dropping, some brands are recognising that snacks aimed at adults are one of the main opportunities," says consultant Hamish Renton.
Lactalis McLelland has been particularly proactive in developing new snacking formats for Seriously Strong, including its first foray into the portions segment in the form of Seriously Strong Squares. Consisting of eight individual foil-wrapped spreadable cheese squares - in original Cheddar and Lighter (30% less fat) - Seriously Strong Squares are intended to meet growing demand for convenience.
The brand has also added vintage Cheddar and caramelised onion flavours to its Spreadable pots line-up, which already includes the well-established Seriously Strong Spreadable Original.
Continuing the spreadable theme, in May, Dairy Crest launched two new spreadable cheeses aimed at adults under its Cathedral City brand with Extra Mature and Garlic & Herb joining its existing Mature variant, all of which have been unified under the new Cathedral City master brand look. "Cracking snacking is a really big goal for us," says Will Hemmings, head of cheese marketing at Dairy Crest. "Graze is a good example of a brand that has come from nowhere and is giving people healthy alternatives to chocolate."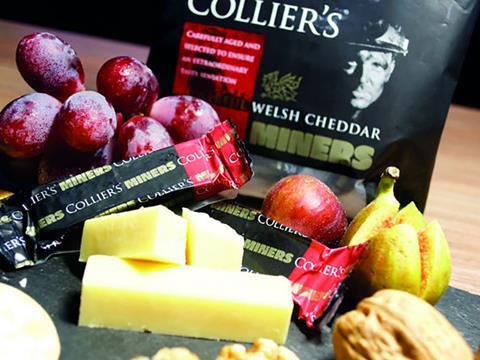 Hemmings says Dairy Crest's next move will be to launch a range of snack bars later this autumn targeted at the on-the-go market and positioned front of store. "We hope to include them within meal deals, which will drive incremental value for the grocers."
Other Cheddar brands are looking to capitalise on the protein snacking boom with fresh NPD. Welsh brand Collier's has introduced Collier's Miners, individual portions of its Powerful Welsh Cheddar, with the April launch supported by PR and in-store marketing activity.
Independent cheesemaker Joseph Heler plans to target protein fans even more overtly with a range extension to its Eatlean brand. It is developing convenience Eatlean products, including a snack bar, to sit alongside its Eatlean block Cheddar. Marketing manager David Wells says the product could sit either in the cheese aisles or on grab and go aisles, and should be on shelves by January.
Leading the charge is Dairy Crest which continues to evolve its Cathedral City brand despite the huge advantage it holds in terms of household penetration. "We're not complacent," says Will Hemmings, head of cheese marketing at Dairy Crest. "Retailers are having to make things simpler and clearer and we as brands are having to do the same thing."
In March this year, Dairy Crest revamped the Cathedral City brand to give it a more contemporary feel. New pack designs across the Cathedral City range rolled out from April and brought the complete Cathedral City product family under one unified master brand look.The new design maintains the Cathedral City burgundy colour, name and cathedral image, but offers a more contemporary feel, according to Dairy Crest.

"It was about making it easier to navigate the brand," adds Hemmings. "Because the brand has such a broad range it was about making it clearer both in terms of small, medium and large but also mild, mature and extra mature."

The Cathedral City re-brand was supported by a £4m marketing push, and Dairy Crest is not the only Cheddar brand investing heavily in marketing and advertising. With increasingly good deals on own-label Cheddar, sustained investment is critical if brands are to keep hold of existing shoppers and win new fans.

Ornua Foods has made big investments in promotion for its Pilgrim's Choice brand in recent years, and its "disruptive" Pigrim's Choice Chosen TV campaign returned for a second run earlier this year.

"It's important even for those brands that have remained on shelf to have a clearer clarity of their role in the category versus the other brands that are in there," says Mike Harper, director of marketing at Ornua Foods.

It's no surprise the Cheddar brands still in widespread distribution are those that have held the highest share of voice over the past five to 10 years, he adds. "I'm not even sure that's so much the retailers being cognisant that they have the highest share of voice but because the share of voice those brands have had has naturally translated into a stronger level of pull versus the smaller, tertiary brands, that maybe haven't invested in above-the-line."

Harper says Pilgrims Choice's zany advertising style is as important to its USP as the fact it is free to select the best cheeses to go into the product, rather than being committed to a single source.

"Four years ago there were a number of big brands trying to do essentially the same job with very little differentiation. What we've been trying to do with Pilgrims Choice is to give it a distinct tone of voice and a reason to be on shelf in addition to Cathedral City," he says.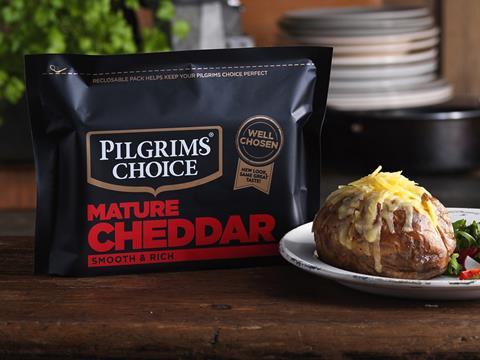 "We're also talking to people on social media, which our competitors aren't doing. We're clear of the role we have within the category. We over-index in extra mature flavour profile: that is our heartland. And it's about how all of that is complementary to what Cathedral City is doing."

Lactalis McLelland is also investing in a "disruptive" £3m marketing push for Seriously Strong, including TV ads, shopper marketing and social media. However, campaign activity will focus on the brand's new spreadable variants, launched earlier this year (see box).

Wyke Farms, meanwhile, is putting renewed focus on communicating the brand's Somerset provenance and green credentials in a bid to appeal to a more affluent consumer. Last autumn, the Wyke Farms Cheddar portfolio was given a £1.6m revamp with updated packs rolling out across Wyke Farms' core Mature, Extra Mature and Vintage Cheddar range, featuring thicker and darker packaging alongside an improved resealable zip.

More prominence was also given to the brand's '100% Green' strap and Red Tractor logo, with a new 'Made from Nature by Nature' flash introduced along the top of the pack in a nod to the energy biogas plant Wyke Farms started installing in 2012 to power its entire cheesemaking operation.

Clothier says the new branding has been well received both by consumers and retail customers. "I've been really keen to get the brand in the right space so it conveys the green and the provenance and everything else," he adds. "It's been a really tough period but during that period we've seen the shifts that I've wanted in demographics."

Having born the brunt of range rationalisation, Arla remains tight-lipped on plans for Anchor Cheddar. Last year, it splashed out £6m on promotional activity for the brand, which included a TV ad featuring the "Hugglers". The animated creatures returned to screens this summer, but in a TV ad for Anchor Spreadable.

Perhaps the dairy co-op is looking further afield for its Cheddar fortunes, having earlier this year announced a joint venture with Dairy Farmers of America that includes the construction of a small dairy plant in the US. "Adding Cheddar to our US portfolio will make us more attractive to the retailers and help increase the sales of our European products made from owner milk" said Peder Tuborgh, CEO of Arla Foods.
"Four years ago big brands were trying to do the same job with very little differentiation"

- Mike Harper
Smaller brands looking to grab a slice of the Cheddar market face an even bigger challenge to win shelf space - and have had to demonstrate a very clear point of difference.

Independent cheesemaker Joseph Heler has managed to do just that with Eatlean, its new high-protein cheese brand that launched in April with Waitrose and has since gained listings in Morrisons and Tesco.

Eatlean cheese contains 37g of protein per 100g - almost 50% higher than regular full-fat Cheddar, which typically offers 25g/100g.

David Wells, marketing manager at Joseph Heler, says it was developed to hit the levels of protein required by people who are knowledgeable about nutrition, such as fitness fanatics, athletes and bodybuilders. He believes, however, the product could eventually find a wider market with everyday shoppers seeking a high protein, low-fat option.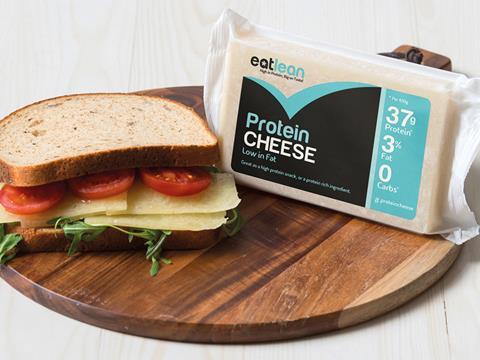 Own label

It's not just brand owners that have to give consumers more reasons to buy their Cheddar.

All of the big five supermarket saw Cheddar value sales drop last year, with Asda facing the biggest decline of 11.1%, but Tesco (-8.4%), Morrisons (-6.1%), Sainsbury's (-1.4%) and Waitrose (-0.7%) also losing out as Aldi and Lidl grew Cheddar sales by 27.1% and 10.1% respectively.

As the pressure mounts to hold on to Cheddar sales, provenance has become a key point of communication for retailer own brands, with both Morrisons and Asda making big efforts to highlight the British origin of their cheeses.

Last year, Morrisons extended its new Milk for Farmers concept to cheese with the launch of a special new line of Cheddar that allows shoppers to pay more to support dairy farmers. Supplied by Lactalis, Milk For Farmers Cheddar is priced at a premium of 34 pence per pack above standard Morrisons Cheddar and delivers the equivalent of 10p a litre back to farmers who supply the milk.

In May 2016 alone, 34,114 blocks of Milk for Farmers Cheddar were sold, the equivalent of 11,940kg, generating almost £12,000 in additional revenue for Lactalis farmers, a Morrisons spokesman claims.
TAKE-HOME SALES: CHEDDAR
52 w/e 22 May 2016
Value
Volume
£m
y-o-y%
kg(m)
y-o-y%
Blocks
1,157.00
-5.8%
194.5
2.0%
Grated
155.4
1.2%
26.4
5.9%
Sliced
79.6
1.9%
11.0
6.30%
Other
27.5
6.9%
2.2
11.2%
Total Cheddar
1,419.5
-4.4%
234.1
2.7%
Source: Kantar Worldpanel
Asda, meanwhile, has continued the rollout of its 'Made with British milk' labelling on its cheese products along with new in-store communication to encourage customers to buy British dairy products. The labelling - complete with a Union Jack flash - supports Asda's commitment to source its own-label Cheddar using 100% British milk from Arla.
But despite such initiatives, it's impossible to escape the conclusion that in own-label Cheddar, the past 12 months have been all about price.

Last autumn, Sainsbury's announced plans to slash prices on large swathes of its cheese lines as part of a new approach to pricing. The retailer has simplified the way it sets prices and promotions by moving to clearer and simpler shelf-edge labels and PoS, introducing a simpler 'Price Match' that compares branded lines to Asda prices, and lowering the base price on thousands of food SKUs, including within the Cheddar fixture.

Despite the retailer shift towards EDLP, Cheddar remains a promotionally driven category, with the proportion of cheese sold on promotion dipping only slightly over the last year from 51.4% to 50.3%.

With the supermarkets engaged in a race to the bottom on own-label pricing, brands are still not quite ready to step away from deals that drive up volumes.
"Brands haven't created enough of a difference compared with the own-label category"

- Mike Harper
"Although we've done a great job and are growing significantly, the Pilgrims Choice brand is still really in its growth phase," says Harper. "We've made a big play that we don't just want to replace the tertiary brands that weren't advertising. As part of a long-term piece we do need to look at that value to volume equation."

Harper is cautiously optimistic that after a challenging few years some value growth will come back into the category over the next 12 months, noting that Pilgrims has seen a "slight improvement" in base sales as result of recent investment.

"Brands are driving a resurgence in price per kg," he says. "That's the role that brands should have. Brands haven't invested enough over the last few years and created enough of a difference versus own-label."

Brand owners are in agreement that those who continue to invest in the category are most likely to still be standing if and when the market does turn in their favour. For those that seek to survive on price alone, the prognosis is bleak.

"If you want to be in that everyday Cheddar space with no other values, it's a really cutthroat and dangerous place to be," says Clothier. "Brands need to offer more than that."