Dairy players are boosting their role in cooking by making it more convenient and promoting more unusual ingredients
David Cameron contributed a favourite recipe to a charity cookbook this year. SamCam and the kids like Dave's Italian sausage pasta finished with 'loads' of Parmesan and half a pint of double cream. But unless the PM is starting his recipe with a splash of buttery cooking liquid, serving it gratinéed with 'next generation' grated cheese and chasing it with a wedge of quark cheesecake, he is hardly on trend in cooking with dairy.
Culinary dairy products come in diverse forms, from the squeezy ease of Philadelphia's convenience-friendly Simply Stir sauces to the foodie promise of Lurpak's premium silver-liveried Cook's Range. Both have delivered on sales, and Cheddar, yoghurt, sour cream and buttermilk all have their champions for development. But how effectively have the brands paved the way for more innovation, what's the next big thing, and – with value sales of home baking ingredients through the major multiples down 1.1% [IRI 52 w/e 24 May 2014] – will new products have to run to catch up?
The charge led in 2011 by Unilever's Flora Cuisine (the first chilled cooking liquid to market), which achieved 18% penetration in the first year of launch [Kantar Worldpanel], has now been taken up in dairy proper. One of the year's most striking launches was the arrival of the Lurpak Cook's Range in March.
In BSM, the cooking and baking segment is worth almost £83m [Nielsen 52 w/e 21 June]. "There is potential for growth within the cooking with dairy category," says Stuart Ibberson, business unit director at Arla Foods. And with value sales of £712,195 and volume sales of 120 tonnes [Nielsen 52 w/e 21 June], the Cook's Range has added a fair bit of heft to Lurpak's BSM footprint.
"BSM is an essential ingredient for scratch cooking but convenience remains high on the agenda"
Convenience is a strong factor in the range's success, says Ibberson. "Scratch cooking is continuing to grow in popularity and BSM is an essential ingredient, but convenience remains high on the agenda for experimental cooks." Eliminating extra stages in the kitchen, such as clarifying butter or combining oil and butter for high-temperature pan-frying, is a key element of the products' appeal.
Having hoped for £6.5m in retail sales for its Philadelphia Simply Stir cooking sauces at launch in April last year, Mondelez says it's now a £7m brand [Nielsen 52 w/e 12 July 2014]. Mondelez added a creamy peppercorn variant in April and plans a redesign for the three sauces in September, to ensure a clear connection with the rest of the Philadelphia range.
Meanwhile, First milk is entering the fray with three low-fat quark-based cooking sauces under Lake District Dairy Co branding and selling at £1.75/200g, and in March this year Tesco launched a pair of sour cream sauces with flavour paste bases in mushroom stroganoff (£1.50/200g) and Mexican fajita variants (both rsp: £1.50/220g). Manufacturer Arla says initial sales look good. The sauces sit alongside Tesco Ingredients yoghurt marinades, flavoured butters and soft cheese-based stuffing 'melts.'
Cooking with dairy embraces sweet as well as savoury. For example, Cornwall's Trewithen Dairy will be encouraging shoppers to cook up everything from clotted cream & beetroot scones to clotted cream brulée in a recipe book this Christmas.
On a larger scale, First Milk's first quark launch, in May 2013, was The Lake District Dairy Co's natural, vanilla and lemon products, and 90% of the value creation in the quark market, up 38% year on year [Kantar Worldpanel 52 w/e 22 June 2014], is attributed to them. "The range is perfect for keen cooks and the sweet varieties have developed usage occasions within baking and mixing," says marketing director David Young.
Buttermilk
Of the lesser-known dairy products used for baking, buttermilk is also set to enjoy a revival, says Arla senior brand manager Kate Richards. "Arla has recently begun to produce buttermilk under private label and we have intentions to continue to work in this sector. As consumers become familiar with ways to use it, from marinades to dressings, we expect it will become more common in cooking."
Richards cites buttermilk's appearances on TV shows such as Channel 4's Sunday Brunch as key for profile-raising, and the marketing connection between chefs and brands continues to be made in other dairy areas. Fage UK employed chef Sophie Michell to write the Total Greek Yoghurt Cookbook, out this October, while the Lurpak Cook's Range used a quartet of foodie ambassadors and a series of interactive recipe challenges.
Although an old player in cooking, it's unlikely that hard cheese will be left behind. Bel launched Leerdammer Toastie, designed for hot sandwiches, in May 2013 and has seen it drive value sales of £1m since launch [Nielsen MAT 26 April 2014]. Other brands say Cheddar can take inspiration from it and the work already done in other dairy categories.
"Philadelphia has done a fantastic job in soft cheese in educating consumers," says Mike Harper of Adams Foods, which recently launched Pilgrims Choice Crumbles. "That was a slow build, and it will be the same for Cheddar. Getting people to use Cheddar cheese on chicken or fish, like we're trying to do with Crumbles, is not going to happen overnight. We're going to keep needing to invest in it over several years. There's a big demand of everyone in the branded Cheddar market to be the ones to drive those new usage occasions."
Arla's Kate Richards agrees strongly flavoured cheeses will be a key part in the growth of cooking with dairy. "NPD will need to focus on two key themes; having a concentrated cheese taste to deliver a flavour hit to every dish, and format-related NPD to provide more convenient cooking solutions. The cheese-sharing occasion has been neglected within cooking, but whether it's a classic fondue or a baked Brie or Camembert studded with garlic and rosemary, meals such as these are easy to prepare and perfect to share."
Round the table at No 10, perhaps.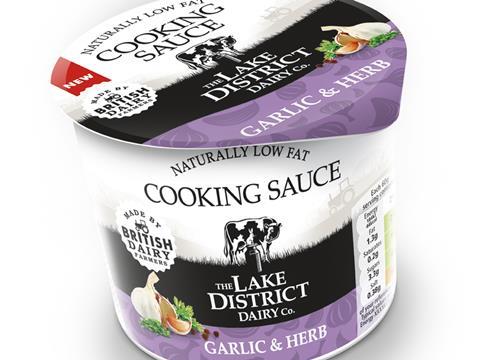 Lake District Dairy Co Cooking Sauces
Launched: late August/early September 2014
First Milk's push to establish quark continues with the launch of this three-strong range of cooking sauces based on the spoonable soft cheese. Available in garlic & herb, tikka, and tomato & basil variants (rsp £1.75/200g), the sauces were awarded Best Brand Extension at the Global Dairy Innovation Awards in June.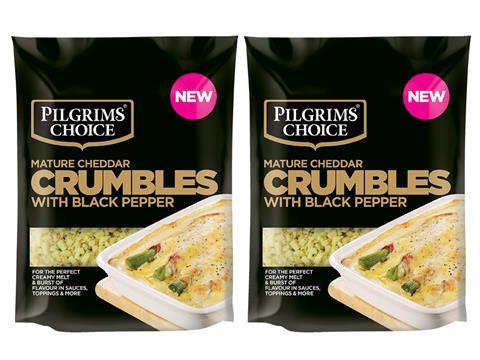 Pilgrims Choice Crumbles
Launched: March 2014
Crumbles grated cheese has less propensity to dry out when melted than traditional grated. It comes in Mature Cheddar (rsp: £2/200g), Extra Mature Cheddar with Breadcrumbs and Herbs (rsp: £2/180g) and Mature Cheddar with Black Pepper (rsp: £2/180g).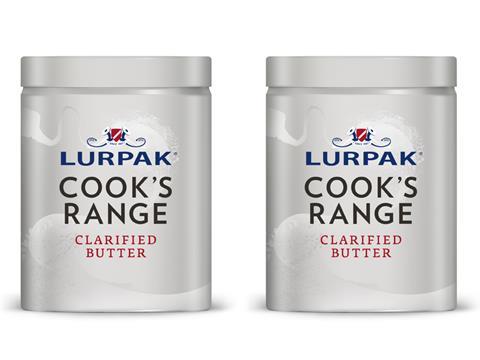 Lurpak Cook's Range
Launched: March 2014
Lurpak Cook's Range is Arla's high-profile commitment to cooking with dairy. Listed in all major multiples it comprises Cooking Liquid (rsp: £3.25/500ml), Cooking Mist (rsp:£2.70/200ml), Clarified Butter (rsp: £3.25/250g) and Lurpak Baking (rsp: £3.25/500g).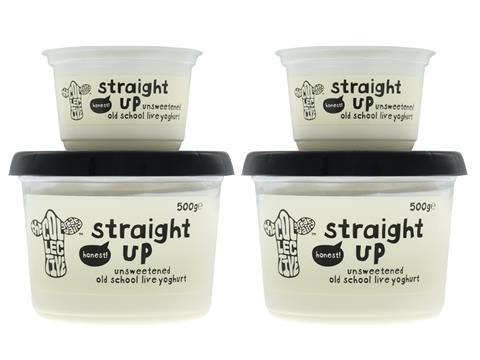 The Collective Straight Up
Launched: June 2014
A departure for The Collective brand, which favours unusual flavours, this is an unsweetened plain yoghurt with a sharp tang, suitable for savoury dishes. Its 5.7% fat makes it an alternative to higher-fat dairy ingredients for health-conscious consumers. Rsp: £2.39/500g and 79p/150g.