They may not be as fresh as they once were, but dairy drinks haven't soured yet. Value growth is slowing - the category is worth £147.2m, up 1.9% compared with last year's 2.4% rise, but volumes have returned to growth - up 1.1% after dipping 0.6% last year.

Brands are driving that resurgence, with value sales up 3.8% to £111.3m on volumes up 4.5%, compared with own label's 5.1% volume decline.

However, while the category remains immune to some of the market forces playing out in the wider dairy fixture, it seems the war on sugar has finally caught up with dairy drinks.

Reformulation is therefore top of the agenda for many suppliers. In the past few months, Yazoo launched a new trio of no-added-sugar drinks, Müller extended its 40% less sugar Frijj lineup and Crediton has announced plans to cut sugar by 30% across its entire Moo and own-label flavoured milk range.

But cutting sugar isn't without its challenges. So what is next for the category? Are more likely to follow Frijj, Yazoo and Moo's lead? And is this the beginning of the end for indulgent dairy drinks?

As awareness grows over the health problems associated with consuming too much sugar, flavoured milk suppliers are being forced to take a long, hard look at their offer.

"Consumer concerns are around the calories, sugar and artificial flavours lurking in drinks," says Dale Farm's head of marketing, Caroline Martin. "Today's consumer is much more savvy and quick to call out brands - which are under increasing pressure to reduce the added sugar of their products."

Dale Farm plans to extend its range of healthier products, which includes its Protein Milk brand, to include some low-sugar options, she adds.

But while the sugar debate is undoubtedly giving pause to makers of RTD flavoured milk, not all brands are rushing to cut out the sweet stuff.
"Consumer concerns are around the calories, sugar and artificial flavours"

- Caroline Martin, Dale Farm
Reducing sugar levels is easier said than done, because less sugar can mean an inferior product and reduced appeal, warns Jodie Farran, co-founder of Shaken Udder Milkshake.

"Artificial sweeteners are definitely detrimental to taste," she says. "Other dairy brands are lowering sugar by reducing lactose to decrease the overall sugar content, which allows them to add sweetener. This seems detrimental: milk is an amazing product and reducing this great naturally occurring sugar only destroys the magic of natural wholesome milk."

And losing natural sweetness is not the only problem you face when you take out sugar, admits Bethan Parsley, senior NPD manager at Crediton Dairy. "You also affect other aspects of product delivery. In many cases, the flavour level is reduced because it's sugar that was carrying the flavour through the product. And less sugar also impacts on the texture."

So rather than introducing no sugar SKUs, Crediton is focusing on reducing sugar content across its standard flavoured milk range without compromising taste, says Abi Rogers, senior category manager. Crediton intends to initially reduce the amount of added sugar across its products by an average of 30%, representing around 27 ­million teaspoons of sugar, based on 2015 ­production volumes.

The intrinsic sugar in milk also raises some challenges around the marketing of dairy drinks, says Parsley. They are commonly at least 90% milk, which contains approximately 4.8g of lactose sugar per 100ml - meaning on-pack sugar levels are sometimes misunderstood by consumers and are taken as being added sugar, rather than naturally occurring.

But Rogers believes sugar is less of a concern for dairy drinks than for fruit juices and soda brands. "Milk is, inherently, a 'good' product - and that still comes through even from flavoured drinks," she says.

"While consumers recognise there is added sugar in products, they still see them as full of dairy goodness, particularly for children."
Can kefir's functional qualities gain mass appeal?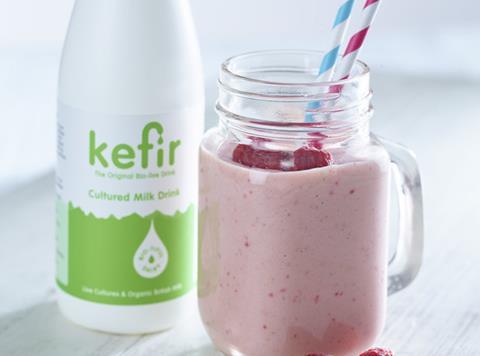 Kefir has been drunk in some parts of the world for hundreds of years, but only recently have UK consumers taken to it as they seek healthier, more functional options.
The fermented milk drink is traditionally made in a skin bag that is hung by a doorway and gets knocked as people pass through, keeping the drink well mixed.
With a texture and taste rather like thin yoghurt, it contains numerous strains of probiotic bacteria and has been prevalent in Russia and Central Asia for centuries.
It has become popular in the US and Germany, and is now on the rise in the UK, with brands including Lowicz, Mlekovita, Bio-tiful Dairy and Lifeway, which recently secured a Tesco listing for its frozen kefir.
The growth in interest from British shoppers is primarily attributable to an increased awareness of the milk drink's health and wellness benefits, according to Bio-tiful's MD, Natasha Bowes, a Russian who grew up drinking kefir and used it as an energy supplement while training as a figure skater. Functional foods are a key trend helping to drive interest and sales, she adds.
"Kefir's name comes from the old Turkish word 'keif', which means 'good life' or 'good feeling', and the product itself has high natural functionality."
Sugar tax

The inherent goodness of dairy also means the government has proposed flavoured milks should be exempt from the forthcoming sugar tax.

"Milk and milk products are a source of protein, calcium, potassium, phosphorus and iodine, as well as vitamins B2 and B12. It is essential for children's health that they consume the required amounts of these nutrients as part of a balanced diet," notes the consultation document, which says pre-packaged drinks containing at least 75% milk would be exempt from the levy.

With this in mind, Rogers doesn't see the low-sugar sub-category as a challenge to standard dairy drinks yet. "We've seen a number of new products, and their market is building sales but is still reasonably small. It'll be an area of huge focus for the industry, and we'll see more and more reduced sugar products, but it's still quite small as a sector."
Which is not to say health is not a major driver in the category. Natasha Bowes, MD Bio-tiful Dairy, says 2016 has been a watershed year for dietary habits, and that is good news for the makers of dairy drinks.

"Ideas of healthy eating have been completely transformed, with consumers now avoiding sugar and eating more products with high protein and fat content. The UK dairy industry can take advantage of these changing attitudes within the 'healthier' drinks category, which provides a huge opportunity for growth and development," she adds.

Bio-tiful produces low-sugar Kafir probiotic drinks, which Bowes says "boost energy levels, supports immunity and is packed with essential vitamins" and taps demand for functional food and drink.
TAKE-HOME SALES: DAIRY DRINKS
52 w/e 22 May 2016
Value
Volume
£(m)
y-o-y%
litres (m)
y-o-y%
Chocolate
47.0
5.5
31.1
3.7
Strawberry
28.3
-3.3
20.8
-1.5
Banana
16.2
-4.5
12.7
-4.1
Vanilla
9.7
63.3
5.1
47.4
Fudge Brownie
6.1
-24.2
4.2
-20.8
Cappuccino
3.3
72.5
0.9
28.4
Cookie Dough
1.8
-15.5
1.3
-11.9
Chocolate+Caramel
1.8
-23.4
0.6
-28.0
Caramel Latte
1.8
-14.5
0.3
-8.6
Total
147.2
1.9
90.6
1.1
Source: Kantar Worldpanel
Protein

For now, however, it seems protein rather than sugar is the bigger health trend. "There is recognition across the industry that high-protein products are the key to winning back the health-conscious consumer," says Martin. "Consumers are becoming increasingly aware of the connection between nutrition and exercise, particularly the role of protein, which contributes to the maintenance and growth of muscle mass."

Alex Brooks, MD at For Goodness Shakes, agrees protein, rather than reduced sugar, is where it's at for brands wanting to broaden their appeal.

"Where brands launch low-sugar versions alongside their standard products, the result is often moving customers around the category, rather than significant incremental sales," he says. "Protein drinks have added real incremental growth to the category as they offer real new functional benefits. As a brand, we grew 49% year on year in 2015, with our Protein line growing the fastest at 76%."

While the success of protein drinks and reduced consumer interest in sugary options don't signal the end of regular, 'indulgent' flavoured milks, it does mark their decline, he adds. "There will always be a place for indulgent drinks because they are seen as a treat, but the room given over to them on shelf is becoming more and more limited, with more space being given to genuinely unique NPDs, which a lot of the time are healthier products."

As in previous years, the UK's growing coffeehouse culture continues to have a big impact on the category. Coffee remains the fastest-growing flavour, with Cappucino value sales up 72.5% to £3.3m on volumes up 28.4%. "Coffee drinks have been around for a while now but they continue to show strength, proving there's still room in that area," says Parsley.

Earlier this year, Crediton unveiled its Arctic Coffee SKU in two variants, original and latte, which it developed with The Co-op as part of its "continued commitment to working closely with our customers to develop products that add value to their range".

RTD coffee stalwart Emmi UK has also been innovating, with new launches this year including a Strong Macchiato variant, which Laura Graham, Emmi UK head of marketing, claims is the only iced coffee drink on the market with no addded sugar. "We are very aware of consumer concerns regarding sugar in drinks," she says.

Vanilla has also seen massive growth, of 63.3%, driven by premium brands, to value sales of £9.7m - although volumes are down by 1.2% due to the popularity of smaller formats as consumers increasingly demand on-the-go convenience.

But chocolate is still the flavour of the month when it comes to dairy drinks, with value sales rising another 5.5% in the past 12 months to £47m, suggesting shoppers aren't ditching indulgent drinks yet.

Which is not to say they are immune to health trends, with Mars Chocolate Drinks and Treats recently introducing a no-added-sugar variant of its Mars Milk, having already rolled out Mars High Protein and Snickers High Protein drinks last year.

Parsley would like to see more "exciting" flavours in RTD dairy - something that reflects the menus of the growing number of milkshake bars and ice cream parlours around the UK. "Hopefully, success in foodservice will translate to flavoured milk drinks, and suppliers will be a bit braver and go beyond strawberry, chocolate and banana," she says.

She also sees opportunity for dairy drinks to play a bigger part in the beverage market, pointing out they are "very well placed" to tap consumer appetite for healthier options, on-the-go formats and more filling snack products.
Protein & Oats
Launched: August 2016
Manufacturer: For Goodness Shakes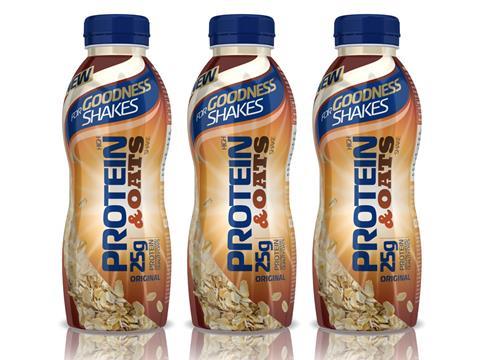 For Goodness Shakes' latest NPD aims to bring a new and much healthier meaning to the phrase "liquid breakfast". The two variants of this on-the-go proposition - Original and Banana & Golden Syrup - promise 25g of protein and 296 calories per 475ml bottle (rsp: £2.49).
Yazoo No Added Sugar
Launched: September 2016
Manufacturer: FrieslandCampina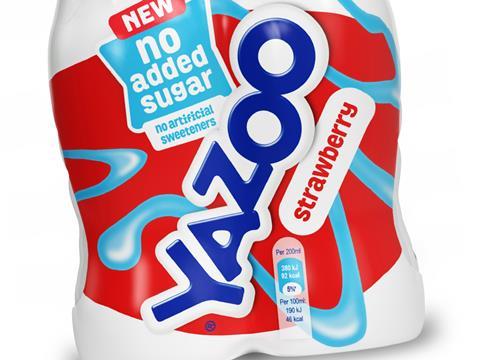 Yazoo's new trio of no-added sugar drinks contains only naturally occuring sugars and no artificial sweeteners. Available in strawberry, banana and toffee flavours in 200ml single-serve packs (rsp: 50p) and 200ml four-packs (£1.60).
Uber Udder
Launched: June 2016
Manufacturer: Shaken Udder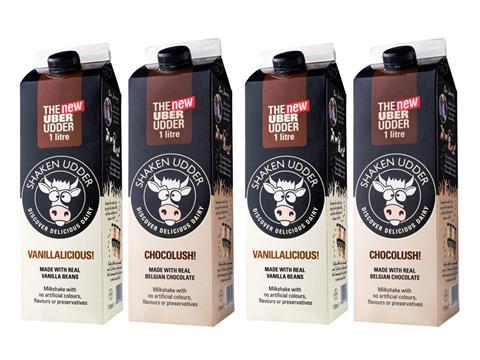 Shaken Udder's first one-litre bottle is meant for sharing and "those wanting a bit more than 330ml". It's available from Waitrose and selected Co-op stores in two flavours, Vanillalicious and Chocolush, at an rsp of £2.20-£2.70.
Arctic Coffee Cafe Latte
Launched: May 2016
Manufacturer: Crediton Dairy
This product was developed by Crediton in partnership with The Co-op, where it's exclusively available. It's an iced coffee drink made from Arabica beans and sugar - both Fairtrade - and 100% British milk (rsp: £1/330ml).
Breakfast

Breakfast drinks in particular are ripe for growth, with Weetabix, Fuel10K and Up&Go all enjoying significant growth in the past 12 months [IRI 52 w/e 21 May 2016].

One in 10 people eat their breakfast on the hoof [Kantar Worldpanel 52 w/e 27 March 2016], and it is this need for more on-the-go options that has seen massive uptake in the burgeoning breakfast drinks sector, with category leader Weetabix On The Go soaring by 77.1% in value sales to £10.4m on volumes up 60.9% [IRI 52 w/e 21 May 2016].

"Breakfast is a growing trend, and we see this coming more to the fore as milk offers a perfect formula to build the ideal breakfast nutrition on," says Brooks.

Indeed, with 50% of Brits feeling there are not enough hours in the day to fit in all their desired activities, it is crucial dairy brands introduce products designed specifically with consumers' tight schedules in mind, according to a recent survey by consumer insight provider Canadean." Breakfast dairy products are most noticeably in demand, with the number of launches increasing," says analyst Ghina Romani.
"Milk offers a perfect formula to build the ideal on-the-go breakfast nutrition on"

- Alex Brooks, For Goodness Shakes
A further opportunity that time-poor consumers present is the development of products in pouches, such as the Quark With Fruit range recently unveiled by Fuel10k. "Products such as this meet consumer demand for both convenient and healthy products, while also resembling the makeup of a more traditional breakfast," says Romani.

While demand for healthy options is rising, they are still relatively niche, and suppliers are working to expand their appeal beyond health fanatics.

Most marketing for protein drinks is done in stores via promotions, gondola ends and FSDUs, claims Brooks. "These are a highly successful way of getting consumers to try protein drinks for the first time as penetration is still low."

Brooks' brand, For Goodness Shakes, targets consumers aged 18 to 45 with an interest in health and wellness. Much activity has been through online and social media "to create a conversation" and through peer referral. The brand also launched an app, Find Your Perfect Protein, which helps consumers decide what type of product is right for them. "Education is key in this category as it is still fairly new," Brooks adds.

The future

With so much potential for growth in dairy drinks, Müller Milk & Ingredients believes it is the "golden goose" of the liquid dairy category, says commercial director Dan Howell. But innovation will play an important role in retaining existing shoppers and attracting new ones. "We will fuel growth via a relentless search for new flavours, types and textures."

Frijj is "well positioned" to capitalise on health trends with its low-sugar range, and Müller is planning a "shake up" of the core range, says chief marketing officer Michael Inpong.

Müller this month launched its first TV campaign for Frijj since acquiring the brand, and is aiming to achieve double-digit sales growth over the next 12 months.

Arla, meanwhile, has revealed plans to triple its global revenue from milk-based beverages by 2020. The company said last month it wanted to "challenge soft drinks" with healthier milk-based alternatives including a sparkling milk & fruit drink, a milk & tea drink and an energy drink rich in protein.

Nick Bartlett, Crediton's head of sales & marketing, agrees that as sales slow, the category needs innovation at a "churn and pace it maybe hasn't needed in the past to flourish".

With health concerns unlikely to go away, innovation will be key to convincing shoppers dairy drinks can be more than just an occasional treat. "The challenge is making it more permissible and everyday," says Rogers. "Can these drinks be made healthier and acceptable to drink on a regular basis?"