Has cheese ever been more exciting? From a lock-up in Tottenham to cavernous former slate mines in Wales, innovation is proceeding at a prodigious pace with creativity that leaves other NPD standing. The Grocer's team of judges selected new cheeses from the UK and the Continent launched over the past two years that they think are destined for stardom…
Name: Howard
Producer: Wilde's Cheese –London
Launched: February 2014
What's the story? Created by Philip Wilton, aka the Urban Cheese Maker (pictured, above), Howard is a true artisanal semi-hard blue, hand made in small batches in a lock-up in Tottenham from vegetarian rennet and the raw milk of a single herd of cows in Rye, East Sussex. Wilton says the cheese was named after Luke Howard, known as "the father of meteorology," who invented the naming system for clouds and hailed from Tottenham. It should be enjoyed with a "glass of your favourite tipple," especially sherry, he adds – though given Howard was a Quaker, he may well have eschewed the boozy accompaniment to his namesake cheese. Howard is available at Selfridges Food Hall, Borough Market, and a host of farmers markets around the capital.
The Grocer says: It's true, Howard can definitely be enjoyed with a glass of your favourite tipple, in our case a glass of red. It's light, milky and has a nice refreshing taste. We were also impressed with the packaging, which depicts a a rather un-aerodynamic plane made out of cheese and a bearded pilot who looks suspiciously like Wilton. We could definitely see this one fly onto the shelves of a wider range of retailers.
Name: Orsom – Grace
Producer: Joseph Heler Cheese – Cheshire
Launched: Easter 2014
What's the story? A new range of artisan cheese by own-label specialist Joseph Heler Cheese, Orsom draws on Joseph Heler's rich cheesemaking heritage, which dates back to 1957. The range aims to add "flavour and a touch of personality" by blending traditional handmade cheesemaking skills with new textures and flavours. It has quickly gained traction since launch, with Grace picking up a gold medal at the recent Nantwich International Cheese Awards, and is currently being sold at farmers markets and local shops in the north west of England.
The Grocer says: An interesting new cheese from one of the sector's best-known players. Grace is a delicate, creamy cheese covered in blue wax with a long-lasting mellow flavour. The packaging and branding have real standout, and we expect this to pick up major listings in no time.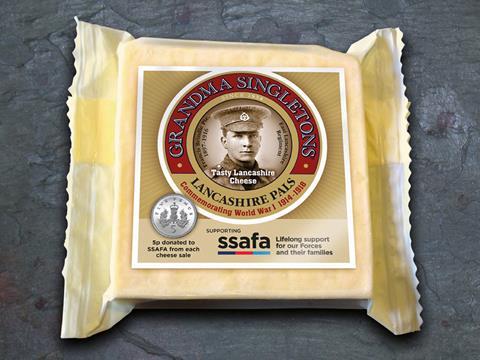 Name: Lancashire Pals
Producer: Grandma Singletons – Lancashire
Launched: August 2014
What's the story? Preston-based cheesemaker Grandma Singletons has teamed up with services charity SSAFA to commemorate the centenary of World War One and raise money for the armed forces. 5p from every pack of Lancashire Pals – named after the local regiments founded with groups of friends during the conflict – is donated to SSAFA.
The Grocer says: We love the concept behind this cheese, which uses a traditional Grandma Singleton's Lancashire recipe. The packaging has real standout and resonance, with the label depicting the image of Francis Brindle, a young soldier who enlisted on 15 September 1914, joining the Chorley Pals Company of the East Lancashire Regiment.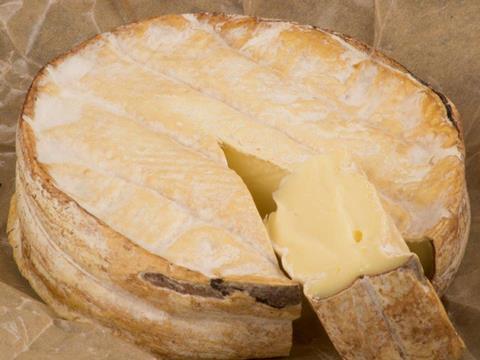 Name: Winslade
Producer: Hampshire Cheeses
Launched: Spring 2013
What's the story? Founded in 2005 by Stacey Hedges and Charlotte Spruce, Hampshire Cheeses moved into its first creamery the following year, when it launched soft cows milk cheese Tunworth. The cheese subsequently picked up Britain's Supreme Champion Cheese at the British Cheese Awards beating more than 800 other cheeses, followed by further success at Waitrose's Small Producer of the Year Awards and a gold medal at the World Cheese Awards.
The Grocer says: Winslade is a new development for the tiny cheesemaker. It has a creamy, delicate but tangy flavour with a note of mushroom and a hint of the spruce it is wrapped in. The packaging is reminiscent of French soft cheeses and was given an enthusiastic thumbs-up by everyone on our judging panel.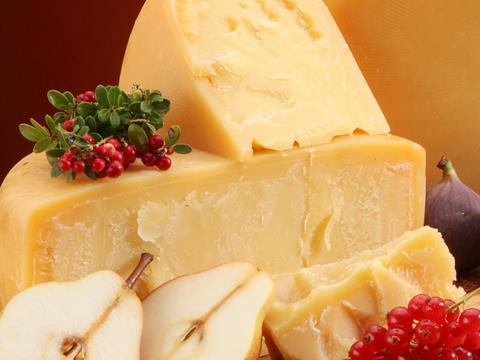 Name: Džiugas
Producer: Zemaitijos Pienas – Lithuania
Launched: Spring 2014
What's the story? Džiugas is new to the UK but a favourite in its home country of Lithuania, where it is seen as the Baltic state's equivalent to Parmesan or Gouda. Lactose free and suitable for vegetarians, it is a hard cheese made from cows milk with a range of increasing maturities from 12 to 18, 24 and 36 months. Its texture is that of a hard cheese and as it ages it presents a crystalline structure through its creamy base. The cheesemakers at producer Zemaitijos Pienas are hoping to establish Džiugas as an alternative to the more usual Continental cheese on sale in the UK, pushing it as a versatile ingredient in sandwiches and cooking.
The Grocer says: Lithuania isn't known as a dairy destination in the UK, but this cheese could give some other Continentals a real run for their money. The cheese is beautifully crumbly, and has an intensity on first taste that then transforms into a full-mouthed, lingering flavour. Our judges thought it was ever so slightly abrasive, with nutty overtones, which would be perfect for a cheeseboard.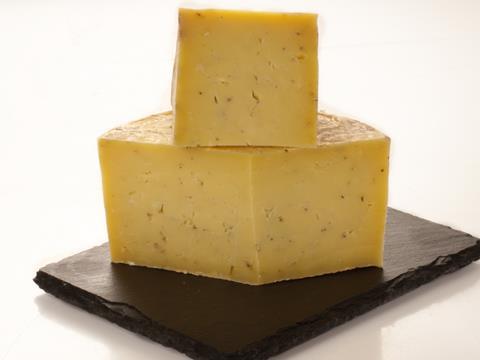 Name: Quickes Elderflower
Producer: Quickes Traditional – Devon
Launched: October 2013
What's the story? Devon-based Quickes has been hand-making cheese on the family dairy farm since 1973, using milk from its own cows, and with every cheese matured for up to 24 months. The producer's latest creation combines sweet and savoury with the long-lasting flavour of its buttery Cheddar and a gentle hint of elderflower, giving it an entry into the additives market but "very much at the discerning top-end," says MD Mary Quicke.
The Grocer says: This cheese divided opinion, and it's sure to be a talking point on cheeseboards. It has a full, rich and unique taste, managing to be sweet and savoury at the same time. With fixtures being dominated by chilli additives at the moment, this could offer a real point of difference.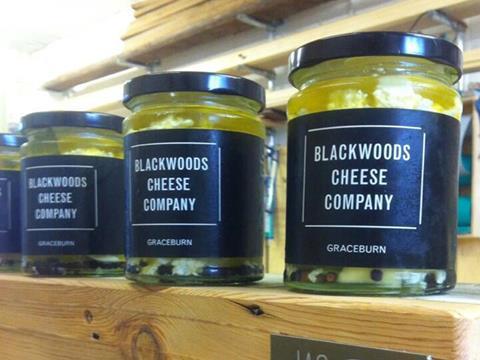 Name: Graceburn
Producer: Blackwoods Cheese Company – London
Launched: September 2013
What's the story? A London artisan cheese with a broad customer base: it is sold in local delis in South East London as well as Fortnum & Mason. Blackwoods was established by friends David Holton, Rory Holwerda, and Tim Jarvis, who started the company last July and now make their cheese in Brockley by hand using organic raw milk from Kent. Graceburn is a soft cows cheese marinated in extra virgin olive & rapeseed oils with garlic, thyme, bay & pepper. It is reminiscent of feta, but has a softer and creamier character.
The Grocer says: An interesting, premium-positioned cheese that is softer and more open textured than one might expect. It taps a growing interest in cheese made from raw, organic milk, has great packaging, but more importantly a terrificly creamy taste, perfectly suited to salads.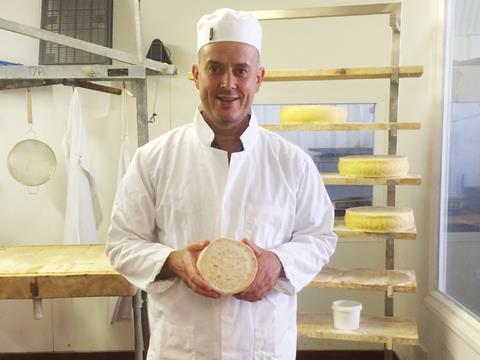 Name: Bis
Producer: Kappacasein – London
Launched: Spring 2014
What's the story? Kappacasein was established in 2001 by William Oglethorpe (pictured, above), who started selling toasted cheese sandwiches and raclette in Borough Market while working at the Neal's Yard dairy. He adopted the Kappacasein name in 2006 because he needed a clearer identity and after discovering it meant "the protein key to cheese making." Bis is named after the daughter of colleague Jenn Kast, who has worked with Oglethorpe since the dairy's inception. It uses milk from Commonwork organic farm in Kent and is made using the same recipe as Reblochon, the French Alpine cheese. Bis uses raw cows milk and traditional rennet, and is created in a 100-year-old copper vat that was brought to the UK by Oglethorpe from Switzerland.
The Grocer says: Bis has a great story, being hand-made in Kappacasein's shop, nestled under some railway arches in London's foodie heaven of Borough Market. Its raw milk credentials are on trend, and the result is a smooth entry-level raw milk cheese which our judges thought had real commercial potential as well as foodie appeal.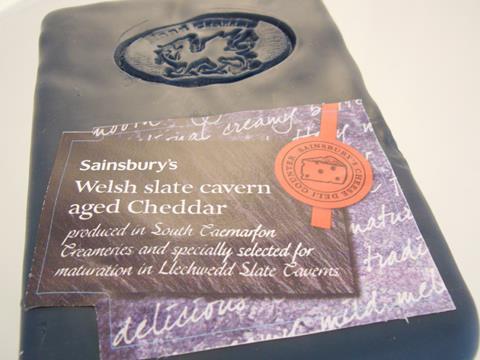 Name: Welsh Slate Cavern Aged Cheddar
Producer: Dragon Cheese/South Caernarfon Creameries – Wales
Launched: April 2014
What's the story? This Cheddar was developed by the cheesemaking team of Welsh co-operative South Caernarfon Creameries in partnership with tourist attraction Llechwedd Slate Caverns. SCC gives a Welsh twist to a traditional French underground maturation method by storing the cheese 500 feet below the surface for 14 months at Llechwedd's cavernous former slate mines. Initially only available on Sainsbury's deli counters, the cheese can now be bought under the Dragon brand, and will be launched in pre-pack at Sainsbury's in the autumn.
The Grocer says: The underground maturation seems to have given the cheese added smoothness and a "certain Frenchness," as one of our judges noted. It has a firm body and deep flavour with rich savoury notes and a sweet aftertaste. A versatile cheese that is equally at home in a sandwich and on the cheeseboard, the cave-aged credentials add real interest without being gimmicky.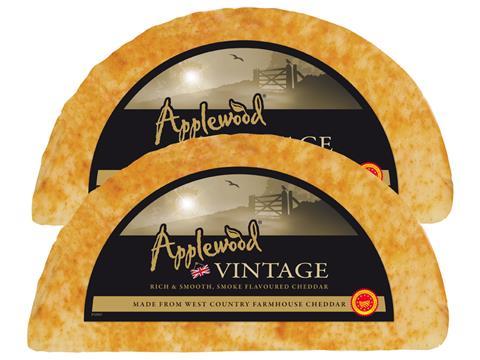 Name: Applewood Vintage
Producer: Norseland / Applewood Cheese – Somerset
Launched: April 2013
What's the story? Applewood started making cheese in Ilchester in 1965. Applewood Vintage is made from PDO-accredited vintage West Country Farmhouse Cheddar, and matured for 12 months with a dusting of paprika. It is "perfectly positioned for cheese consumers who appreciate good quality, premium, stronger-tasting cheeses," according to brand manager Matt Levett, and has picked up a silver medal at the International Cheese Awards.
The Grocer says: This has a woody, rich and smooth flavour enhanced by the vintage Cheddar with a pleasant aftertaste. Definitely one for consumers who like a stronger-tasting cheese, and perfectly matched with a chutney and a glass of red.