Protein isn't just for gym bunnies anymore. Protein drinks have made huge gains in profile recently thanks to a spate of NPD which has helped transition them into the mainstream.
Although still a relatively small category, worth £28m, the market for protein-enriched dairy drinks has shown dynamic growth year on year, with value up 67%. Protein drinks now account for 10.7% of total RTD flavoured-milk value sales [IRI total snack outlets, 52 w/e 21 June 14].
Peter Groves, general manager of protein drink brand Upbeat, predicts demand for protein among mainstream consumers will "only increase further with more new entrants." And David Young, marketing director of First milk, which recently launched a protein drinks range in association with cycling's Team Sky, believes protein will be "the real driver of growth" for dairy drinks over the next few years.
But what impact is the rise of protein drinks having on the wider dairy drinks category? And how are non-protein players planning to respond?
"The influx of new product concepts has given existing products leverage"
Protein has managed to broaden its appeal "from sports performance athletes to a much wider market" just as rival functional drinks are suffering in the wake of EU regulations preventing certain digestive health claims, particularly around probiotics, says consultant Hamish Renton of Hamish Renton Associates.
Some brands have responded by shifting their focus away from digestive health to a more general wellbeing message.Danone, most notably, added vitamins to its Actimel drinks and recently moved the brand into kids drinks in a bid to reposition it and broaden its appeal.
Other traditional dairy drinks players are not shy about their ambitions either.
Frijj "continues to recruit new shoppers ahead of the category average," says Laura Sheard, head of dairy drinks at brand owner Dairy Crest. Frijj is the UK's dairy drink market leader, with a market share of 23% by volume and value sales of £54.03m [IRI].
Penetration for Frijj has risen by 4.3% over the past year, reaching 5.3 million households, and Sheard believes there is a "significant opportunity" for it to gain further traction. In particular, Dairy Crest is focusing on growth opportunities "out of home," in addition to promoting the natural goodness, health benefits and indulgent nature of dairy drinks.
But Sheard also hints Dairy Crest could eventually move into the protein category itself, conceding it is "playing an important role for dairy drinks, both by bringing new buyers into the market, and by adding value to the market."
Indeed, a recent Dairy Crest category management project – Live Life on the Move – could point to the direction the supplier may eventually take. The project outlined five potential growth drivers for the company, stating "one element may be realised by meal replacement and protein-enriched products, offering a convenient and nutritious solution to today's fast-paced lifestyles."
FrieslandCampina UK, the maker of Yazoo, is similarly unfazed by the rise of protein drinks. Yazoo is the UK's second-biggest dairy drinks brand, with value sales of £47.8m [IRI], and managing director Tracey Barney says she is "not worried" about the possible future effect of protein drinks on Yazoo, as it is "focused on the goodness of dairy" rather than the specific benefits of protein.
If anything, Barney says the emergence of protein-based dairy drinks could even benefit the likes of Yazoo as it has been "very helpful in raising the goodness profile of the dairy drinks category as a whole."
That's not to say she isn't keen on developing the Yazoo brand. Friesland recently decided to move beyond its traditional flavoured milk territory with the launch of a range of yoghurt, fruit and oat-based smoothies.
Barney says the new range, launched this September in 750ml cartons and 200ml multipacks, reflects the fact that families are becoming more sophisticated in their choice of dairy drinks.
NPD benefits
This is echoed by Jodie Farran, co-founder of Shaken Udder milkshakes, who claims the brand's "premium quality" positioning makes it stand out against other milk drinks. "We think these innovations are quite beneficial to the category as they are helping to put milk on the map as healthy again and, in a lot of cases, gaining space for the milk drinks and milkshake fixture, from which all brands will benefit."
The Collective Dairy is also upbeat about the prospects of dairy drinks. It launched a range of premium yoghurt drinks earlier this summer, and says the reaction so far shows how attractive the category is.
"Lots of big brands are now looking at the category," says product development director Fiona Cramp. "A backlash against sugar, a drive towards more healthy drinks and a desire by consumers to stay fuller for longer, will continue its growth."
The growth of the protein category is even having a positive effect on the coffee-flavoured drinks category, claims Laura Graham, head of marketing at Emmi UK. The iced coffee category grew 46% to £12.1m over the past year, she says, while Emmi Caffè Latte distribution increased by 9% [Nielsen w/e 24 May 2014].
"The dairy category is still growing as a whole, so the influx of new product concepts has given existing products leverage to raise awareness of the total flavoured milks category," Graham adds.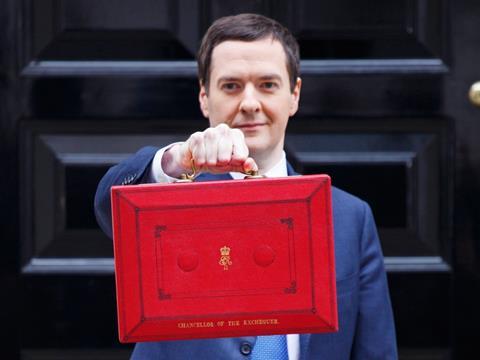 VAT questions could sour reputation of protein drinks
As protein-based dairy drinks increase their market share, the VAT status of the category remains curiously unresolved.
Chancellor George Osborne announced plans to levy VAT on sports nutrition drinks in his March 2012 budget. This would address a number of "loopholes and anomalies" regarding VAT, he said at the time.
But two years on, there remain question marks about VAT in the category – and the drinks' growing mainstream status could be partly to blame.
The Finance Act 2012 states sports drinks "advertised or marketed as products designed to enhance physical performance, accelerate recovery after exercise or build bulk, and other similar drinks" are standard-rated for VAT purposes. This includes sports nutrition drinks that contain milk or milk extracts such as whey.
But some producers appear to be swerving the tax by classing their products as food, claims Alex Brooks, marketing director of For Goodness Shakes.
"If we build fixtures that contain products which on the surface look like performance products, but on closer inspection have played with their claims because of VAT implications, it will damage the reputation of the fixture and could risk it in the long-term future."
Consultant Hamish Renton says the disparity between VAT and non-VAT payers is "completely daft. While I think this category should be exempt from VAT, the fact that some are paying the tax and others aren't is distorting the market."
A spokesman for HMRC says VAT liability of a product is determined at launch by the manufacturer or distributor. Sports nutrition drinks are beverages and classed as "standard-rate" VAT-eligible products even if they are described as food products, he adds.
"HMRC will carefully consider any information received alleging avoidance or evasion by one or more taxpayers and will take action as necessary."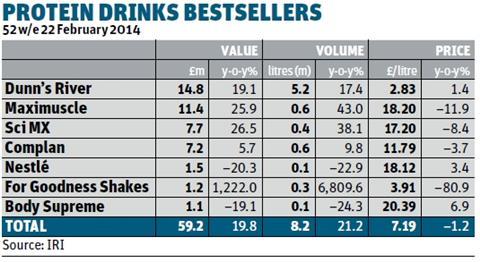 Renton takes it one step further. "A drink which combines coffee and protein could be seen as trying to capitalise on a number of trends at once," he says.
Teething problems
Despite the category's overall buoyancy and enthusiasm for all things protein, the recent demise of Arla's Wing-Co should be a warning that not every protein drink will succeed.
Arla confirmed last month it would cease production of Wing-Co little more than a year after launching the high-protein drink, which was aimed at men in their 30s and 40s.
"Wing-Co launched slightly too early for the category," says senior brand manager Gareth Turner, who adds Arla will now focus on its Cocio brand. "While the protein sub-category is in strong growth, the majority of this is from recovery drinks as opposed to snack replacement one."
First Milk has also suffered dairy drinks delistings recently, with its Lake District Dairy Co drinks Frumoo and Caffe Latte no longer available in the mults. However, the drinks "remain in our plans," First Milk insists.
In an increasingly crowded market, for a brand to succeed it needs to find a target audience and deliver functional benefits to it, says Alex Brooks, marketing director of protein shake brand For Goodness Shakes. "It's important it tastes good, and we were among the pioneers who led protein drinks into the supermarkets, but I can't see us eating into the traditional dairy drink category."
Gaining shelf space
Tesco gave more shelf space to protein drinks in a recent range review for its 'active dairy' category, with more traditional functional drinks losing out as a result. Sci-Mx Nutrition senior brand manager Chay Watkins believes other retailers could follow suit "as these types of products add so much value to dairy," but notes for the time being "most listings are still in the pharmacy, sports and healthcare sections."
Meanwhile, Nick Bartlett, head of sales and marketing at Crediton Dairy, sees the growing interest in protein as an "understandable" response to the quest for value in the liquid milk category, which has "effectively been devalued by retailer four-pints-for-£1 deals."
But he warns: "I think in the long term, the jury is out regarding the volume potential of the protein category. It's not clear at the moment how niche these products are."
Perhaps tellingly, the market is still waiting for an own-label push into protein-enhanced dairy drinks – and none of the big four said they had any plans to launch such drinks when asked by The Grocer for this feature.
Even Tesco, which launched a range of 130 products under its My Fit Lifestyle brand in June, did not include a protein drink as part of this.
That's not to say the retailers will stay away forever, of course. Given the flurry of activity the category has already seen on the branded side, there's every chance one of them will want to muscle in on the protein action sooner rather than later.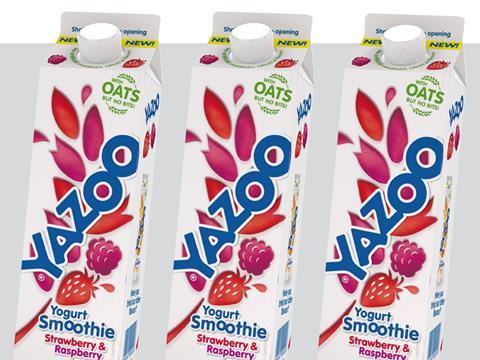 Yazoo Yoghurt Smoothie
Launched: September 2014
Manufacturer: Friesland Campina
Yazoo's attempt to muscle in on the protein category is a smoothie made from yoghurt, fruit and oats. It will be launched in September in Strawberry & Raspberry, and Mango & Pineapple flavours in 750ml and 200ml multipacks (price TBC), and has been in development for more than two years.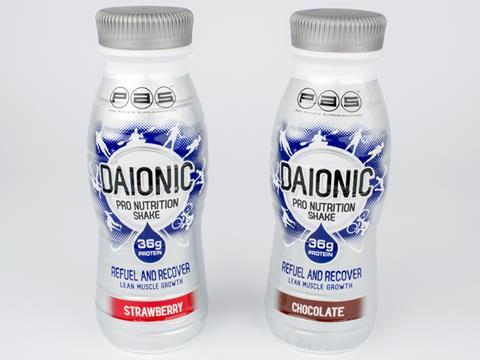 Daionic Pro Shake/Daioni milk shake
Launched: June 2014
Manufacturer: Trioni
The Welsh dairy company has launched a range of protein shakes in chocolate and strawberry 330ml bottles (£2.49) targeted at athletes and "fitness fanatics", and sold online, through gyms and health centres. It has also introduced a three flavour organic semi-skimmed milk range in chocolate, strawberry and banana milk cartons (250ml, 200ml RSP 79p - £2.15 for a three pack) sold through Ocado.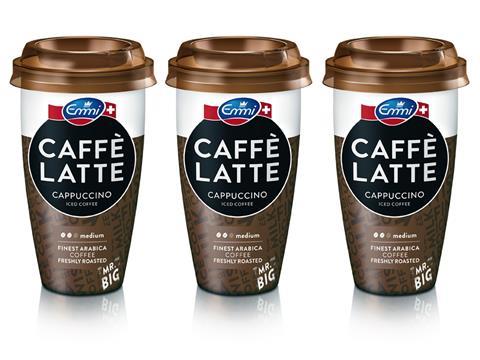 Emmi Caffe Latte Mr Big
Launched: July 2014
Manufacturer: Emmi UK
Targetting men in the on-the-go refreshment category as an alternative to coffee-shop bought coffee, Mr Big is a 370ml version of Emmi's 230ml cappuccino drink. It is sold exclusively at Tesco (RSP £1.99) and introduced to the UK after successful launches in the Austrian and Swiss markets last year.
The Collective Yoghurt Drinks
Launched: June 2014
Manufacturer: The Collective Dairy
The organic yoghurt brand made its play for the dairy drinks category with the launch of a range premium British-made yoghurt drinks containing superfoods, grains and exotic fruit. The drinks come in four variants - mango and blood orange; coconut, vanilla & honey; blueberry, cranberry & acai; and apricot & banana with oats and chia seeds, and are sold through Tescoe (RSP £1.79 for 250ml).