From Tesco to Philadelphia, retailers and suppliers want to inspire Brits to use cheese in a much wider range of hot dishes
This summer's silly season story of the year has to be the mathematical formula for cheese on toast devised by scientists at the Royal Society of Chemistry. Created in conjunction with the British Cheese Board, the equation generated a ton of frivolous publicity across the nation's media.
What the stunt sadly didn't do was to draw attention to the increasingly ambitious use of cheese as a major cooking ingredient. Instead of toasted cheese and macaroni cheese, retailers and manufacturers have been encouraging consumers to cook a growing array of increasingly sophisticated recipes featuring an ever wider variety of cheeses.
In the case of Tesco, it's gone one step further. Earlier this year, it launched a new range of cheese-based ready meals in its Entertaining with Cheese portfolio, featuring goats cheese & bacon parcels and mature Cheddar soufflés. But it wasn't so much the combination of ingredients as the fact the ready meals were planted slap bang in the middle of the cheese aisle that marked this initiative out as different.
Tesco's siting of the range was clearly designed to be disruptive, but then getting consumers to see cheese as the centre of a meal - as opposed to a flavour enhancer or accompaniment - remains a work in progress.
Moving cheese centre stage
The first brand to really recognise the value of cheese as a major cooking ingredient was Kraft's Philadelphia. Traditionally a snacking brand, it won a Grocer Gold award in 2010 (and again this year) after sales soared as it was repositioned through extensive use of recipes - it even launched a Philadelphia-branded iPhone app - and in April this year its evolution continued with the launch of a range of Philadelphia cooking sauces.
Already worth £2.8m [Nielsen 3 August], Mondelez says the sauces have been a storming success to date, and have helped the overall chilled cooking sauces category expand by 35% in value, by "bringing in a new element of versatility to the offering," a spokeswoman adds.
The cheesy sauce is one of several to launch in the past year, including Lactalis McLelland's chilled Seriously Strong Cheese Sauce last August, and Paxton & Whitfield's Pots of Cheese this January.
Along with the flavoured paneers of Everest Dairies, these new products are designed to lower barriers to use, making it as convenient as possible for consumers to include cheese in their meals. "There really is a lot for consumers still to learn about cheese, and it's up to manufacturers and retailers to help expand that learning," says Stephen Gregory, head of category management at Bel UK. "Cheese can easily form the basis of a meal in its own right, as well as being used to complement meat, fish and vegetable dishes."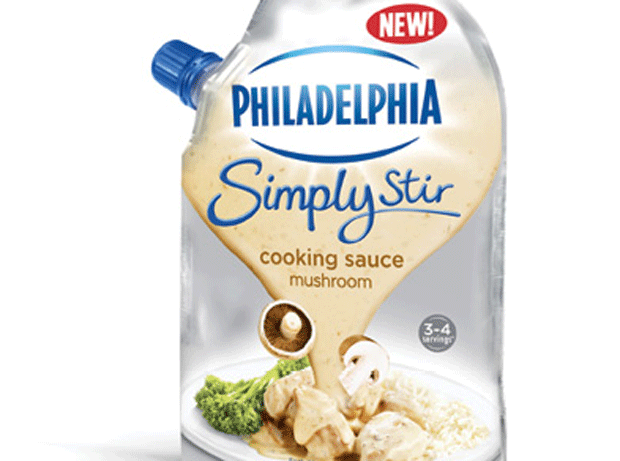 With cheese as the 'hero' ingredient in Tesco's new ready meals range, then, suppliers are hoping it has a "halo effect" on their own lines, and will encourage use of cheese in cooking more generally. "Their placement within the cheese aisle should encourage more shoppers to browse the cheese fixture and encourage cross-segment purchasing, from block Cheddar or speciality cheese," says Will Pritchard, senior category manager at Dairy Crest.
However, others believe such ranges are best sited with ready meals. "The cheese fixture is often accused of being cluttered and difficult to shop - with meals there too this could only get worse," says Rich Clothier, MD of Wyke Farms. "The fixture has to offer choice across flavour profiles, brands and regions. Where will this stop - coq au vin in the wine aisle?"
If opinions differ on where best to sell cheese-based meals, experts agree that variety will be key to ensuring shoppers remain excited about cooking with cheese.
Although Cheddar, as category bestseller, is well placed to benefit, smaller varieties - from territorials to Continental specialities - also have the potential to do well, and could ensure shoppers don't get bored with cheese recipes.
"One of the biggest growth opportunities for the category lies in driving the association between specific cheese with specific dishes in order to increase consumers' repertoire outside Cheddar," says Kantar Worldpanel consumer insight director Alex Seron.
Kate Richards, senior brand manager at Arla, which expanded its exclusive-to-Tesco range of Yum soft white cheeses with cooking-targeted pesto and sweet chilli variants, agrees.
"More consumers are now choosing to use a wider variety of cheeses as they gain inspiration from celebrity chefs," she says. "This includes everything from goats cheese and Gruyère to mozzarella and blue cheese."
Recipes
The use of recipes remains critical to the successful growth of cheese in cooking. Earlier this year, Bel UK enlisted Celebrity Masterchef 2010 winner Lisa Faulkner as part of its April-to-September campaign for Boursin, for which Faulkner created five recipes, and says the push has helped increase value sales for the brand by 27.7% year on year to £13.6m [Nielsen MAT 22 June].
Norseland is targeting the whole family through its Applewood cheese brand with the launch of an on-pack Cooking with Kids instant win campaign in August, offering cooking-related prizes such as graters and a family foodie holiday to Spain. "People will always be cooking so continuing this link is key for continued and sustained growth," says CEO Nigel Meadows.
As virtually every cheese can be used for cooking, there is huge scope for retailers and suppliers to use NPD to present cheese in new ways that make shoppers think again about the role cheese plays in their diet.
So, while toasted cheese will always be a popular, late-night snack, cooked cheese looks set to take centre stage in more and more meals.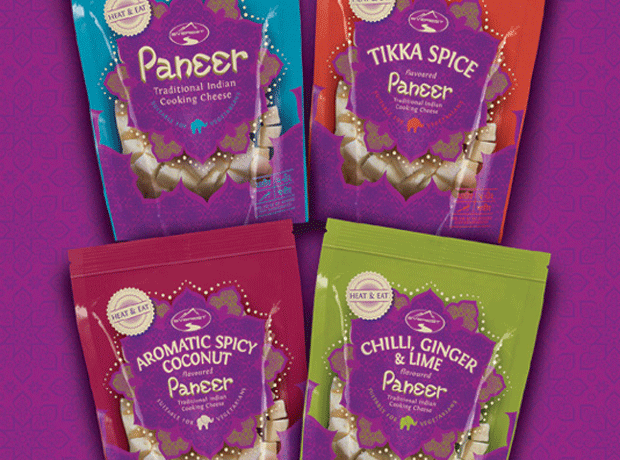 Everest Dairies flavoured paneer
Launched: July 2013
After years of supplying plain paneer - a full-fat cheese traditionally used in Indian cookery - to the mults, Everest Dairies spotted a gap in the market for a pre-flavoured, ready-to-cook product. The paneer comes in a 200g pouch and can be cooked in two minutes without oil. Everest is currently looking for listings for the range.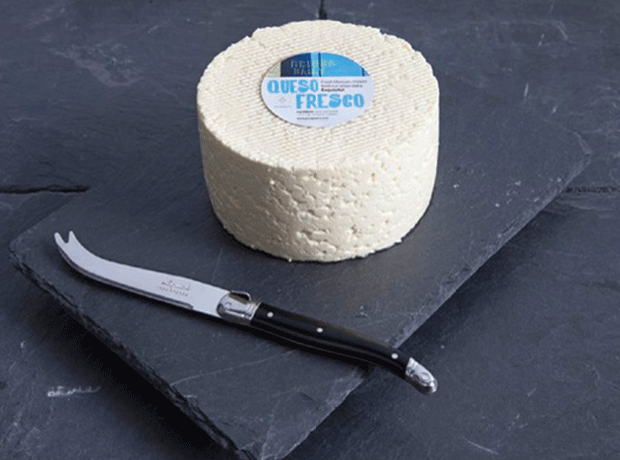 Gringa Dairy Queso Fresco
Launched: June 2013
A lack of imported dairy products from Mexico prompted Peckham-based Gringa to start producing one of the most common cheeses in Mexican cooking. Queso Fresco (rsp: £5/250g) is a tangy and salty soft fresh cows cheese commonly used as a filling for quesadillas.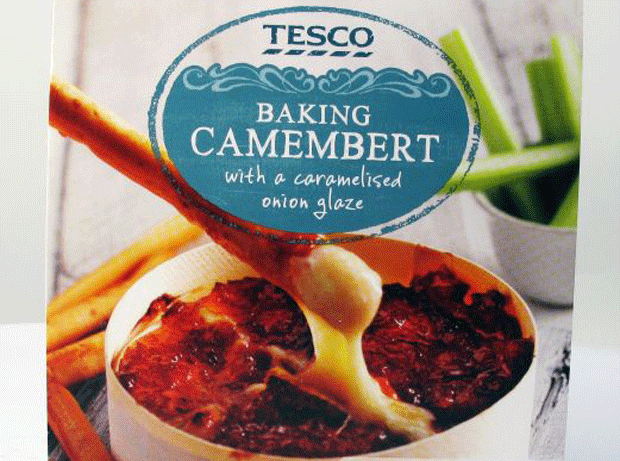 Tesco Entertaining range
Launched: April 2013
When Tesco revamped its cheese aisle earlier this year, it took a leap forward in positioning cheese at the centre of a meal. Its new ready meals range includes Cheddar cheese soufflés, Feta cheese bake with tomato and red pepper chutney, and halloumi cheese skewers.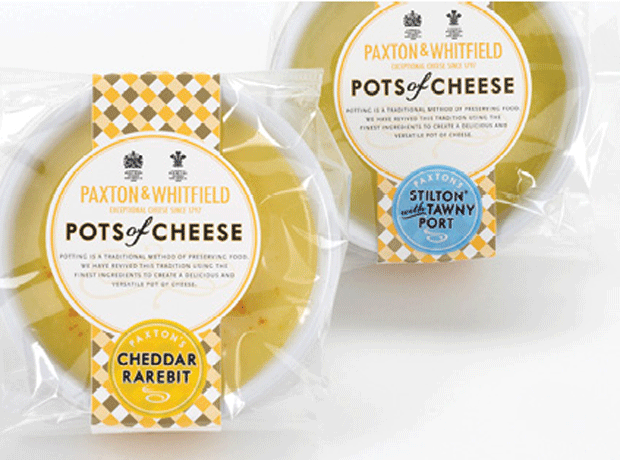 Pots of Cheese
Launched: January 2013
High-end cheesemonger Paxton & Whitfield's potted cheese comes in two variants, Cheddar Rarebit (rsp: £5.95/125g) and Stilton with Tawny Port (rsp: £6.50/125g), and can be used as a base for sauces or soufflés, stirred through pasta or to stuff chicken breast.