There is double trouble brewing in the butters and spreads market. A Europe-wide milk fat shortage has sent prices spiralling, while at the same time the major mults are embarking on fresh range rationalisation as they continue their battle with the discounters
With volatility comes opportunity, however. Higher prices have propelled the category back into growth, with sales up 1.3% on volumes down 3% [Kantar Worldpanel 52 w/e 21 May 2017], while a 10.4% rise in average own label price is helping level the playing field for branded players. So how is all this affecting the retail landscape? What are brands doing to justify their space on shelf? And what will Brexit mean for BSM?
Arla boss Peder Tuborgh wasn't joking when he warned Britain might run out of butter by Christmas. Wholesale prices have more than doubled amid milk fat shortages in the wake of a big drop in EU milk production, and long-term growth in demand. "Many dairy manufacturers have placed more milk in cheese production because the cheese category has yielded better returns in a time with low milk prices," adds Gareth Turner, marketing director at Arla Foods UK.
Food manufacturers are facing the brunt of the shortages, according to suppliers - who agree stocks could run out before this year's batch of mince pies reaches the ovens. But the squeeze is also having a significant impact on retail prices.

Block butter prices have surged by 8.8% to £4.42 per kilo over the past 12 months, with spreadable prices up 3.5% to £4.67 [Kantar]. Promotions are also melting away, leaving shoppers forking out considerably more for their butter.

"Prices are up - and this is more pronounced on a 12-week basis - and we're seeing fewer promotions in the market," says Dairy Crest marketing manager for spreads Neil Stewart.
With average prices rising so fast, it's not surprising promotional activity has fallen. Across the category, the percentage of volume sales on deal is down from 61.9% last year to 53.9%, with retailers also reducing savings on deals. "Retailers are moving away from £1 promos to £1.25 or even £1.50 on block butter," says Kerrygold senior brand manager Lucy Washburn. "We're seeing the same trends across spreadable too."
Higher prices and fewer deals on block butter mean volumes have stalled. Value sales are up 8.4% to £32.3m, but that is purely down to price inflation, with volumes down 0.4%. Spreadable tells a similar story, with value sales up 5.2% on volumes up 1.7%.
"The Arla boss wasn't joking when he warned Britain might run out of butter by Christmas"
So far, the price surge hasn't convinced shoppers to abandon butter and return to margarine or low-fat spreads. Low fat was the poorest performing subsector, with value sales down 11.5% on volumes down 9.9%, while dairy spreads saw value sales drop 10.3% on volumes down 7.8% [Kantar]. "In spite of price decline in dairy spreads we are seeing fewer shoppers buying less," says Kantar analyst Annabelle Gough.
Butters & Spreads Category Snapshot 2017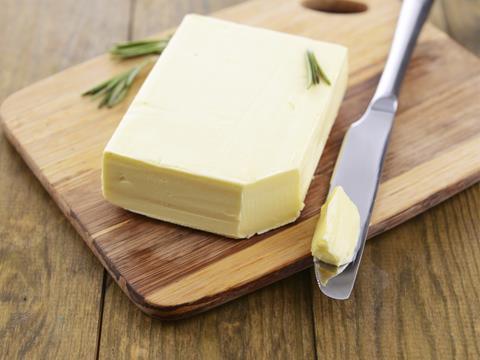 A slowdown in branded promotions might be convincing more shoppers to switch to own label, however. Across BSM, own label added £31m in value last year as value rose 12.9%, on volumes up 2.1%, while branded value sales fell 1.6% on volumes down 4.5% [Kantar].

With Brits still on the hunt for natural fats, it's no surprise retailers focusing more on butters - namely Waitrose, Aldi, M&S and Lidl - have seen the strongest performance. Waitrose, which grew its value share of the market by 5.3%, has rolled out a raft of own-label NPD over the past 12 months, including premium Normandy Salted Butter and Brittany Butter [Brand View].

Morrisons has also boosted its own-label range with a new 500g spreadable tub (rsp: £1.90), a 250g premium Brittany Butter tub (rsp: £1.70) and its 250g Butter for Farmers blocks (rsp: £1.33) [Brand View], while The Co-op has launched own-label Slightly Salted Spreadable and Slightly Salted Spreadable Lighter butters, alongside a reduced fat olive spread. "Our Co-op Slightly Salted Spreadable is a spreadable with the high butter content and melt characteristics of butter, which provides brand quality in own label, giving value to the shopper," says Co-op dairy product developer Nadine Salhani.

Brands are the inevitable victims of increased focus on own label, with dairy spreads, cholesterol-lowering and cooking brands bearing the brunt of reduced distribution, says Turner at Arla. "Overall, branded distribution has fallen by about 7% year on year with own-label distribution up 18% [Nielsen 12 w/e 17 June]."
"Prices are up - and this is more pronounced on a 12-week basis - and we're seeing fewer promotions in the market,"
After the failure of its Cooks range, Lurpak took a second punt at added-value innovation with the launch of a three-strong Spreadable Infusions lineup last April. It, too, proved unsuccesful, however, with Tesco delisting it just six months later, and the other mults following suit. By May, it was no longer in distribution.

"Arla is constantly looking for new ways to innovate our branded products, some of which are incredibly popular with consumers while others are less so," says Turner. "While it is disappointing that Lurpak Infusions is no longer on the shelves, we have a full and exciting NPD pipeline for Lurpak in 2018 and beyond."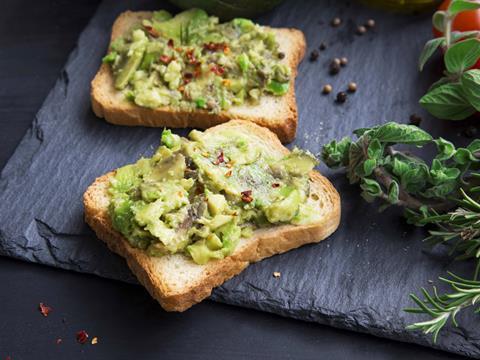 Avocado and coconut give a healthy lift to dairy-free
Avocado, coconut and walnut. They might sound more at home in the fruit & veg aisle but those three simple ingredients have helped add almost £3m to the butters & spreads market in the past year.
Non-dairy spreads is one of the category's smallest sectors but it's the best performing, with value sales up 31.2% from £8.6m to £11.3m on volumes up 36.7%, thanks to increasingly health-conscious consumers [Kantar Worldpanel 52 w/e 21 May 2017].
What's more, the category could grow as much as 50% by 2021 if the experts are to be believed [Mintel January 2017].
"The spike in sales in the non-dairy category is mostly down to the rise of lactose intolerance and increasing understanding of dairy allergies," says Co-op dairy product developer Nadine Salhani. "We're witnessing a trend towards using oils from seeds, nuts, coconut and avocado with lactose, dairy and gluten-free claims and which are suitable for vegans - products that we predict we'll see much more of in BSM."
They're already on the agenda for Asda, Tesco and Waitrose, which have all launched their own private-label avocado and coconut spreads in the last 18 months.
The burgeoning non-dairy sector is also the perfect chance for brands to claw back sales lost to own label in other areas of the market. "We're in a unique position to respond to changing preferences," says Caroline Jary, country director for spreads at Unilever UK & Ireland, which added avocado & lime, coconut & almond and walnut flavours to its dairy-free Flora Freedom range (rsp: £1.50/225g) in May.
"With plant-based diets now a mainstream lifestyle choice, the Flora Freedom range is offering consumers on-trend flavours in a versatile spread, full of plant oils and perfect for spreading, baking or cooking."
Following a packaging and recipe refresh to highlight the brand's dairy-free credentials in March 2016, Dairy Crest unveiled Vitalite's first NPD in 34 years in February with the launch of Vitalite Coconut (rsp: £1.45/500g).
Also designed for cooking, baking or spreading, the new flavour hit the shelves in February, and Dairy Crest says value sales for the brand as a whole are up 13.4% on volumes up 6.3%.
"An increasingly large part of the population is buying into the health benefits of coconut," says Dairy Crest marketing manager for spreads Neil Stewart. "Coconut as a trend is absolutely booming."
This year, the Danish butter brand has focused on format innovation, rolling out two new sizes in spreadable. Rivals Kerrygold and Président have also put a big emphasis on spreadable. Kerrygold spent an unprecedented £3m backing its spreadable range with TV advertising at the end of 2016 and plans the same level of investment for "the next few years". It has also reformulated its spreadable recipe with 63% butter content, and increased the size of its tubs from 400g to 500g in October 2016. "We've seen 884,000 penetration growth, and with retailers focusing more on spreadable butter and giving it a lot more space we'll continue focusing on spreadable," says Washburn.

Président launched 500g tubs of spreadable butter last summer and the NPD will be supported by a digital marketing campaign from October. "Président Spreadable was introduced to fill a gap in the spreadable butter market for a 100% dairy offering in a large format," says Mike Chatters, sales director at Lactalis McLelland.

British butter brands, meanwhile, could find their fortunes boosted by Brexit. So far, supply shortages mean that despite the plunge in the pound, UK butter imports were actually up 10% year on year in the first five months of 2017 [HMRC]. But Brexit itself could have a bigger impact on the import/export balance, particularly if an import levy of 36% is applied to dairy products. "We have a brief but very important window to try to create opportunity," says Robert Graham, MD of Graham's The Family Dairy.

Unilever's so-called 'Sprexit' could also bring opportunities. Speculation is already rife over a potential merger between its spreads division, comprising Flora, Stork and I Can't Believe It's Not Butter, and Dairy Crest, which owns Clover and Country Life. This would create a powerful new player in BSM, which would help keep the wheels of branded innovation turning. "It is key that we continue to reinvigorate the category to inspire new usage occasions, draw in new shoppers and keep existing users engaged," says Caroline Jary, Unilever's UK & Ireland country director for spreads.

A strong market leader would also have more power to fight for cost price increases from the major supermarkets, which would leave brands better equipped to ride out the troubled times ahea